With readers stuck at home, news sites offer advice about how to make their lives better. Fancy a live yoga class, anybody?
Publishers big and small, such as The Washington Post and La Voix du Nord in France, published visual guides in print and online about how to make oneself a face mask from paper and from cloth.
Italy's La Repubblica added the second COVID-19-related newsletter, "Restando a casa" ("Staying at home") with daily tips on fitness, TV, music, and books. It's free for all readers. Within a few weeks it amassed 10,000 subscribers, a similar number to the main "Antivirus" newsletter focused on health policies.
Poland's Gazeta Wyborcza introduced daily yoga classes via video streaming for its female readers and experimented with online physical education (PE) classes for kids. The new content initiatives are branded as the Institute of a Good Life.
German news weekly Die Zeit launched a daily newsletter for kids — based on the vast library of content of its sister publication, a children magazine Zeit Leo ("Zeit Lion"). The aim is to keep the kids happy and entertained during the lockdown and to ease the pain of parents trying to work while home schooling. It got 10,000 subscribers in one week.
The Wall Street Journal launched Noted, a section of video diaries of readers, with college students, medical residents, artists, and gig workers telling stories about "how they are weathering life's challenges in the COVID-19 era".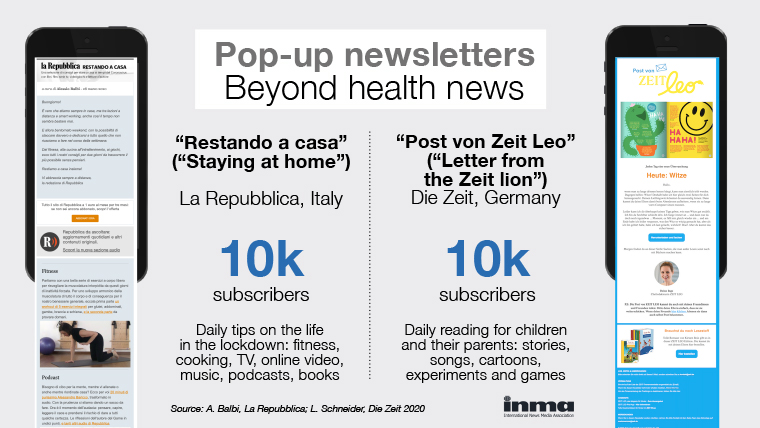 Looking for inspiration about what topics might be of readers interest, editors may wish to check the latest trends in e-commerce.
Among the 100 fastest rising e-commerce categories in the United States in March, as reported by Stackline, a retail intelligence company, one can find:
Bread machines (652% growth vs. March 2019), as people bake themselves.
Weight training equipment (307% growth), as they try to stay fit.
Personal computers and accessories (172% growth), as they learn how to work and learn remotely.
Craft kits (117% growth), as they find more time for hobbies.
Hair colouring (115% growth), as they want to look great as before, despite no access to the hairdressers. 
What about your news publication? What content discoveries have you made while trying to help your readers cope with the lockdown? E-mail me at: grzegorz.piechota@inma.org. Banner image by Anita Smith from Pixabay.