During the recent spike in demand for news in Germany, Der Spiegel has successfully mobilised its low- and medium-engaged readers to visit even more frequently. It may though wish to improve ways it is attracting new visitors.
These are the top-line insights based on the analysis of three months of traffic data to Spiegel.de, the site of a famous German news magazine Der Spiegel.
My exchange with Alexander Held of Spiegel's research team started with his interest in another study reported in this newsletter: Based on the data collected by Deep.BI, we analysed reader flows between engagement segments at a mid-sized European news site.
Alexander's team is new and aims at assisting Der Spiegel with a holistic picture of reader behaviours and needs. Experts on qualitative and quantitative research are sitting next to data analysts and A/B testers. As an integrated team, members accompany the product and editorial development, as well as support sales in market development.
Der Spiegel is in the process of setting up infrastructure that will allow it to segment visitors based on engagement measured by RFV scoring, similarly to the Deep.BI's case, and to measure flows between segments. As of now, the team uses a simplified segmentation by frequency of visits in a month. Still, it offers valuable insights.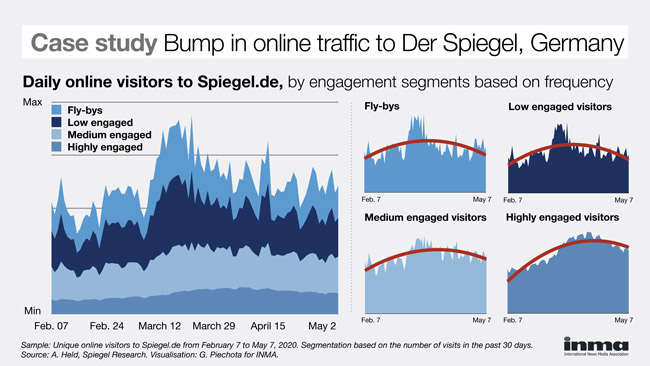 Here're daily online visitors to Spiegel.de segmented by frequency:
Fly-bys are visitors with one visit in the past 30 days.
Low-engaged visitors made two to 10 visits in the same period.
Medium-engaged visitors visited 11 to 50 times.
Those highly engaged visited more than 50 times. 
These charts clearly show a shift towards a more highly engaged visitor base. As Alexander Held explained: "We were able to keep a lot of highly engaged visitors with us after the coronavirus bump, as this is the only segment which does not decline much after the peak."
What else can we see in the charts?
Although it's hard to be sure without analysing the flows between segments, in my opinion, the spike in the medium and higher engaged segments is likely caused by a mobilisation of readers who were low and medium engaged before.
This is good news, as that means Der Spiegel delivered a good service to its readers during the pandemic and the engaged readers are more likely to subscribe.
What could be the matter of concern is a sharp decrease in the number of fly-bys and low engaged segments just after the peak. This suggests that Der Spiegel might wish to review its efforts to attract new traffic to the Web site.
The review could include metrics used by the newsroom and online marketing teams to reach new online visitors, a content distribution strategy using search, social and other sites, and a paid marketing strategy. 
Banner image courtesy of Mohamed Hassan from Pixabay.