3 media companies share tactics for digital reader engagement
Reader Revenue Blog | 12 February 2020
What are the best-performing tactics to engage readers?
During an INMA-members only Webinar on Wednesday, three news executives share their thoughts on the subject:
Marius Thorkildsen, brand manager at Aftenposten in Norway; Sarah Barth, senior conversion manager at Funke Digital in Germany; and Mark Francescutti, director of digital marketing operations and engagement at The Dallas Morning News in the United States took part in a Readers-First Meet-Up with INMA Researcher-In-Residence Grzegorz (Greg) Piechota. The three shared background studies that confirm driving brand preference, usage, and participation influence the willingness to pay for news online.
Piechota opened the Webinar by sharing statistics showing that engaged readers are more likely to buy and to renew. This causation has been confirmed in multiple studies. He referenced a particular study he was involved in that looked at reader behaviour in Canada and Norway.
"What we found was that temporal variables like the number of pages viewed or the frequency of visits or average time spent on a page were the most predictive for somebody to become a subscriber," Piechota said. "People who use the product, people who engage with the product, are the ones that are going to subscribe."
A study at Northwestern University in the United States found that the most important variable was frequency: "People who read basically renew the subscription, and people who don't read are more likely to cancel," Piechota said.
The most engaged readers are also the most profitable for media companies and hold the most value. Piechota shared as an example the breakdown of online revenue for Gazeta Wyborcza in Poland.
"Three percent of their online visitors are subscribers, and 7% of people are reading a lot but haven't subscribed yet — these are people that Gazeta calls the 'scanners.'"
This total 10% of users, however, generate 74% of Gazeta's total online revenue (advertising plus subscriptions).
"Driving engagement is important for any publisher, regardless of business model," Piechota said. He then shared a model of what that engagement journey could look like for publishers.
"I like to think that engagement is like a coin and it has two sides," Piechota said. "On one side you have acquisition, and on the other side you've got retention. So you need to engage people before the purchase, and after the purchase."
Retention — not acquisition — is the win. Acquiring a new customer is five to 25 times more expensive than retaining an existing one. The process looks like this:
Onboard a new subscriber.
Drive frequency to establish habit.
Drive satisfaction and encourage advocacy (and referrals).
Retain and grow/upsell the customer.
Once Piechota had established the studies and theory behind reader engagement, he introduced the practitioners to discuss how they have done it.
Marius Thorkildsen, Aftenposten
In the last five years, Aftenposten has gone all in on digital as the company saw its advertising revenue decline. In those five years, the publisher has gone from 20,000 digital subscribers to 120,000 today.
Thorkildsen discussed his company's digital engagement strategy in three parts.
Editorial
"Our main goal is to reduce the amount of churn and to make the casual readers to become sticky subscribers." To achieve that, Aftenposten has done a lot of experimentation and testing. "There's not one big solution how to engage your audience. There's not one golden bullet to make sure you're saved as a newspaper. You have to find all these small streams and triggers."
Out of Aftenposten's 120,000 digital subscribers, about 80,000 are engaged. They see a higher churn amongst customers who are on some sort of promotion or trial subscription.
A key area for this growth and engagement lies in the close relationship between the editorial side and the user data/market, Thorkildsen said: "We collaborated on content and make sure stories perform, both in the sense of conversion but also in the sense of actually engaging subscribers."
When leaders find an editorial department isn't performing well with readers, they look closely at that to see how they can tweak it to be more engaging with readers.
Aftenposten looks at three key KPIs:
Activation (readership amongst digital subscribers).
Quality of visit (how far the reader got in the story).
Popularity (which stories are the most read by subscribers benchmarked against the rest of the newsroom).
Thorkildsen said time spent was less accurate as an indicator for how engaged the reader was. The team created an engagement dashboard for the journalists so they could monitor their stories' performance in real time.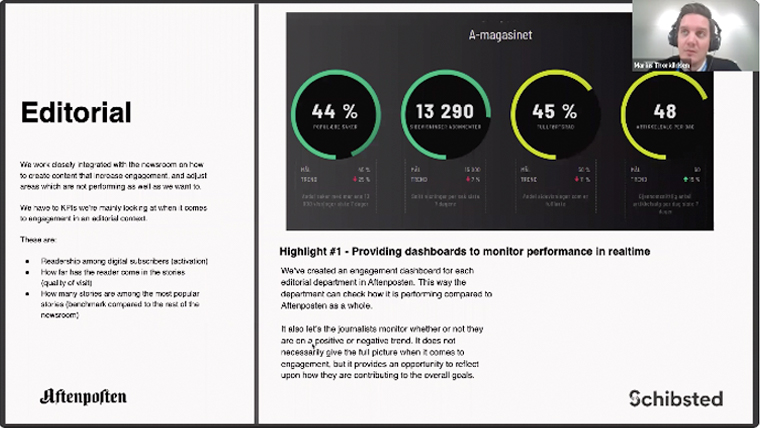 "We saw that when we trained the [RFV] model, volume was by far the biggest indicator of churn," Thorkildsen said. "When we get people above a certain threshold when it comes to volume in the past 14 days, we see the probability of churn decreases significantly. So we're trying to get as many people as possible above that threshold in order to reduce churn."
Technology
In the last few years, Aftenposten has looked into how it can automate engagement through the use of technology. By developing content recommendation algorithms, the company has become better at making its product relevant to the readers, as well as create different user segments.
"What we've found is that within certain areas or sections, we can boost sessions quite significantly through showing people more of the content that they're already interested in," Thorkildsen said.
People who are interested in sports or local stories, for example, increase their sessions significantly when given more of that content.
Personalisation and recommendations are very much done along the lines of these various user segments; it's not a "one-size-fits-all" solution.
Customer experience
As a result of Aftenposten's digital growth over the last five years, the company has had a large number of new subscribers being introduced to its digital product for the first time. This means the company must effectively show the value of its product to the readers through various onboarding efforts.
"We've gone from a one-size-fits-all programme to more of a trigger-based programme," Thorkildsen said of the onboarding process. "We find certain actions — such as downloading our app or sharing subscription with a family member — are significant anti-churn predictors. So we [are] sure that the onboarding you receive depends on whether you've completed those actions."
Each reader can choose an onboarding guide during the process from the Aftenposten team for content recommendations and tips on how to use the product. "We find that people who take that active step in choosing an onboarding guide have a 7.5% higher chance of staying on as a subscriber after 60 days. It's not a huge number, but when you add all these numbers up, it's something that really helps us reduce these churn percentages, bit by bit."
Sarah Barth, Funke Digital
Funke started digital subscriptions five years ago and got really serious about it a year ago, Barth said. There are several reasons the company started its new digital engagement project:
Subscriber base.
Customer lifetime value.
On-site engagement.
Churn.
The project was divided into five phases:
Identify reasons for churn, through surveys, interviews, and focus groups.
Optimise onboarding e-mails, using A/B testing.
User segmentation to identify risk of churn.
Explain the added value to readers through the news app, social media, landing pages, and special interest newsletters.
Strengthen product loyalty with membership and club offerings, events, contests, and user-generated content.
Funke did not want to just identify reasons for engagement and churn through data, but by speaking directly to their readers, Barth said.
One challenge has been with the GDPR compliance. Funke has a large number of subscribers it can't e-mail or reach because the customers haven't double opted-in. "We need to put more effort into finding sweet spots of when we can actually ask them for the double opt-in."
From the content side, the company needs to explain the value of the product to users. "We need to focus a lot more on the landing page, where we're actually describing the product, and we need to A/B test that."
Funke is launching many new initiatives. One that has worked well when it comes to engagement is newsletters. 
"We try to combine campaigns with newsletter subscriptions," Barth said. "We give two free months to everyone who subscribes to a newsletter."
Newsletter subscribers are the most engaged readers for Funke.
Newsletters are so successful for Funke is because they help readers create habit and keep in contact with the product. "Basically, a newsletter is kind of a form of the old printed product, just delivered to your digital inbox. I think that's why it works so well."
Surveys with that offer audiences results sent to them at a later time are also effective, Barth said. Some of these are things such as asking about their neighbourhood cleanliness or safety, and signing up via e-mail to receive the results later.
Mark Francescutti, The Dallas Morning News
Browser-based push notifications are what The Dallas Morning News is killing it with, Francescutti said.
"One of our big problems is how do we get someone from being a casual, drop-in viewer to become a subscriber, especially when many of us are under intense pressure to tighten our readers and put as much content behind paywalls as possible. How do we get someone into that habit so that they really want to subscribe?"
The publisher does not have a free or highly discounted trial offer, Francescutti said. "When you want to read The Dallas Morning News, you're giving us a significant amount of money. The lowest term you can subscribe for is six months."
This means that for someone to become a subscriber, the user has to be really interested in the product and highly engaged.
He shared some push notification stats for 2019:
The publisher has 900,000 subscribers to pushes.
Pushes are 3.1% of total traffic.
9.2% of returning traffic.
4.2% click-through rate.
On the path of 10%+ subscriptions per month.
Pays for itself with increased ad revenue.
The company has used Pushly for this and has seen tremendous success. "Training our staff to view Pushly as a more important mechanism to get our content out" is an important part of it. Pushes are better than social, he said.
"Where should you be posting your new content first? When a big story breaks, do you put it out there with Facebook or Twitter, or with Pushly? The metrics speak for themselves," he added.
When The Dallas Morning News shares a story via Twitter, it gets 77 clicks per post.
With Facebook, there are 1,162 clicks per post.
With Pushly, there are 2,270 clicks per post.
Therefore, editors are really trying to use Pushly first, before even putting content out on social media.
"Our eventual goal is to push every story we create — but only to those who want it," Francescutti said. "So how do we do that? If you're going to push every story, you can't push it to everyone. They're going to unsubscribe and they're going to block you."
The key, he said, is segmentation. The newspaper currently works with 150 segments.
"We have a huge amount of segments that are going to be targeted to a smaller group of people who have particular interest in a story."
For example, when a follow-up story is posted, it is pushed to everyone who clicked on the push for the original story. Another example is by topic. If a reader has clicked on three sports team stories in the past month, more of that content will be pushed to the reader.
When it comes to implementation, a key factor in this push success is that even though The Dallas Morning News has an audience team, the team gave the push process to everyone in the newsroom.
"Every group has the ability to push to their audience on their own. Our audience team in the middle of the newsroom owns the largest segment of the audience. But giving the power to each individual group in the newsroom has really helped this initiative take off. It's another way to give control back to the journalists and take it away from the social media algorithms."
The only real concern is if the browsers and big companies will allow them to continue this push notification strategy, Francescutti said.
"As everyone knows, you can't push on iOS browsers, on mobile phones. This is an Android and desktop category right now. Will Apple allow this? Will Google take this away from us?"