In January, I shared that one of our big themes for 2022 is looking beyond traditional news products. Anecdotally, many product leaders had mentioned this as an area of focus. And thus our first Webinar of the year was focused on that very theme. Yet when I started looking for speakers, something strange happened: Few were willing to share stories yet. 
It seems that though many of you are looking at tools and utilities, these are still very much in the process of being worked out. In this post, I outline a few examples of tools. I hope that by the end of the year, I can give an update on further tools that have been launched. 
For the sake of ease, we're defining tools that have a lean-in experience: The consumer needs to input some kind of information to get a personalised response. This can be as simple as adding your postal code to get local weather, kids' ages and postal code to check out local schools, or financial information to calculate what mortgage payments could be.
The benefits of having tools are fairly clear. Here are a few upsides:
1. Greater engagement and stickiness
This is true especially when a user inputs once and then continues to benefit from that information. For example, Yahoo Finance makes it easy for users to add their stocks or brokerage accounts to get an overview of their stock portfolio. Once the user has invested the time to enter the information, they're incentivised to come back for updates rather than follow each stock individually. This creates a habit.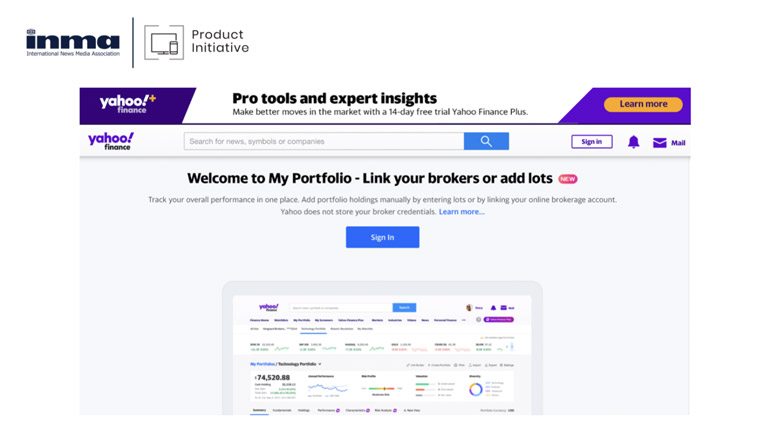 Another excellent example of this is The New York Times acquisition of the recent hit game Wordle. Each day is a new game, incentivising people to come back. The sharing mechanism has become a sensation on the likes of Twitter (Don't believe me? Search Wordle on Twitter!). If this isn't habit inducing, I don't know what is!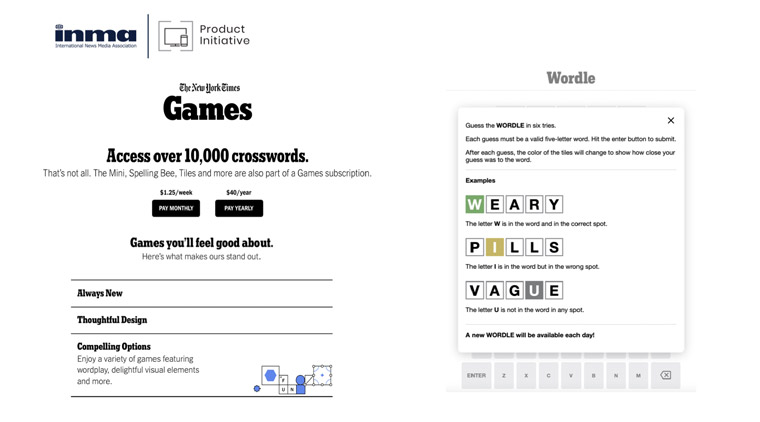 2. Data capture
By definition we ask users to enter some kind of information to use a tool. We can use this data to build profiles of individuals and by cohorts, which improves our first-party data collections. By making the tool useful to the reader, the data we capture is more accurate. Some news organisations create tools specifically for this reason. I've previously written more about progressive profiling.
3. Incremental revenue streams
Once a tool is built out, and if it is showing exceptional uptake and stickiness, it can also provide an additional revenue stream. An excellent example of that is The New York Times Cooking tool. Not only is the company producing excellent content, but they've made it into a tool that allows users to add their favourite recipes from anywhere on the Web. They have productised content to give readers what they want and are therefore willing to pay for.  
And, of course, some tools come from a genuine need from users. Claus Hessling, data journalist at NDR, shared their local COVID 19 tracker, which allowed people to enter their post code to get localised updates each day, on the platform of their choice. (Note: NDR is publicly funded so doesn't necessarily need to incentivise people to come back to their own platforms). 
Wow I hear you say, what wonderful ideas, let's do more! Of course, there is a cost to all this. A lot of cost. These kinds of tools take a lot of product and development time to get right. And they absolutely need to be right for the consumer for them to "lean in" and add their valuable information.
As we know with product launches, we also need marketing to ensure that users know what we have, how to use it, and what the benefits are. Once people are actually using it, it's rarely set it and forget it. We're likely to find small bugs and have ideas for improvements. Maintenance also, therefore, has to be factored in. 
So while tools and utilities can have a huge amount of upside, we need to be fairly sure of that to spend the time and effort to develop and maintain them. 
I am very buoyant on the development of this area and think we will see more creative tools and utilities. If you have one to share, please e-mail me at jodie.hopperton@inma.org.
If you'd like to subscribe to my bi-weekly newsletter, INMA members can do so here.