Media companies can learn from Spotify, Substack, Apple about active personalisation
Product Initiative Blog | 12 July 2022
The news industry has inherently had the view that it's part of our job to tell people what they should be paying attention to. And that is still very much true. But in a world where we have information overload, we need to narrow that down based on the user. 
One of the most obvious ways to do this is to ask them about themself and their interests. This is called active (or declared) personalisation. The other option is passive (or inferred) personalisation.
Active personalisation could be simple personal information — such as asking for a postal/zip code — to share localised information like weather and local news or events. The first of these two are key drivers of engagement with content. Or it could be much more complex like asking for specific topics, authors, or other information that is of interest.
My crude research has found that for users who actively select their preferred topics of interest, we see significantly higher engagement. Gannett found a 60% lift over non-subscribers, and Mediahuis Netherlands' initial experiments bought about a 23% lift.
The tough thing is getting that information in the first place. 
It can be asked as part of registration/subscription onboarding, or it can be gathered through prompts at various intervals/placements. If you have a first-party data strategy, this should be part of it. I have been told it's worth a little extra friction at sign-up, which is also reflective of other content services such as Spotify or Apple News. 
Below are a few examples of such active or declared personalisation:
Spotify forces you to make a few selections to get started in the app. Friction is low: just asking for three artists to get started. You see the slightly different design between audio formats. Once these selections have been made, the "Your Library" is populated.
Medium uses a prompt to ask users what they are interested in and clearly point to the fact that they will be making personalised recommendations. "Topics" is the main prompt, then authors. Note that they also offer a Twitter connection to follow the same people. While shown as a shortcut/benefit to users, this integration will also offer Medium valuable information about the user profile.  
Substack uses a similar system of asking for interests and writers, but note how the sign-up comes after the topic/follow selection.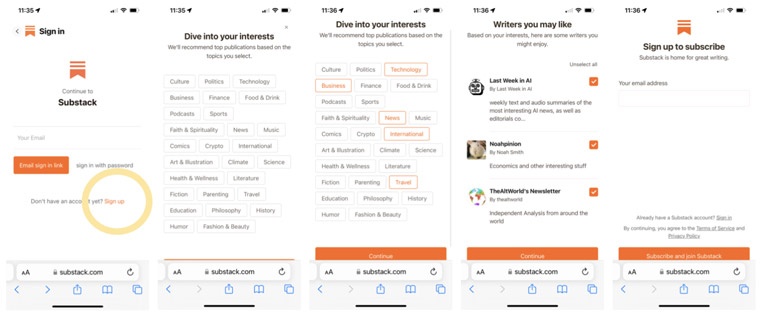 Apple News gives generic top stories as the first page. Once you click into News+, the subscription edition, the user is asked to personalise. The interesting thing here is the "Following" tab where suggestions are by "Siri."
News Corp Australia looked at this from a different angle, wondering if it's possible to create cohorts of users by learning what they love. This shows two examples they took inspiration from.
Onboarding is, of course, just the first step. Also to consider is how users can follow topics or authors as they use the site; using in-app prompts; personalised feeds/pages such as "My News"; how to display, and allow modifications of, current selections; and much more.  
Something we should highlight here is that what people tell us NOT to do is as important, if not more important, than what they DO want. If we continue to show something they have said they don't want to see, users easily get frustrated. 
If you'd like to subscribe to my bi-weekly newsletter, INMA members can do so here.