An advantage of having first-party data, especially for larger groups, is that we know more about the user. With this knowledge, surely it should be easier to put the user at the center of the journey and listen to the signals they give us.
Karl Oskar Teien at Schibsted showed me this slide, which really resonated:
We have so many data signals coming in and need to balance them. Historically, we have weighed heavily, and further back solely, on editorial signals. But now we know more and more about users. We need to think about how we use this information for maximum impact on the user. 
In a recent blog post (here), I talked about audiences being made up of people and why cohorts are so important. But we also need to do something with that data. One home page can only be optimised for one set of users. We can use cohorts of users to understand more about our audiences and create slightly different versions of the home page for them.
But when it comes to maximising the impact of the home page (one of the biggest traffic drivers), isn't it better if we are able to listen to each user and highlight content accordingly?  
As an example, a lightly engaged user may come to the home page once a day or less. We want to serve them content on the most important issues of the day. If it's a subscription title, we probably want to weigh more heavily on articles we know drive subscription sales. And of course, our on-page marketing will want to reflect that. If it's an advertising-led title, we may want to maximise for pageviews. But if a heavily engaged subscriber comes to the same page several times per day, they don't want to see the same content again and again. They have completely different needs.
With all the content you produce, users won't also know how to reach the things that are of most interest to them. As Karl also put in in the pyramid below, the content that is consumed by an individual reader is only the tip of the iceberg.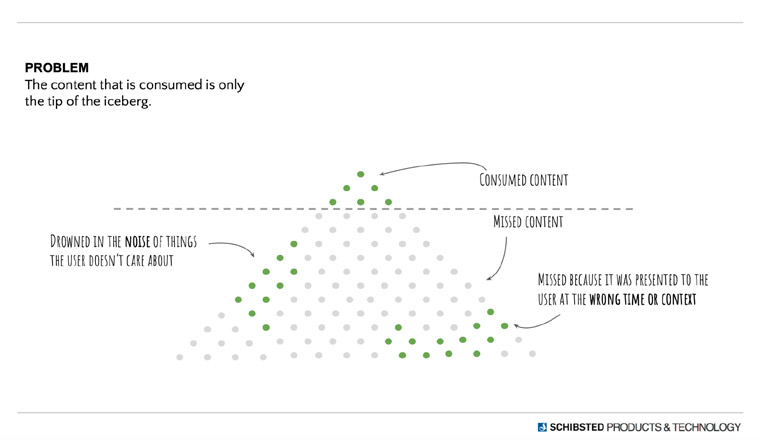 So what happens when a publisher removes stories that have already been read by those users? One publisher saw an 8%-10% lift in click-through rates. The same publisher saw a 20% lift in subscription sales when they used an algorithm that showed content to maximum conversions. These are significant numbers, especially when many publishers are asking themselves if it is worth spending the time and money building models for this. 
Product thinking is focused around the user, the problems they have, and the user journey. Surely we need to listen to the signals of the users and actually use the data points we have available if we are to truly call ourselves product-oriented organisations. 
As I write this, I feel like I am trying to make a case for personalisation, which wasn't the aim as I started out. I think I am persuading myself from the evidence I've seen. Please note that I am not advocating wholly automated home pages. In the balance, we have strong editorial signals that should absolutely be used. The way in which the home page comes together — covering a variety of subjects and ensuring that everything fits together — is important. 
But as an executive recently said to me: What's the cost of not personalising? Or as another put it: How big is the risk really? It's all in-house content, and we are manually managing the top spots.
If you'd like to subscribe to my bi-weekly newsletter, INMA members can do so here.