I've learned a lot in the past few months.
We started with an idea, continued with a survey, and are now thrilled to roll out the entire Product Initiative, starting this week with a regular newsletter (and this blog). I can't wait to share all we have in store — and to learn from each of you.
First, a bit about me and product thinkers
I have been working across departments in the news industry since 2003 when I joined Trinity Mirror to run what was then called Interactive Services for its U.K. national newspapers. Nowadays we would call this mobile, and it would have been one of the cornerstones of business.
I have also worked with The New York Times (sometimes being gently berated for being too cross-functional!) and a number of technology start-ups in the media space. 
While I did not have "product" in my job title, it turns out I have been a "product thinker" all along. I have always enjoyed looking at the experience of the user and balancing that against department and company goals to see where something may improve.
And I'm not alone. A December survey we ran with INMA members at more than 60 companies from 25 countries confirmed there is not a traditional path to working in product at news organisations. In our survey, we asked: "Have you previously worked in another department within a news organisation? Please select all that apply." Almost 50% come from the newsroom, 30% from marketing, and 26% from technology or revenue/advertising.  
Perhaps this is not a huge surprise as product can have different meanings. Yet it always needs an understanding of wider business context, as well as strong relationships and trust around the business. 
These results also indicate how intertwined the product function is with every other part of the organisation and the necessity of strong relationships and trust that need to be formed between departments — all of which we will delve into along the journey of the Product Initiative this year.  
Despite the relatively new nature of product, it has quickly become an instrumental part of news organisations, akin to that of any consumer tech organisation. Product is an essential part of technology, marketing, sales, design, and, of course, the core of media organisations, content. It has increasingly become an organisational rallying point for innovation, so important that it is often a stand-alone function sitting directly under the CEO (as is the case for more than one-third of respondents to the recent INMA survey). 
Details from the Product Initiative survey
As we kick off the INMA Product Initiative, we wanted to benchmark where member organisations are on their product journey, and what most influences and inspires them. Here are a few of the takeaways from the December INMA survey of media companies worldwide.  
1. Product people have diverse job titles. The survey was completed by executives at more than 60 companies from 25 countries, whose roles look something like this:
2. Product teams are relatively new. If you are new to product, you are in the majority: 60% of respondents to the survey have formed their product teams within the last four years and 23% within the past year.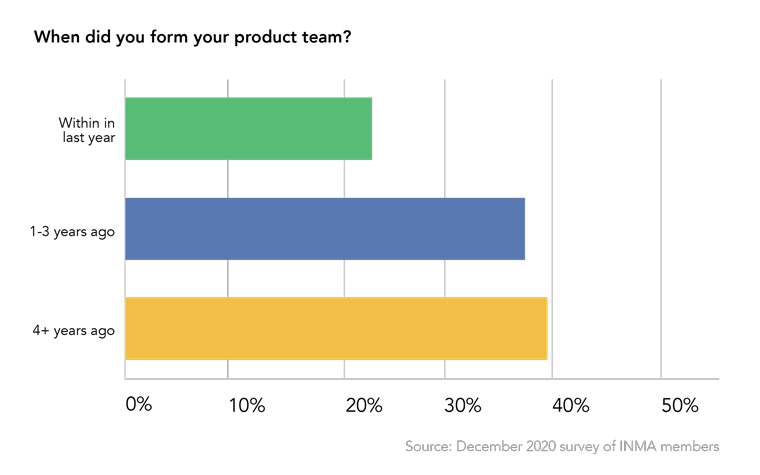 3. There is no consistency in where a product team sits within a news organisation. Just over one-third of respondents had a product team reporting directly into the CEO or publisher. Some other product teams sat under technology (25%), a digital unit (8%), editorial (9%), marketing or had product people spread across different departments (12%). 
4. Product teams vary wildly in size. Whilst 42% of organisations have 11 or more people in their product team, 17% of respondents said there wasn't a specific product team. 
5. Product people love inspiration. We wanted to see where inspiration comes from for our product-focused members. This word cloud is a nice representation of some of the brands that are loved by INMA survey participants.  
 On that note I leave you with this Tweet to mull over:  

My ask this week: Sharing organisational charts
Periodically, you may see an ask for information and/or data. Collectively we can help each other and INMA can help do this confidentially whilst saving your inbox from a flood of information. All information will be collated by INMA, anonymised, and summarised back to the group.  
This month we are looking at team structures of product within organisations. We would love to see (confidentially, of course):
Where product fits in the high level organisational chart of your company.
An organisational chart showing how your company has structured its product team.
If you are willing to share, please send the information to me at jodie.hopperton@inma.org. I will summarise results for the community.