Product as a department has arguably stemmed from Silicon Valley in the form of tech products that news now competes with to get consumer attention. In this sense, product is usually a data-led, measured role, which can be a world away from the fast paced, ever-changing world of news where journalists often have to rely on their intuition. 
How can these two areas be bridged most effectively? This week I talk to the head of news at one of Silicon Valley originals.
Yahoo News is owned by Verizon Media, the largest online news network in the United States with over 214,000 unique visitors in November 2020, according to Comscore. It bridges technology with its HQ in Silicon Valley and content through original reporting with Yahoo News, plus aggregation of third-party content. Product has been a critical department within the organisation for many years, mapping teams with their engineering counterparts and working with the speciality verticals such as mail, news, sports and finance. 
Recently this has become more so with a change in structure from being vertically led to product led. I recently talked with Lippe Oosterhof, head of product at Yahoo News/Lifestyle and Entertainment.
How do you define "product" within Yahoo News?
In a nutshell, the product team is responsible for creating great consumer experiences. This starts with coming up with ideas for new features and products, and it ends with scaling experiences to drive our key results (retention, NPS, revenue, engagement, etc.). In between those two phases, the magic happens: validating hypotheses through user research and testing, collaborating with editorial to fine-tune our approach, and leading our engineers and designers to build interfaces, personalisation, publisher tools, etc. 
Yahoo is both an owned and operated news organisation and an aggregator. Does this mean that you have to have distinct products for each or do they work hand in hand? 
The user experience is the same, whether the content comes directly from our newsroom or indirectly from our partners. However, the internal workflow is quite different as you can imagine. We have invested deeply in content creation tools for our newsroom, as well as smart systems to ingest external content at scale. 
Yahoo News is a large organisation. What are the key ingredients to setting strategies and getting buy-in from all the stakeholders?
The key is to speak the language of other parts of the organisation. Product is the connective tissue between engineering, editorial, business development, finance, sales, and marketing. So it is essential to understand how the various stakeholders think and operate. While this can take a lot of time and energy, it is important to remember that getting buy-in is not the end goal, which is why it is also critical to always stay hyper-focused on the customer.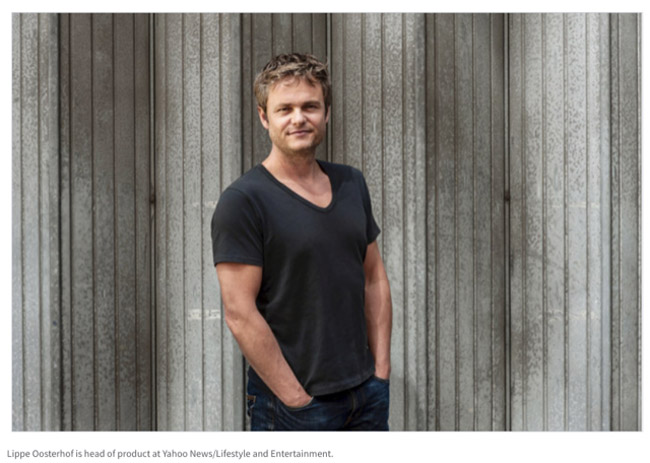 A metric-driven approach for a product can be at odds with the gut-feel culture of the newsroom. How do you overcome that?
Everyone in the company works towards the same set of OKRs (objectives and key results), which in theory ensures that the goals of product and editorial are aligned. In practice, this requires constant communication, sound relationships, and mutual trust. The best media product experiences are guided by a combination of data and intuition from both product as well as editorial.
What is the biggest challenge you are facing right now?
Like the rest of the online media industry, our biggest challenge is to reduce our dependence on advertising revenue by diversifying our revenue base. We also consider this our biggest opportunity. As the largest online news network in the U.S., we can drive new revenue streams like commerce, transactions, and subscriptions at an incredible scale. 
Can you tell us a little about your background and how you got to being director of product at Verizon Media?
My very first job was product manager at ABN Amro Bank where I managed a team building and launching a B2B portal called Maxtrad.com. I enjoyed the entrepreneurial side of being a product manager so much that I quit to launch a software business. Since then, I have been involved in several media start-ups, either in a product or general management role. A couple of years ago someone suggested I consider joining Verizon Media because news and live interactive video, the focus of my most recent ventures, are of strategic interest to Verizon Media. 
Lastly, a personal question: What is your favourite product? Why?
I love the Apple Watch. I love the intuitive OS, the subtle design of the haptic feedback and the deep health features. But that is only part of the story. Some elements of the product experience are less visible but just as critical to its success and much harder to replicate: incredible speed, industry leading security, and a very attractive price point. Good companies can compete in some of these areas but to excel in all is masterful.
Date for the diary: March 3, Meet-Up on evaluating product success 
One of the ways we can speak the same language is to work to the same goals. What is deemed successful by one person may be failure to another if people are looking at different outcomes. In this session, we take a look at some of the key metrics that can be used to define success. 
Come and join the conversation. Sign up here, or if you have people you want to hear from or a story to share, please contact me at jodie.hopperton@inma.org. If you'd like to subscribe to my bi-weekly newsletter, INMA members can do so here.