Financial Times, Aftenposten share how they align product and editorial teams
Product Initiative Blog | 07 July 2021
Product and editorial teams at news media companies need to reach an understanding on their differences. Product is about bigger solutions, framework, and structure, according to INMA Product Initiative Lead Jodie Hopperton, whereas editorial by nature deals in immediacy and gut feelings.
In a Product Initiative Meet-Up on Wednesday, INMA members heard from two top product masters in the media world: John Kundert, chief product officer at Financial Times in the UK, and Karl Oskar Teien, director of product for Norway's Aftenposten.
Talking with Hopperton, the two provided insight into how their respective media companies handle the sometimes delicate relationship between editorial and product departments. 
Aftenposten
Teien took attendees on a deep dive into the three ways Aftenposten "tries to" align editorial and product thinking. Teien says the product team was fielding far too many questions from the newsroom about things like podcast players on the home page and bigger teases for breaking news. This signaled to them they needed to get everyone on board with the goals of the product team. 
"When you work on product, you have to take a stand and figure out what are the right things to prioritise and to what extent do you cater to those requests coming from the newsroom, and to what extent do you stick to the product strategy as you have drawn it up," Teien said.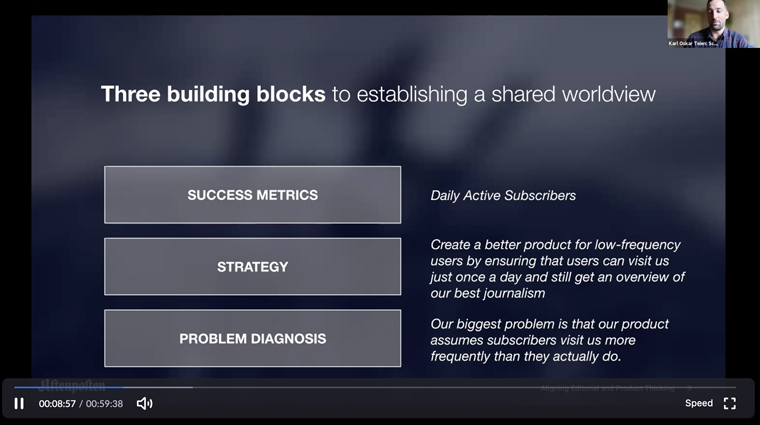 Aftenposten started building a three-pronged foundation in order to have good answers to the questions coming from the newsroom:
1. Establish a shared world view. 
Here are the building blocks to determine whether everyone is thinking alike:
Problem diagnosis: Aftenposten's problem was its product assumed the title had frequent visitors to its site. "The frequency of updating our front page, the sheer volume of articles, everything that we do seems to indicate that users come to us very often," Teien said. "The fact is they don't."
Strategy: Aftenposten created a better product for low-frequency viewers. They wanted these users to get a good overview of their best journalism.


Success metrics: They did not measure success by pageviews or number of clicks. Their metric was daily active subscribers. "Do subscribers come back on a daily basis? Have they established that habit?" Teien asked. "That's the best way of measuring if you're delivering value."
Teien urged getting buy-in on the diagnosis of the problem, strategy, and metrics instead of solutions or features, which are easier to work on later. If the end result is a solution that doesn't solve the problem, the product team has failed.
2. Put your product into context.
Aftenposten's strategy comes in three parts: growth, product, and content. The growth strategy focuses on user segments or types of users the company wants to grow. Product strategy works on user experience, and content strategy has a journalistic focus. Product and content strategies are designed to work together to answer this question: "What problems do we need to solve for the target segments identified in the growth strategy?"
3. Encourage hypotheses, not solutions.
It's important to ask the right questions to determine whether you're approaching this principle correctly, Teien said: "There has to be a clear idea of who we are solving a problem for and if it's critical and how we'll measure it." He also encourages disagreement so team members can test several options and see which ones actually move success metrics.
Financial Times
John Kundert, who prefers to be called JK, discussed the alignment between product and editorial for FT.com, which has more than a million subscribers and more than 350 people in its product and tech departments. This is a large portion of the company's 2,000 total employees.
FT has built its four-pillar strategy around the company's unique value, JK said:
When each one of the pillars was created, representatives from editorial, finance, product, technology, and commercial were in the room.  
"Each one of those pillars, in effect, has its own board," JK said. "Putting those things together and giving those leadership teams the autonomy to own the strategy and evolve it and work out how we have to evolve teams to work out the strategies is key."
FT finds success in bridging the gap between editorial and product by having editorial people who understand product development immersed in both teams. "They spend more time in the product team than they do in editorial," JK said. 
JK spent a lot of his focus on the challenges of aligning two fundamentally different teams of journalists and product developers. He believes FT's gold standard journalism should be reflected in its products. The challenge, he said, is that it is much harder to attach journalism directly to growth whereas product tends to lend itself more easily to achieving specific outcomes associated with revenue.  
Another challenge is getting stuck in a box of only thinking within the constraints of what we know. "If we took all our unique value and assets and we gave it to a completely new start-up and we said you couldn't produce FT.com all over again, where would they go?" 
JK also discussed a challenge FT is currently probing: Can product create value in its own right? 
"Can we create a capability inside FT.com, which you have to subscribe to to use?" JK asked. "Not that you'd have to subscribe to to get content, which you have to subscribe to to bring value in its own right."
INMA's Hopperton asked whether product works with journalists on what display a story gets. 
Schibsted likes to divide these responsibilities among three teams, Teien said:
An editorial development team that handles day-of and one-off stories.

A brand team that helps with some of the more middle-of-the-road stories.

And a platform team that works on larger, scalable projects.  
Financial Times is structured similarly, commiting 18% of its product team's time and resources to the larger, scalable projects; 15% to building and creating interactive storytelling products; and 5% to daily turns, JK said.