Financial Times, Aftenposten share best practices for launching new products
Product Initiative Blog | 01 February 2023
Creating new products is essential, particularly in news media companies' efforts to attract new readers. But it also is a process filled with challenges.
During this week's Webinar, INMA members heard from Hilde Maartmann-Moe Sommerstad, senior product manager for Aftenposten/Schibsted, and Dilyana Evtimova, senior product manager for FT, who shared their experiences in creating a new product and what they learned along the way.
Vink reaches broader, younger audience
The path to a new product requires input from all departments, Sommerstad explained: product, UX, tech, editorial, and the consumer business/commercial side: "It's taken a lot of people and a lot of time to get to where we are right now," she said before sharing the process the company went through to create its new its new app, Vink, which launched in November and offers curated city guides to events and dining. (In Norway, "vink" means a hint or a tip.)
The idea for a new product began with a challenge facing many publishers: How to increase the number of subscribers in Oslo and reach a broader audience of younger users. "Aftenposten has a really strong history and a strong market position in Oslo, but we do have quite an adult audience," Sommerstad explained. "We thought this is something we have to look into."  
The process was broken down into three phases:
Discovery: where the team looks at what the problem is and defines a solution.
Nail it: the conceptual phase in which an MVP (minimum viable product) is created, tested, and validated.
Scale it: which involves building and launching the product.
In the discovery process, Sommerstad said the team changed its natural inclination to build another news product. Through user interviews and talking with other relevant companies, one clear need emerged:
"The one thing that glued people in Oslo together was this wish to get the most out of life in the city," she said. "And that has a lot to do with going out, eating, enjoying what goes on in the city. Users said that they lack a source that is engaging and inspiring and informative — but also trustworthy."
This led the team into the concept development phase, where it tested different prototypes that ultimately led to the product it wanted to make. The information gathered during discovery was key in guiding the project, she said.
"When you do discovery, you have questions that you want answers to, but I think it's also very important to keep your minds open to needs that you weren't necessarily looking for," she said, explaining that listening to users changed the way Vink allows them to make lists of events or restaurants they're interested in. "That became a central element of the solution."
After receiving promising and positive feedback from the MVP, Sommerstad said additional tests showed users would be interested in paying for the product.
Aftenposten then began building Vink for its public launch. The app takes existing content or parts of content from the Aftenposten site and bundles it under new categories that make sense to the app users. The new product is offered to existing subscribers at no extra charge but also is available as a standalone purchase, which could be appealing to younger users.
To differentiate Vink from standard city guides, Aftenposten promotes handpicked tips for users. "It's not like you can go through a catalogue or look through a calendar and find everything that goes on. You are promised that you will find the best stuff and you won't have to spend a lot of time searching for it elsewhere."
Traffic has been above the set targets and sales are doing well, even though that has not been the company's primary focus during the launch phase, Sommerstad said. It has landed well with the target group of 25- to 35-year-old users, and 96% give it a positive review.
Through this process, Sommerstad and her team learned how to use the strength of the brand and build upon it: "We found that users have the same positive associations to Aftenposton regardless of whether they were subscribers or not, whether they're younger or older," she said.
It was also helpful that Aftenposten is a large company, so they could turn to other product and tech teams to learn from their experiences. But they also learned new ways of working within the company and continue working on developing this new approach.
"I would say this isn't just a product innovation, it is also a process innovation. Our way of working with product development is new to a lot of people, so it's important to keep in mind that people don't always understand what you're doing why you're doing it that way and why people should take part in it," she said.
That's why it's important to engage editorial and other departments as well as get outside input — such as their user interviews.
"I think being a legacy brand and being a part of a big company gives you a lot of muscle technically, organisationally, but you also want flexibility," she said. "Sometimes you need to balance economies of scale and being very well-organised … while also being flexible and trying [new] things out."
FT surpasses 100,000 downloads from since FT Edit launch
Since launching almost one year ago, FT Edit has surpassed 100,000 downloads. The app is geared toward what Evtimova referred to as its "deep divers."
"These are the people that are different from our core audience of professional readers, but at the same time, they have very high interest in the main type of content that we produce, which is in-depth reporting and thought-provoking articles," Evtimova explained.
With the tagline, "Scroll less, understand more," the app provides just eight articles a day, giving users the chance to focus more on the day's most interesting stories.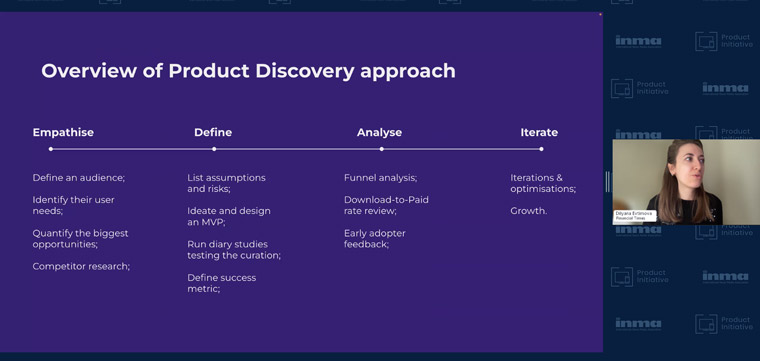 FT used a four-part discovery process to develop FT Edit, Evtimova said :
Empathise: Understand the users' needs better and see which are the biggest needs, then look at how the FT can add value.
Define: "It's a very risky business," she said of launching a new product. "What we're trying to do, even before we launch the minimum viable product, is understand how we can mitigate these risks before we launch."
Analyse: FT is now analysing user behaviour as well as analysing the funnel, seeing how many people are downloading the app and paying for it.
Iterate: "We're in the space of iteration right now in optimisation, so we know quite a lot of things that need to be improved, and we're working on them as well as on growth levers."
8 takeaways
Evtimova shared what the FT team has learned through the launch of this new product:
Identify your baseline. Evtimova said that means identifying which areas different departments agree upon as an organisation and looking at how to build on top of that.
Challenge wisely. "Be very wise on which areas you're going to invest more time negotiating and challenging internally and which are the areas that are not so vital."
Build a small, passionate team. "Curious people make better decisions," she noted. "If you can, try to get a team around you that is very curious and is very willing to learn new ways of doing things."
All decisions revolve around the value proposition. Evtimova recommended investing time upfront in research before building the product. This makes for a stronger alignment of departments and yields better overall results.
Define success. Before launching, agree upon what success looks like: "In the case of FT Edit, it was the download-to-paid metric. That helped us ignore all of the noise around us because there's so much data, even in a new product."
List assumptions and risks. "We listed all of the stuff that made us feel insecure or all of the things that, if they're proven to be true, the product will fail," she said. Then, before launching the MVP, validate and mitigate those risks.
Finally, embrace imperfection, and teach your team how to do so, too. "In new product development … you have to put something that's roughly finalised and get feedback as soon as possible in order to understand whether you should be investing more in this or you need to iterate or pivot," she said.
The last point can be particularly difficult for departments such as the editorial team, which makes a practice of only releasing quality, finished stories. But it's important to get feedback on the product to perfect it: "Try to launch something that's not perfect, but would allow you to learn — and then you launch after the launch," she advised. "There will be so many insights, especially around the main success metric."
If you'd like to subscribe to my bi-weekly newsletter, INMA members can do so here.