Snap recently spearheaded a report (which you can download here) in conjunction with other leading tech organisations on DEI in tech.
In the opener it reads:
"We take [the case] as a given: Widening the talent pool, reducing the skills gap, and creating a diverse workforce to engage the global economy are all prerequisites for successful 21st century businesses. Instead, we call for a radical paradigm shift, based on values, that makes DEI strategy and business strategy indivisible."
Within the report, a whole section is devoted to the design of products and services, covering five recommendations: 
Develop product inclusion principles and operationalise them throughout the product development process.

Prioritise accessibility in your products.

Address potential bias in your Artificial Intelligence (AI) and machine learning (ML) technology.

Consider how your company can mitigate harm from the application of your technology.

Increase representation and disrupt stereotypes in your original content, marketing, and advertising.
The entire chapter is of interest, and I encourage you to read it in full. For those who don't have time or want to get a flavour of the report, I've pulled out a few sections that I found particularly relevant to the work we do on product in news. The below is quoted directly but is not the entirety of the chapter:
"Product inclusion is about creating products and services that reflect the world around us. This is a shift from the standard but outdated practice by tech companies of optimising products and experiences for a narrow set of users. As a consequence, products gravitate toward the average and tend to work well for majority groups and not as well for underepresented groups. But, average is not very meaningful when it comes to human beings, because it is normal to be different. Diversity is the norm, and good design has to respond to that diversity.
"Incorporating the perspectives and user experiences of underrepresented groups will optimise the experience for everyone. For example, take the small ramps built into curbs to allow smoother passage onto a sidewalk. They were initially designed for wheelchair users, but now they benefit everyone from parents pushing strollers to cyclists. When products are designed for those most excluded, they often improve the experience for many others. Moreover, once inclusive technology is widely used, it becomes normalised.
"Product inclusion is an end-to-end system and requires intentionality at each stage of the process. The diagram below identifies the highest leverage points that are key to successful, inclusive outcomes. While all inflection points in the process are important, Ideation, User Research, Testing, and Marketing (Strategic Narrative) are key to successful, inclusive outcomes."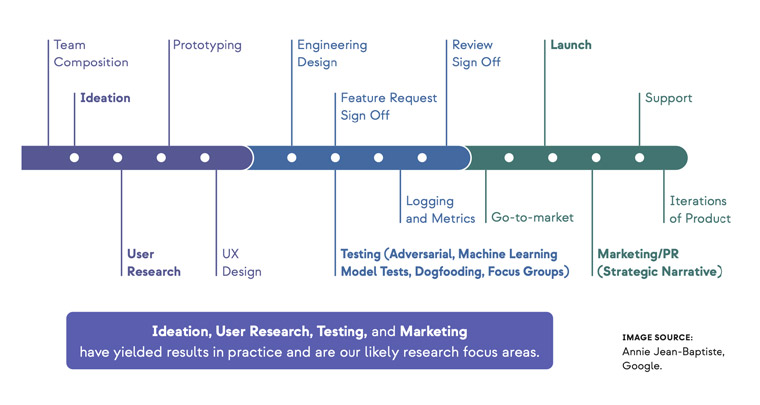 If you'd like to subscribe to my bi-weekly newsletter, INMA members can do so here.