Welcome to the inaugural newsletter for the INMA Product Initiative, which was announced in December 2020.
We started with an idea, continued with a survey, and are now thrilled to roll out the entire initiative. I can't wait to share all we have in store — and to learn from each of you.
We share this first-ever Product Initiative newsletter with all INMA members this week and invite you to subscribe if you would like to continue receiving this biweekly. This newsletter is free to you as an INMA member.
[BUTTON: CLICK TO SUBSCRIBE]
First, a bit about me and product thinkers
I have been working across departments in the news industry since 2003 when I joined Trinity Mirror to run what was then called Interactive Services for its U.K. national newspapers. Nowadays we would call this mobile, and it would have been one of the cornerstones of business.
I have also worked with The New York Times (sometimes being gently berated for being too cross-functional!) and a number of technology start-ups in the media space. 
While I did not have "product" in my job title, it turns out I have been a "product thinker" all along. I have always enjoyed looking at the experience of the user and balancing that against department and company goals to see where something may improve.
And I'm not alone. A December survey we ran with INMA members at more than 60 companies from 25 countries confirmed there is not a traditional path to working in product at news organisations. In our survey, we asked: "Have you previously worked in another department within a news organisation? Please select all that apply." Almost 50% come from the newsroom, 30% from marketing, and 26% from technology or revenue/advertising.  
Perhaps this is not a huge surprise as product can have different meanings. Yet it always needs an understanding of wider business context, as well as strong relationships and trust around the business. 
These results also indicate how intertwined the product function is with every other part of the organisation and the necessity of strong relationships and trust that need to be formed between departments — all of which we will delve into along the journey of the Product Initiative this year.  
Despite the relatively new nature of product, it has quickly become an instrumental part of news organisations, akin to that of any consumer tech organisation. Product is an essential part of technology, marketing, sales, design, and, of course, the core of media organisations, content. It has increasingly become an organisational rallying point for innovation, so important that it is often a stand-alone function sitting directly under the CEO (as is the case for more than one-third of respondents to the recent INMA survey). 
The fundamental question the INMA Product Initiative aims to answer over the course of 2021 is: What do news organisations need to do to create, deliver, and innovate the best possible products for their audience(s)?  
Who is this initiative for?
The Product Initiative is for anyone in a news organisation whose success depends on the decisions made by product managers.
Product directly touches many parts of an organisation but mainly works across editorial, technology, design and user experience, data, marketing, and revenue.
Consequently, those who may be interested in following and taking part in the Product Initiative include product managers, strategists, marketeers, data analysts, revenue specialists, editors, and even CEOs. (You may have heard the joke that product managers want to be vice presidents, vice presidents want to be CEOs, and CEOs want to be product managers.)
What are some of the topics we'll be covering?
Among the topics INMA aims to cover in the Product Initiative are:
Product methods and team structure: Who makes the decisions: editors, product people, or both? A review of working models, teams, structures, and shifting company cultures.

Setting strategies, priorities and goals: Working across so much of the business, creating and communicating plans to keep everything on track is essential. 

Measurement and KPIs to evaluate products and services: Product has introduced a metric-driven approach that can be at odds with the gut-feel culture of the newsroom. What are the classic product development metrics used by product management, and how can they support the rest of the organisation?  

Prototyping and experimentation to innovate and create new products: Expert tips for experiments, prototypes, and testing to ensure product/market fit with the audience. 

Working with stakeholders: With so many stakeholders that have different needs, how can you build a compelling case for product innovation?
Case studies looking at approaches for popular product initiatives such as introducing and growing subscribers, launching new products, and visualising content. 

How can established news companies ensure consistent product innovation? 
More details from the Product Initiative survey
As we kick off the INMA Product Initiative, we wanted to benchmark where member organisations are on their product journey, and what most influences and inspires them. Here are a few of the takeaways from the December INMA survey of media companies worldwide.  
1. Product people have diverse job titles. The survey was completed by executives at more than 60 companies from 25 countries, whose roles look something like this:
2. Product teams are relatively new. If you are new to product, you are in the majority: 60% of respondents to the survey have formed their product teams within the last four years and 23% within the past year.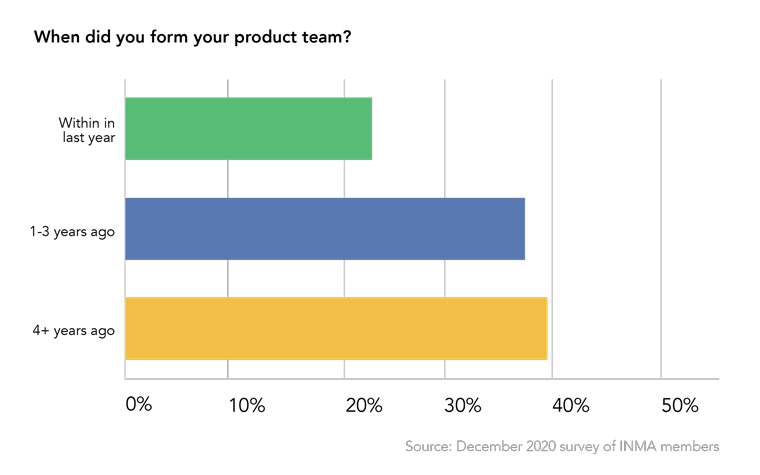 3. There is no consistency in where a product team sits within a news organisation. Just over one-third of respondents had a product team reporting directly into the CEO or publisher. Some other product teams sat under technology (25%), a digital unit (8%), editorial (9%), marketing or had product people spread across different departments (12%). 
4. Product teams vary wildly in size. Whilst 42% of organisations have 11 or more people in their product team, 17% of respondents said there wasn't a specific product team. 
5. Product people love inspiration. We wanted to see where inspiration comes from for our product-focused members. This word cloud is a nice representation of some of the brands that are loved by INMA survey participants.  
 On that note I leave you with this Tweet to mull over:  

How to engage
This is going to be an exciting time uncovering the choices media organisations are making, the paths people have taken, and some of the inevitable hiccups that experience can help others avoid as companies progress on the journey of creating world-class products. 
I hope you'll get involved.
As an INMA member, you can take part in the Slack Channel, Webinar meet-ups, and maybe even share your own product story. For a biweekly digest (like the one you're reading now), sign up to receive the Product Initiative newsletter.
Further information can be found here, and you can contact me directly at jodie.hopperton@inma.org. 
My ask this week: Sharing organisational charts
Periodically, you may see an ask for information and/or data. Collectively we can help each other and INMA can help do this confidentially whilst saving your inbox from a flood of information. All information will be collated by INMA, anonymised, and summarised back to the group.  
This month we are looking at team structures of product within organisations. We would love to see (confidentially, of course):
1. Where product fits in the high level organisational chart of your company.
2. An organisational chart showing how your company has structured its product team.
If you are willing to share, please send the information to me at jodie.hopperton@inma.org. I will summarise results for the community.  
Save the date: Thursday, January 28, 2021
The inaugural Product Initiative Meet-Up (think Webinar but a bit more intimate) will be on Thursday, January 28, from 10:00 a.m. to 11:30 a.m. New York time. We'll be kicking off the first meet-up with a high-level look at differing team structures and the principles behind their decision process.
We will discuss who gets to prioritise the product road map. Is it by title, by department, by user focus, or bang for buck demonstrable results in the short term? I will talk with product executives from Ringier Axel Springer Polska, Gannett, and Cox Media Group.
INMA members can register here, or if you have a story to share, please contact me at jodie.hopperton@inma.org.
Recommended reading
Here are a few articles I have enjoyed recently:
The shared product mindset: Is agile development enough? Spoiler: Marcel Semmler thinks not. But he goes on to talk about why the "shared product mindset" is essential for news organisations.  
Content is product and product is content: Why deeper alignment is the only way forward: Dmitry Shishkin shares this: "... For media publishers, this is the time to start treating content and product as one. You'll do it by achieving a singularity of purpose within your organisation, by constantly adapting and iterating the offer you provide, and finally, by being jointly prepared for the next big disruption, which is definitely round the corner."
Why is speed good? Tensions in newsroom product development: Nick Petrie asks: What is the value of speed then? I think for modern newsrooms trying to create the best possible product experiences, what we are actually interested in is learning quickly and making better decisions.
About this newsletter 
Today's newsletter is written by Jodie Hopperton, based in Los Angeles and lead for the INMA Product Initiative. Jodie will share research, case studies, and thought leadership on the topic of global news media product.
This newsletter is a public face of the Product Initiative by INMA, outlined here. E-mail Jodie at jodie.hopperton@inma.org with thoughts, suggestions, and questions. Sign up to our Slack channel.
Banner art courtesy of Firmbee of Pixabay/The New York Times.
YOU MUST BE A MEMBER TO ACCESS THIS CONTENT
Become An INMA Member or Log In Below
INMA members have unparalleled access to ideas and peer connections that make a difference in the success of their companies and their careers.
Click Here to Become a Member Now
Already a Member? Log In
Benefits of Being an INMA Member
You are an INMA member. These benefits are at your fingertips 24/7. Take advantage.
By continuing to browse or by clicking "ACCEPT," you agree to the storing of cookies on your device to enhance your site experience. To learn more about how we use cookies, please see our
privacy policy
.