Hi there. Continuing on the topic of personalisation, today I want to dig into the two different types: active (or declared), where users tell us what they want to see, and passive (or inferred), which uses an algorithm to guess what they would like. 
I hope this is useful. If you have comments or questions please feel free to reach out to me at jodie.hopperton@INMA.org. 
Thanks, Jodie
Active/declared personalisation
The news industry has inherently had the view that it's part of our job to tell people what they should be paying attention to. And that is still very much true. But in a world where we have information overload, we need to narrow that down based on the user. 
One of the most obvious ways to do this is to ask them about themself and their interests. This could be simple personal information — such as asking for a postal/zip code — to share localised information like weather and local news or events. The first of these two are key drivers of engagement with content. Or it could be much more complex like asking for specific topics, authors, or other information that is of interest.
My crude research has found that for users who actively select their preferred topics of interest, we see significantly higher engagement. Gannett found a 60% lift over non-subscribers, and Mediahuis Netherlands' initial experiments bought about a 23% lift.
The tough thing is getting that information in the first place. 
It can be asked as part of registration/subscription onboarding, or it can be gathered through prompts at various intervals/placements. If you have a first-party data strategy, this should be part of it. I have been told it's worth a little extra friction at sign-up, which is also reflective of other content services such as Spotify or Apple News. 
Below are a few examples:
Spotify forces you to make a few selections to get started in the app. Friction is low: just asking for three artists to get started. You see the slightly different design between audio formats. Once these selections have been made, the "Your Library" is populated.
Medium uses a prompt to ask users what they are interested in and clearly point to the fact that they will be making personalised recommendations. "Topics" is the main prompt, then authors. Note that they also offer a Twitter connection to follow the same people. While shown as a shortcut/benefit to users, this integration will also offer Medium valuable information about the user profile.  
Substack uses a similar system of asking for interests and writers, but note how the sign-up comes after the topic/follow selection.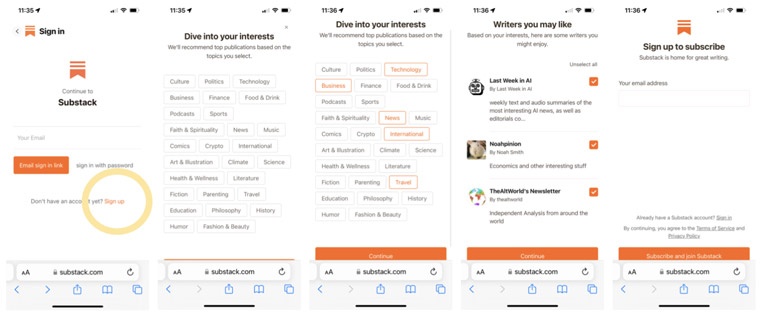 Apple News gives generic top stories as the first page. Once you click into News+, the subscription edition, the user is asked to personalise. The interesting thing here is the "Following" tab where suggestions are by "Siri."
News Corp Australia looked at this from a different angle, wondering if it's possible to create cohorts of users by learning what they love. This shows two examples they took inspiration from.
Onboarding is, of course, just the first step. Also to consider is how users can follow topics or authors as they use the site; using in-app prompts; personalised feeds/pages such as "My News"; how to display, and allow modifications of, current selections; and much more.  
Something we should highlight here is that what people tell us NOT to do is as important, if not more important, than what they DO want. If we continue to show something they have said they don't want to see, users easily get frustrated. See Tweet of the week below.
How do you go beyond core news?
Soon I am going to start digging into going beyond traditional news products. 
For example, The New York Times is looking at ways to integrate into consumer lifestyles with cooking, games, consumer reviews, and more. These products help to build a sticky product, one that encourages daily habit (especially since the acquisition of Wordle). Weather, horoscopes, and events are all ways in which we can go beyond core news. 
What are you doing or looking to start doing? I'd love to hear your bright ideas and lessons learnt. You can e-mail me at jodie.hopperton@inma.org or book time with me here.    
Passive/inferred personalisation
The other type of personalisation is passive (on the users' part), where we use technology to make recommendations based on past reads, user behaviour, demographics, and other data-led signals. 
Karl Oskar Teien, director of product at Schibsted, shared the graphic below with me. It shows some of the tags we can use and considers the balancing of editorial signals and user preferences.
The South China Morning Post uses these four user variables to base their personalisation on:

Location

Behaviour

Loyalty

Persona
Arguably the best company in the world at passive personalisation is the video app TikTok. At no point in the process do you select what you want to see. They take signals based on behaviours to determine what you do and don't want to see. 
Nils Schimmelmann, a senior engineering manager at Yahoo USA, took me through the basics of how passive personalisation works: 
This is a simplistic view of what can easily become exceptionally complex. It helped me to understand the principles of personalisation but then led to many more questions: 
Do we prioritise solely on what the user wants? Should we be showing a diversity of information to avoid filter bubbles? How do we build in business needs? Are we optimising different goals for different readers, such as articles with high conversion for non-subscribers, building a daily habit for new subscribers, or advertising yield for those likely never to subscribe? Should we be looking at the sequencing of content, such as to give some lighter content after hard news? 
Once you start thinking about all these questions, there are many rabbit holes to go down. If you are at that point, I highly suggest following my colleague Ariane Bernard's work in the INMA Smart Data Initiative. She has extensive knowledge on these systems and is going deep into the subject this summer.  
Yahoo has built its own algorithm in house, which, in parts, uses open source software. But if you are starting from scratch, there are some out-of-the-box tools you can experiment, with such as Google Rec AI.  
Another question that has come up is around how often the feed is refreshed or how far to go back in time. A benefit of using an algorithm is being able to revisit evergreen or older content that may not get resurfaced otherwise. Mediahuis Netherlands is one company that was surprised by the range of content its experiments brought up. In the results on initial tests, the algorithm pulled from 564 articles whereas the manually range was 267. The team also saw a change in the content mix: less news, more opinion, more video, more female-focused content, and more sports.  
Passive personalisation can also be used to enhance active personalisation. For example, when asking which topics a user wants to follow, you can add or replace with suggested topics based on the information you have about them.
Tweet of the week
Even Twitter, a tech company, took a while to get this right. This tweet was four years ago, but that's not a long time in the history of personalisation.
Recommended reading
Nils Schimmelmann at Yahoo shared this podcast with me, talking about TikTok's algorithm. It's helpful for us to look at adjacent industries, especially when they have built hugely successful products. 
Two other articles that have been bought to my attention this week:
About this newsletter 
Today's newsletter is written by Jodie Hopperton, based in Los Angeles and lead for the INMA Product Initiative. Jodie will share research, case studies, and thought leadership on the topic of global news media product.
This newsletter is a public face of the Product Initiative by INMA, outlined here. E-mail Jodie at jodie.hopperton@inma.org with thoughts, suggestions, and questions. Sign up to our Slack channel.