Hi there. Almost every product leader I speak to will tell me that they are customer centric, customer driven, or a similar synonym.
But what does that actually mean?
Once I scratch the surface, every response is a little different. That's what I've been delving into over the last couple of weeks at my recent Product Initiative master class on building customer-informed products. I learnt so much during these sessions, and in this newsletter I'll share a couple of my takeaways from the 14 experts we heard from.
If you have anything to add, any questions or anything you'd like to share, please get in touch. You can find me on social @jodiehop or e-mail me at jodie.hopperton@INMA.org.
Thanks, Jodie
User research: You likely need to start with a decision and then work backwards
We kicked off the master class with a story from the HuffPost of when they did a listening tour (more on that here). As I was speaking to the former Executive Editor Hillary Frey, I initially assumed this was an editorial story. And that's what it started off as — an editorial and branding exercise. They trained their journalists in "active listening" and asked two questions to the audience: What brought you down here today? And what keeps you up at night? 
What initially struck me is actually going out and speaking to the audience. When was the last time you actually spoke to a customer? In the master class audience, 9% said they couldn't remember, 45% said they do when they are thinking about new products or features, and another 9% said they speak to customers regularly.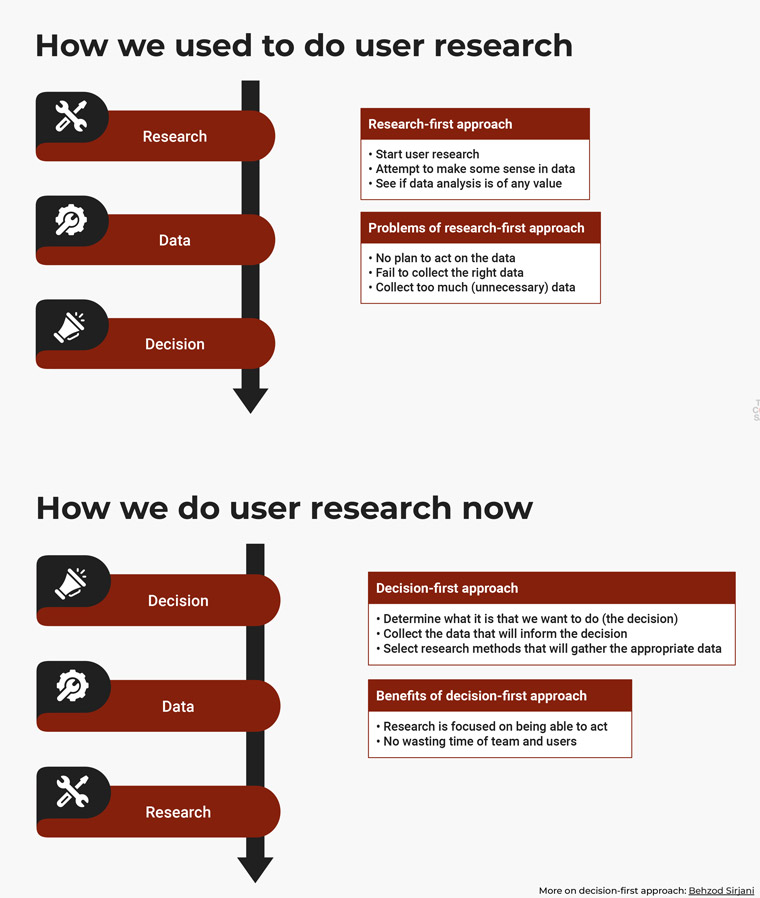 The HuffPost bus tour ended up (also) being a product story. The teams discovered things they hadn't previously known about audiences. They created new products, reached new audiences, and felt a lot closer to their readers. 
The Atlantic's two years of qualitative research also told them a lot they hadn't known and gave them a much better understanding of where they fit into the market and into readers' lives. Emily Goligoski, The Atlantic's executive director of audience research,  laid out the reasons qualitative research is so useful — not least because readers aren't us and that we bring our own bias into our work. 
All of this makes sense. But we also have to recognise the bus tour did not come cheap. Having teams asking open-ended questions and spending years on research can be a luxury, particularly in smaller organisations. 
Khalil A. Cassimally at The Conversation shared that they used to do research first and then look for signals within the data. The team quickly realised that while it was interesting, it's often hard to find insights that really drive a business decision. He also highlighted that in the initial rounds of surveys and interviews, it's possible to miss vital information that can help put data in context.
There are, of course, many ways to go about user research. It doesn't have to be a big bus tour or a hired research company. It doesn't have to be hugely expensive. It just has to be well thought through. 
The question isn't qualitative OR quantitative. Quite the opposite. We need each to be a check to the other. Quantitative tells us what but rarely why. In qualitative research, people tell us what they want, and the quantitative data shows if when actually given it, they actually use it. Checks and balances. 
The thing I really took away from all this is that if you are starting out with user research, have limited teams or budgets. In terms of bang for your buck, you're better to start with decisions/hypotheses first and build from there.
Date for the diary: May 19
The product module of the INMA World Congress will be on Thursday, May 19 (view the entire agenda here). Hear from Katharine Bailey, global head of product and design at Condé Nast, talking about how they manage conflicting objectives; Durga Raghunath, digital head at Times Internet on the app as a valuable business; and Karl Oskar Teien, director of paid products at Schibsted, on how they are using audio to break through the attention economy. 
It's an incredible line-up and just one of seven modules at the INMA World Congress that's being held virtually May 5-26. Find out more here. 
Your audience is made up of people
You can read the title several ways. Firstly, you may think I am an idiot for pointing something out that is fairly obvious. Which is true (the obvious part, not the idiot part). But my point is more about humanising our audience. 
Previously I asked, "When was the last time you spoke to a customer?" The reason I asked is that I believe, perhaps contentiously, that we have leaned so far into data that we sometimes forget we are talking about actual people. We use many forms of analytics, surveys, numbers in aggregate, that they can become meaningless. Or, as Stalin put it, "The death of one man is a tragedy, the death of millions is a statistic."
In a poll during the master class, only 18% of respondents said they talk to customers "all the time" or on a "regular schedule." Yet 84% used surveys as an avenue to gather direct custom feedback. Surveys can, of course, be a quick, cheap, and easy way to gather feedback. But the delta of those using the differing methods is vast. Surely speaking with customers should be just as high? 
I fundamentally believe we need to connect back to people, not to statistics. Clearly we can't be studying millions of individuals. And much of the first master class module was spent looking at building target groups of users. Jessica Parker Gilbert took us through how McClatchy had managed to balance both sides of this coin; their six typologies are very relatable people.
And let's look at this through an internal lens. I've mentioned before that it's commonplace for different departments to call the same group of people by different names: "audience," "user," "customer," or "reader" are all commonplace. You may note that in Emily Goligoski's Medium post, she mostly uses the term "people" over any of these. 
Several experts in the master class pointed out that showing colleagues some of the most poignant pieces of feedback in the form of a video or audio recording was far more effective than using data that wasn't always widely understood. Hearing a customer's point of view directly, rather than product or another team's version of the feedback — a show-don't-tell approach — can cut through some difficult inter-departmental dynamics. 
So let's make sure we use all tools available to gather feedback and insights, but not forget audiences are made of real people.
Recommended reading
Product by Brian Morrissey at The Rebooting.
Tweet of the week
I noticed this tweet earlier in the week. Call it confirmation bias if you will, but the difference between the good and the exceptional is knowing your audience and knowing them well.
About this newsletter 
Today's newsletter is written by Jodie Hopperton, based in Los Angeles and lead for the INMA Product Initiative. Jodie will share research, case studies, and thought leadership on the topic of global news media product.
This newsletter is a public face of the Product Initiative by INMA, outlined here. E-mail Jodie at jodie.hopperton@inma.org with thoughts, suggestions, and questions. Sign up to our Slack channel.