Product as a department has arguably stemmed from Silicon Valley in the form of tech products that news now competes with to get consumer attention. In this sense, product is usually a data-led, measured role, which can be a world away from the fast paced, ever-changing world of news where journalists often have to rely on their intuition. 
How can these two areas be bridged most effectively? This week I talk to the head of news at one of Silicon Valley originals and look at communication between departments.
Silicon Valley product culture in a news environment: How Yahoo News balances the two
Yahoo News is owned by Verizon Media, the largest online news network in the United States with over 214,000 unique visitors in November 2020, according to Comscore. It bridges technology with its HQ in Silicon Valley and content through original reporting with Yahoo News, plus aggregation of third-party content. Product has been a critical department within the organisation for many years, mapping teams with their engineering counterparts and working with the speciality verticals such as mail, news, sports and finance. 
Recently this has become more so with a change in structure from being vertically led to product led. I recently talked with Lippe Oosterhof, head of product at Yahoo News/Lifestyle and Entertainment.
How do you define "product" within Yahoo News?
In a nutshell, the product team is responsible for creating great consumer experiences. This starts with coming up with ideas for new features and products, and it ends with scaling experiences to drive our key results (retention, NPS, revenue, engagement, etc.). In between those two phases, the magic happens: validating hypotheses through user research and testing, collaborating with editorial to fine-tune our approach, and leading our engineers and designers to build interfaces, personalisation, publisher tools, etc. 
Yahoo is both an owned and operated news organisation and an aggregator. Does this mean that you have to have distinct products for each or do they work hand in hand? 
The user experience is the same, whether the content comes directly from our newsroom or indirectly from our partners. However, the internal workflow is quite different as you can imagine. We have invested deeply in content creation tools for our newsroom, as well as smart systems to ingest external content at scale. 
Yahoo News is a large organisation. What are the key ingredients to setting strategies and getting buy-in from all the stakeholders?
The key is to speak the language of other parts of the organisation. Product is the connective tissue between engineering, editorial, business development, finance, sales, and marketing. So it is essential to understand how the various stakeholders think and operate. While this can take a lot of time and energy, it is important to remember that getting buy-in is not the end goal, which is why it is also critical to always stay hyper-focused on the customer.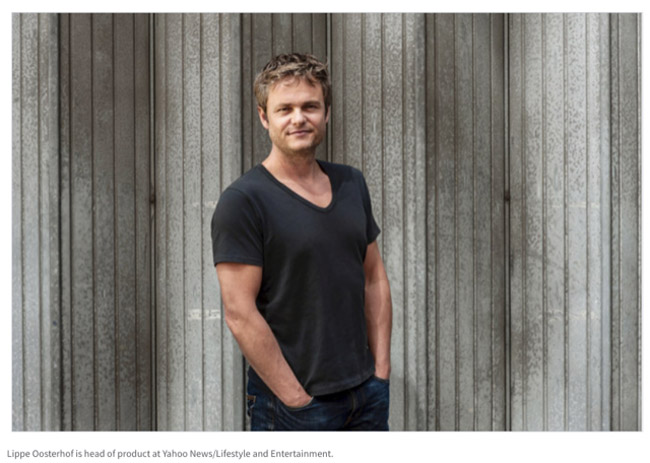 A metric-driven approach for a product can be at odds with the gut-feel culture of the newsroom. How do you overcome that?
Everyone in the company works towards the same set of OKRs (objectives and key results), which in theory ensures that the goals of product and editorial are aligned. In practice, this requires constant communication, sound relationships, and mutual trust. The best media product experiences are guided by a combination of data and intuition from both product as well as editorial.
What is the biggest challenge you are facing right now?
Like the rest of the online media industry, our biggest challenge is to reduce our dependence on advertising revenue by diversifying our revenue base. We also consider this our biggest opportunity. As the largest online news network in the U.S., we can drive new revenue streams like commerce, transactions, and subscriptions at an incredible scale. 
Communicating in a way that makes sense — to everyone
Amongst many other best practices both CJ Jacobs at MediaNews Group and Lippe Oosterhof at Yahoo have pointed to, a key to successful collaboration is to speak the language of other departments. Simple, right? 
What's happening on the next sprint? Do you have consistent KPIs and OKRs? Who needs to prioritise the backlog? What's the slug for that article? 
Does everyone in your company know what those questions actually mean? Probably not. 
At The New York Times, I was once told that the conversation we were having was a little "inside baseball." As a Brit talking about syndication, I had no idea what they meant so smiled politely, as Brits do, and carried on. It turns out that inside baseball refers to, according to Wikipedia: "the minutiae and detailed inner workings of a system that are only interesting to, or appreciated by, experts, insiders, and aficionados." I had walked away from the conversation happy that we were on the same page without realising that I was going too deep on a subject I knew about but others didn't — resulting in some of the group walking away with half an understanding of what was about to happen. 
This is one small example and I can only imagine how often a misunderstanding occurs between departments in the ever more complex world that technology brings to our businesses.
As news organisations have traditionally been siloed by department and had full "ownership," it takes extra effort to build trust. Some terms, such as "backlog," may be normal to technology but negative to editorial. And a simple turn of phrase can cause defensiveness and have an adverse effect on a working relationship. 
Such specific expertise, ways of working, and vocabulary may be some of the reasons the term "bridge role" has come about. These roles "bridge" departments by understanding the complexities and language of each to ensure each understands the other and that they are working together effectively and efficiently. 
If we truly want to build trust, colleagues need to have transparency. And if we truly want to listen to other opinions, we have to make sure we understand what is being said. In some cases, we may need to take out all acronyms and jargon. Maybe we don't need to go as far as speaking in terms that our grandmothers or kindergarten children would understand, but taking time to ensure terminology is neutral and understood can have a huge impact. It likely needs a period of over communication and visibility to meet today's more complex needs.
Tweet of the week
This is one of the themes that came up in the Product Initiative Meet-Up last week. If you missed it, you can catch up on the product initiative blog.
Date for the diary: March 3, Meet-Up on evaluating product success 
One of the ways we can speak the same language is to work to the same goals. What is deemed successful by one person may be failure to another if people are looking at different outcomes. In this session, we take a look at some of the key metrics that can be used to define success. 
Come and join the conversation. Sign up here, or if you have people you want to hear from or a story to share, please contact me at jodie.hopperton@inma.org.
My ask this week: What metrics do you use to define success?
Do you have standard agreed metrics you use across your company? 
🙋‍♂️— Yes, we have a single or blended "North Star" metric.
🤝 — Yes, we use OKRs (objectives and key results) or similar framework the whole company works towards. 
🔎 — We have various metrics that the whole company is aware of.
✔️ — No, we do not have company metrics but we have a set of metrics our team uses.
😬 — No, we don't have a focus on metrics.
Tell us here.
Recommended reading
• Finding the Right Words from NYT Open: Reminds us that making what can seem like simple changes on the surface can take time:
"... all of our digital product teams will be incorporating these new terms into engineering, product, and design work by the end of the first half of 2021, with exact timelines decided by the magnitude of the changes required." 
The reason for the changes? "As a journalism and technology company, we believe in using words that align with our values." 
• A Guide to GitHub for Non-Developers: Decoding a specific area of tech this article starts with: "I wrote this blog post because one day the designer on my team said to one of the developers: 'In the Stand Up today, you said that you'd merged the code, but what does that actually mean?'"
• Highlighted by Marek Kopec on the Product Initiative Slack Channel is the Future of product management report 2021: "… Inside, you'll learn what we discovered when we surveyed thousands of product leaders from companies of all types, including Google, Facebook, Netflix, Spotify, Airbnb, Uber, and many more. Product managers are used to change, but there are a few things in here that'll definitely surprise you, such
What today's product managers value most on the job:
Why the C-suite may soon become the "Product Suite."
What 73% of product managers are now looking to as the No. 1 driver of growth
And more!"
What have you read lately that might be of interest to product teams and leadership?