Hi there. The big news in case you missed it: We released a report on How Product Is Leading Media's New Growth Path based on the work of the initiative so far. Thank you to all those who have made time to speak with me and share their experiences. Click here to download the report.  
I've been continuing to delve deeper into the working relationship between editorial and product. This week we ask two questions: Without a revenue line, how do you demonstrate the value of product? And who's really in charge? 
E-mail me at jodie.hopperton@INMA.org with your thoughts on these topics.
Without a revenue line, how do you demonstrate the value of product?
If you are reading this newsletter, it's likely you understand the benefits of having a focus on product. But rarely does a product team have revenue attributed directly, so demonstrating value to the rest of the organisation can be challenging. This is exacerbated when making a case for additional resources.
When I spoke to CJ Jacobs at Media News Group earlier this year, she outlined her approach to getting buy-in for projects (you can read that here). Each quarter, a high-level road map is sent out, splitting initiatives by customer segment ("all readers," "subscribers," "internal executives" to name a few). Many other organisations follow similar formats.
We spend a lot of time looking at the present and forward at the work to be done, however one question comes up in relation to all this work: How do we look back and show the value we have created?  
In answer to this, the CPO of a well-known brand told me he is looking to put together a "virtual P&L" so they can track the impact they have had on revenue. (I haven't seen this done before so please let me know if you are one step ahead of us and have been through this development process already.) As with all revenue, it can be difficult to put an exact $ number on work as there are many factors and — with product — many individuals and teams that input to any single revenue line.  
Bearing this in mind, not all product work is driven by revenue. It could be cost savings or audience growth. Gannett, owner of USA today, has a quarterly impact report that is shared internally. Impact reports can be extremely helpful as they align to the company's specific objectives and leave scope to reflect work across many areas.
Each company may show "value" differently, but there are overarching principles that can be applied to sharing information with colleagues to highlight the effect of product work:

Less is more. Don't overwhelm people with information; highlight the "need to know." (Although be prepared to go deep on how the numbers have been put together and what they mean if and when questioned on the specifics.)

Make it relevant: Different reports to different groups.

Make it visual: Show a chart, a simple arrow up or down; use green for positive and red for negative. 

Attribute revenue or stats that help people put the value of work in context, ideally against organisational goals.
Who's in charge?
There is an undercurrent conversation I often hear — but is often not directly addressed — of who is ultimately in charge. Historically, newsrooms have had pretty free reign with the mantra "content is king," so they have acted independently. Indeed at The Guardian, and a handful of other titles, the editor and CEO report separately into the board. "Why does that matter?" you ask. Because this is the cause of much tension and directly impacts the work of product teams that must sit across both to be successful. 
If editorial ultimately decides, product teams may be forced to act more like project managers, being asked to build something specific rather than being brought in early to help evaluate the initial problem of what is being solved (or indeed, what should be solved). And if product ultimately decides, they can insist on a little too much product discipline for the issue in hand.
Imagine this: The newsroom has an idea. They are excited about it and ask product to execute. Product may add some structural thinking and process, which at worst is a good sanity check and at best provides thorough structure in line with company goals. If the overall company goals and objectives are clear, we would expect there to be convergence between editorial ideas and product thinking. 
But what if product thinks it's a terrible idea and editorial loves it? And what about all the ad hoc requests that can come out of a newsroom? (I see you product people rolling your eyes.)
That's when hierarchy and process matter. 
In an ideal situation, the relevant people get into a room and make the decision based on overall impact and opportunity cost of other projects. But sometimes that isn't practical, or the time/energy to do this outweighs the project itself. At the INMA World Congress, Cait O'Riordan pointed out that sometimes it's more impactful to execute smaller projects. Larger projects can be riskier so need more thought and analysis.
An editor may have the upper hand in an organisation, but ensuring there is some product thinking and structure early on in the conversation can help avoid missed opportunities.  
If the company is product led, there must be scope for ideas to bubble to the surface and get executed on in a timely way — even that means letting go of some of the structured approach that they are used to. 
Ultimately, whoever is in charge must know when to apply pressure to get something done quickly versus when to take a structured approach, and they should value working relationships and excellent communication. And let's not forget, the best leaders are the ones who make the other person think they have complete control all the while influencing with the right questions at the right time. 
Date for the diary: July 7
We'll be touching on these two questions in our video Meet-Up tomorrow, July 7, at 10:00 a.m. New York time. Karl Oskar Teien at Schibsted (Norway) and John Kundart at the Financial Times (UK) will join me to share their approaches to editorial and newsrooms.
Don't forget to sign up, link here, or send questions directly to me at  jodie.hopperton@inma.org.
Tweet of the week
Climbing up career ladders often means moving away from the job itself and into people management — sometimes with little training. This thread struck me as both relevant and sensible to ensure we retain our best product talent. It's Time to Fight for a Dual Product Management Career Path is the full article and I'm summarising the thread below with three tweets that stood out. You can see the whole thread here.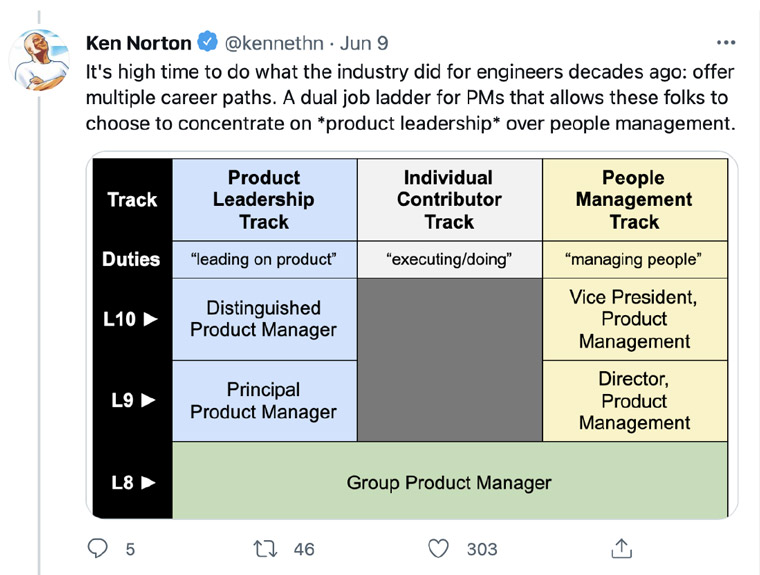 Recommended reading
If you still have some reading time after going through our product report, here are a few articles we enjoyed: 
The Reuters Institute launched its annual

Digital News Report

. 

Nic Newman has again led the research into happenings in the news industry globally. One this that stuck out to me was  that

"The gap between the 'best and the rest' has grown …" 

If you want to hear more about it, don't miss the INMA Webinar on July 21. You can sign up

here. 

Why your organization needs product principles

by the vice president of product design at Slack: 

"To ensure we're meeting our customers where they're at, we created a set of guiding

'

product principles

'

that inform everything we build, and which serve as the foundation for our entire product decision-making process."

 

Rebundling the news

by Steve Demsey. 

TLDR (in his words): News publishers need to be clear on the job their product is doing. Quick hits and deep dives are not the same thing and warrant different user experiences. There are particular opportunities for publishers to create products that support longer narratives to increase loyalty and lifetime value of the customer. 
About this newsletter 
Today's newsletter is written by Jodie Hopperton, based in Los Angeles and lead for the INMA Product Initiative. Jodie will share research, case studies, and thought leadership on the topic of global news media product.
This newsletter is a public face of the Product Initiative by INMA, outlined here. E-mail Jodie at jodie.hopperton@inma.org with thoughts, suggestions, and questions. Sign up to our Slack channel.