Hi there. We've been busy continuing the conversation around product and editorial with two virtual events. 
John Kundert (JK), chief product officer at Financial Times in the UK, Karl Oskar Teien, director of product for Norway's Aftenposten, and I talked about how deeply editorial and product should be aligned. Karl shared three building blocks Aftenposten has used to establish a shared world view. JK talked about how the FT has established boards for its main pillars and how product establishes value in it's own right. You can get the recording here, the INMA write up here, and the presentations here. 
Also Ben Haywood, director of product at Nine Australia, shared his five principles for an effective partnership between product and editorial (summarised here) at INMA Asia/Pacific News Media Summit last week. You can see my intro to product and Ben's presentation here. 
I hope you get to see these excellent presentations and learn as much as I did. Tell me your takeaways by e-mailing me at jodie.hopperton@INMA.org.
How much editorial know-how do product people need in news?
This is a question that comes up time and time again in the Product Initiative, alongside "how much technical experience do product people need?" Product teams are growing, so it's natural that we should question the skill sets and experience levels we should be looking for. Here are a few observations that may help you hire the right people for the roles you have. 
Let's begin by looking at the make-up of product teams at the moment. If we go back to the survey we ran with INMA members at more than 60 companies from 25 countries last December, we asked: "Have you previously worked in another department within a news organisation? Please select all that apply." Almost 50% come from the newsroom, 30% from marketing, and 26% from technology or revenue/advertising. It's clear that many different experiences are represented.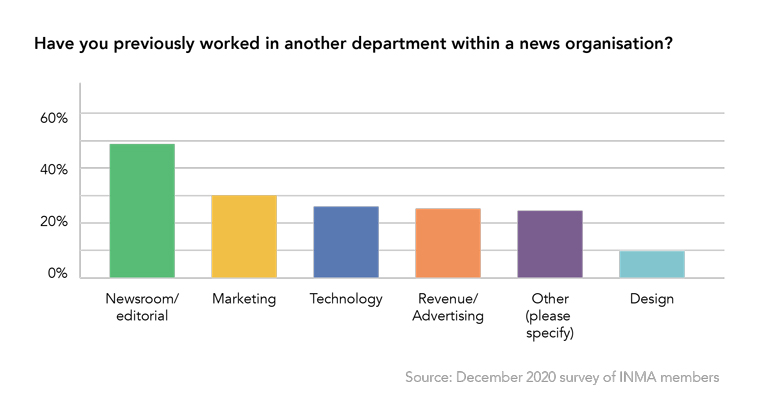 Now let's consider the needs of a product team as a whole. The above makes sense as a product team needs to work across all departments. Being able to tap into varying experiences and look at all angles of a problem within your team is invaluable. A well-rounded team will be able to bring different insights and perspectives, which makes for a more robust solution. Deep experience can also help dig into an area and build trust with colleagues quicker, which makes the whole product process move more quickly. 
But you don't hire a team as a whole; you hire individual roles. While product is a discipline in itself, an understanding of the products they are working on is essential. If we consider products in the four categories below, each product type and role within that will need different knowledge and skill sets. 
For example, a product lead for the Web or mobile will need an understanding of technologies you use. They are likely to spend a lot of time working with engineers, so they must be able to understand what is feasible and be able to speak the same language to devise solutions. In these cases, it's similar to hiring for tech roles: You wouldn't hire an Android developer to work on your Web site. 
If you are hiring for a product lead to focus on growth or engagement, the technical skill set may not be as necessary. Here you may want to focus on an understanding of tools and techniques that can be deployed. The New York Times has hired from outside the news industry to bring in fresh perspectives, including an executive from mobile game developer Zynga. Tapping into the gaming community, which is arguably the best at developing engagement outside of social media, is becoming more common (budgets aside, which is a conversation for another day).
You'll notice that in neither of these examples mentioned editorial know-how. In many of the companies I speak to, they recognise that they already have those specialists in-house — the newsroom itself. What I hear more is that they want to see an affinity with the product. Is it something they want to work on and are passionate about improving? 
And lastly, in an entirely non-scientific survey with product leaders around the world, the top skill they look for is excellent communication skills. Product people influence and need to be able to navigate the needs and personalities within a number of different departments. Although this is the last point in the post, perhaps it should be the first in your hiring.
Here is the TLDR summary for defining the skills sets and experiences you need:

Consider the essential needs: Team members need the ability to work within product methodologies, a focus on the customer, and excellent communication skills.

Think carefully about the role you are hiring for: In particular, who they will interact with and what systems they are likely to be using should help define skill sets and knowledge needed. 

Go wide: You may find that hiring from outside is the smartest move for your needs.

Affinity to the product: Experience with news/editorial is not needed, but some level of passion towards the product is.

Look at the team as a whole: A mix of backgrounds and experiences will enable you to build robust solutions. What holes do you have now?
And if you want some great questions to ask in an interview, check out The Ultimate List of Product Manager Interview Questions on Product School. 
Defying the churn of product people
As competition for product people heats up, from both inside and outside the industry, salaries are increasing and good product people can afford to be picky. In this competitive marketplace, how can you find and keep good product managers?
In the United States, we are seeing that workers across the board are leaving jobs in droves, which has been put down to people evaluating life choices after the uncertainty of COVID amidst demand for labour picking up in a strong economy. Within product, I consistently hear that there is a high churn rate yet general satisfaction isn't down. It's mostly down to salaries. There are stories of tech companies doubling salaries. That's hard to argue with and compete against. 
Some may be able to expand budgets, but we may not be able to compete with the salaries at this level. So what are the non-tangible ways in which we can compete?
Mission: The value of joining a journalistic/mission-driven organisation should not be underestimated. This can tap into people's desires to do something meaningful with their career. As one product leader told a prospect who was also interviewing at a food delivery company: You can either help people get their pizza delivered two minutes faster, or you can contribute to the future of democracy. 

Flexibility: As some places are starting to get back to normal after COVID, what flexibility are you able to offer? Do you need people to be in an office, or even online, 9 a.m. to 5 p.m.? Or are there ways in which you can offer more flexibility to fit into their lives? Perhaps you can focus on outcomes rather than specific hours. 

Work environment: Create an engaged environment where people feel valued, secure, supported, and respected, i.e. a place they want to be. Slack has 6 simple ways to foster a positive work environment. 

Personal growth: Consider what the employee or candidate wants to achieve in this role. You may be able to offer them exposure to areas of interest, or time to work on projects that they are passionate about, or help them get exposure to the rest of the business or industry. 
Gaurav Sachdeva, chief product officer at Singapore Press Holdings, recognises that he can't always compete on salaries and that it's natural that people won't want to stay in the same role forever. However, he doesn't see this as a bad thing. He aims to create an excellent workplace and help people develop their careers. By doing this, he is creating evangelists that will go out and tell others how great it is to work there. This is an example we can all follow.  
Date for the diary: INMA Product and Data Summit, October 5-19, 2021
Get a sneak peak at the Product and Data Summit in October. INMA Data Initiative Lead Greg Piechota and I are really excited about discussing how to unlock the potential of product and data to put customers at the center of your business to maximise innovation and growth. And we have some excellent speakers in the works, including a workshop with Gibson Biddle, vice president of product at Netflix, who took the company from start-up to 200+ million members. 
You can find out more and register here. 
Tweet of the week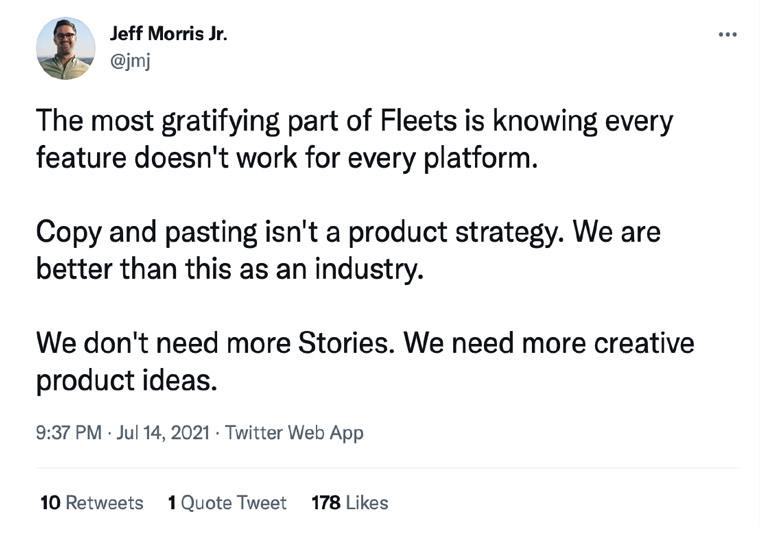 One thing that keeps coming through in my conversations with product leaders is the need for new product ideas that align with goals over the need to "follow" other news organisations. 
For example, take a look at this tweet and reply (and the full article, which is detailed below and can be found here). Simple yet effective.
Recommended reading
I want to preface this much of this section by acknowledging that this week's articles are grumpy. This isn't meant to put you in a terrible mood for the week or even to criticise what others have done. These are being highlighted because sometimes we learn more from what we do wrong instead of thinking everything is fantastic.  
Sorry publishers, but your digital products suck, by Frederic Filloux: A frank piece, with some recommended — and often common sense — product improvements for publishers, written by the renowned media Frenchman and friend of INMA, Frederic Filloux.  
I have come to bury Knewz, not to praise it, by Joshua Benton: This is a harsh review but there are some good points and comparisons in there, so it is absolutely worth reading.
And on a positive note, I love some of the ideas in this article: Potential new features in Twitter, by Tony Matthew. There are some ideas in here that could well be adapted to news organisations.  
About this newsletter 
Today's newsletter is written by Jodie Hopperton, based in Los Angeles and lead for the INMA Product Initiative. Jodie will share research, case studies, and thought leadership on the topic of global news media product.
This newsletter is a public face of the Product Initiative by INMA, outlined here. E-mail Jodie at jodie.hopperton@inma.org with thoughts, suggestions, and questions. Sign up to our Slack channel.