Hi there.
I spend much of my days speaking to product leaders within news for this initiative, but sometimes it's good to look outside the industry at what we can learn. And that's what we're doing today. 
Interaction with media products and the overall content experience has been defined by others, such as Netflix and Spotify. This means the consumer experience for news needs to excel at all levels — including look, feel, and ease of use — to give consumers the delight that warrants a premium spot on their phone and in their day. 
So who do you go to for inspiration? I asked three product leaders this question. All of them had different approaches. 
What are your inspirations outside of news? Who would you like to hear from? E-mail me at jodie.hopperton@inma.org. 
Alexandre Cordeiro, digital strategy manager, O Globo (Brazil)
Alexandre tells me he is always on the lookout for new apps and services, thinking about how he can learn from them. When he looks at apps, he generally likes to start with whether the app solves a problem/pain point, what kind of trial he can get, and how easy it is to get through that process before he looks at specific features. Below are a couple of examples of this.
Firstly when looking at holistic customer journey, the product that impresses him the most is Mercardo Livre, Brazil's answer to Amazon. In his eyes, the company has managed to create a smooth journey from sign-on to payments (which has been a challenge to crack in their market) all the way through to last mile delivery. He's been particularly interested in looking at the way in which the company allows consumers to search, shop, and buy products in an easy flow. 
Another app he's looked to for inspiration is one that simplifies the journey for consumers. Trip Actions facilitates the process of travel and expense, taking out a lot of bureaucracy that others in the space have. He loves their real customer centric approach and how the front end/UX simplifies the user experience even though their back end operations are pretty much the same as the traditional players.
Sarah Weishäupl, head of product management, Die Presse (Austria)
Die Presse looks at a lot of products outside of news, but most of them have "at least some media context." Given that their 170-year-old print product is still highly important to their business, they look at the job it does for readers. They then look at the best UX to translate this to their digital products. 
With UX in mind, their go-to apps for inspiration looks to highly frequented digital apps that have high utility for readers. These include apps such as food delivery and self-management such as Notion.
Sarah highlighted "Spotify: a podcast series" as a source of inspiration, not only in features but in their thoughtful approach to product. 
She also mentioned Blinkist and Calm as apps that have impressed her. The latter has a strong focus on what the user really wants to gain from the app to establish a habit. 
(You can ready my Q&A with Dun Wang, CPO at Calm: Product lead at Apple's No. 1 app shares 3 theories on success.)
Julian Delaney, chief technology officer/data and digital, News Corp (Australia)
Before going through a major revamp of some of their titles, Julian and team went deep looking at best-in-class titles. Conveniently for us, the slide below sums up their main sources of inspiration. 
What I found particularly interesting was the way in which they structured their search for  inspiration and best in class. Aside from looking at news Web and apps (note the separation here), they looked not only outside news but specifically on the components that were most important to them: read, listen, watch, share, and utility.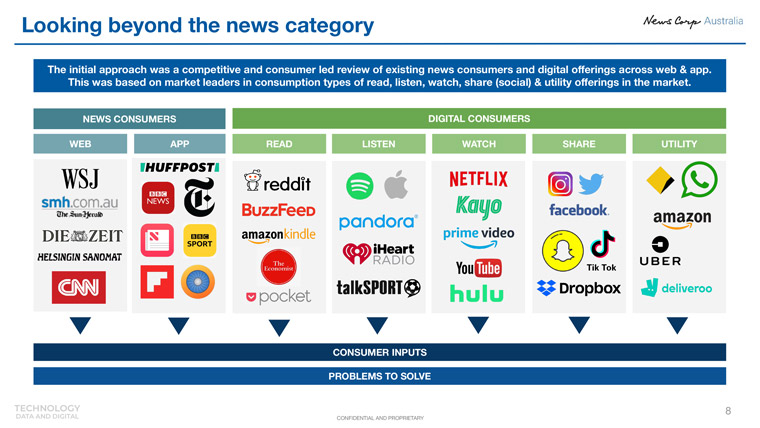 Their intentionality speaks to their structured approach, knowing what they wanted to get out of their research. If you want to learn more about this, Julian will be taking us through the entire project from start to finish in the December Product Masterclass. 
Looking beyond news: conclusion 
All three of these responses, and others I've spoken to, look for highly frequented apps that have specific uses. Here are a few questions that I suggest asking internally when searching for inspiration:
What are the apps your audience, or desired audience, uses the most? Alexandre learns from the apps he admires from a business perspective as well as ones he actually uses on a regular basis. 
What are the areas that are of specific relevance to the work you are doing? NewsCorps structure is an excellent example of this. 
Why would a consumer love this app/product? Die Presse looks for the elements that are important to them, focusing mostly on the design and user experience. 
And one theme that sings through, but is discussed less, is utility: What does it actually do for customers?  
Dates for the diary: Tomorrow!
Registration is open for the Product and Data Summit. INMA Researcher-in-Residence Greg Piechota and I have lined up some fantastic sessions and speakers focusing on all things customer centricity. More here.
And don't forget to join Aron Pilhoffer, Riske Betten, and me at the Product Initiative Webinar tomorrow, September 15, to talk all things mobile web v. apps. More here.
Tweet of the week
As we are looking outside of news, this tweet struck me on features v. products. In my view Snapchat, where stories were created, doesn't get enough credit for it's ingenuity in feature development. 
Recommended reading
In the theme of looking outside of news, here are a few links in different mediums:
About this newsletter 
Today's newsletter is written by Jodie Hopperton, based in Los Angeles and lead for the INMA Product Initiative. Jodie will share research, case studies, and thought leadership on the topic of global news media product.
This newsletter is a public face of the Product Initiative by INMA, outlined here. E-mail Jodie at jodie.hopperton@inma.org with thoughts, suggestions, and questions. Sign up to our Slack channel.