Research shows readers' in-depth attention to print increases value of advertising
Print Innovations | 20 June 2016
There have been some great examples of eye-catching ads in the newspapers recently. From UCL's bold formatting to Apple News' double-page, title-specific spreads to Waitrose's hunger-inducing campaign for its new range, it's fair to say that print still delivers impactful ads.
Yet, as a medium, print is placed at the back of the pack when it comes to the well-worn time spent argument, which compares consumers' dwell time to advertising spend with a media, often cited by U.S. analyst Mary Meeker.
However, Newsworks' latest research conducted with PwC, shows that "quality time" — that is, the attention commanded by a medium — drives advertising impact far more than dwell time.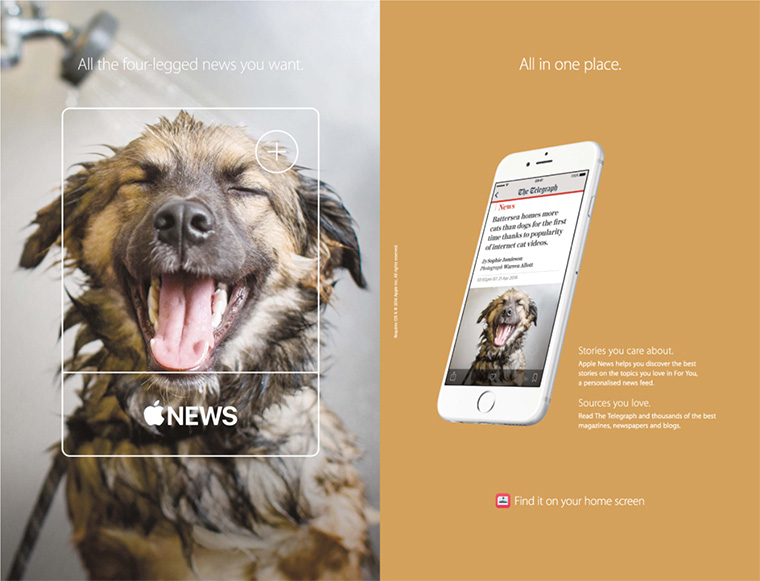 "The battle for attention" found that regular consumers who are fully immersed in a media are more likely to respond positively to advertising — defined as consumers' encouragement to purchase, the generation of ideas, recall, relevance, and trust — than those who are using multiple media simultaneously.
With print often referred to as the "last solus media," the study found that, in the United Kingdom, 60% of regular print readers are not consuming any other media while reading a newspaper. For the 40% who are, newspapers are likely to be viewed in conjunction with non-commercial BBC TV and radio, so consumers are only exposed to the ads in the newspaper.
Media attention scores (see the equation here) were applied to regular consumers of each medium, with print newspapers topping the table with a score of 80%, followed by regional print newspapers (76%), short online videos (75%), and national newspaper Web sites and commercial TV on demand (73%).


Discussing the research, Douglas McCabe, CEO and head of publishing and tech at Enders Analysis, said:
"Advertising is increasingly being traded on an audience basis, taking too little into account of the respective qualitative strengths of different media experiences. Consumer immersion in trusted content has a massive impact on awareness, trust, and effectiveness of its associated advertising. Attention feels an important step in the right direction."
The value of print in the multi-media mix isn't lost on advertisers. Speaking at Mediatel's Trinity Mirror breakfast last month, DFS Furniture's media agency manager Nick Ashworth, joined others in praising print as a "very powerful medium" and said that it is delivering "very strongly for our business."
This echoes Manning Gottlieb OMD's Tim Pearson, who explained at Newsworks' Shift 2016 conference: "From an ROI point of view, news brands are our star performers. On average, print is our most effective ROI channel."
It's worth noting that the supermarket recently achieved a record share of the grocery market of 5.3%, growing sales by 2.1%.
Meanwhile, ZenithOptimedia's Luxury Advertising Expenditure Forecast concluded that print remains the most important medium for "high luxury" advertisers. The report explains that print titles provide "high-quality, immersive yet relaxed reading experiences," which it describes as "a particularly suitable environment for luxury advertisers wishing to showcase their brand values." 
So what does all this mean? Understanding the quality, uncontested attention consumers give print is central to measuring its value for advertisers.
As Newsworks' Denise Turner pointed out at the presentation of "the battle for attention," the word advertising comes from the Latin work advetere, which means to draw attention. By this fundamental measure, print tops the table.