Publishers, advertisers stand up for the team, against hate during Euro 2020
Print Innovations | 27 July 2021
What a rollercoaster week it was for the media industry, the England football team, and our society. Riding high in the days before the Euro 2020 final, the nation was squarely behind its team in the football European Championship.
News brands and advertisers were no exception, of course. Could we really win our first international trophy since 1966?
Sadly, it was not to be. Our footballers played valiantly, but Italy left Wembley worthy winners. The next day, publishers and brands again rallied around the England team, showing how much the country valued them and appreciated their efforts.
But not everyone shared that message: A vocal minority launched racist attacks at some of England's Black players online. When the news came out, the industry was quick to show zero tolerance toward hatred.
Here is a snapshot of the very best creative from an emotional tournament.
Specsavers: "It's coming home"
"It's coming home" is the famous line from the iconic song Three Lions (England's team badge), written in 1996 as a self-deprecatingly hopeful anthem that England might triumph again one day. So, when England thrashed Ukraine in the quarterfinals in 2021, unlikely hope started to turn into a real possibility. Specsavers capitalised on this perfectly, using the instantly recognisable Snellen chart to hide a secret message — a perfect display of the brand's renowned wit.
Booking.com: "Maybe don't go away just yet … "
With "it's coming home" becoming the obvious refrain for advertisers to express their excitement, Booking.com cleverly used its position as a travel company to juxtapose its purpose with our mantra. When it became clear football wasn't coming home, it was able to snap back to enticing us away once again.
Nationspride: Nationwide gives itself a rebadge
Advertisers with instant brand name recognition have the luxury of being able to make a point with it. Nationwide, the British building society and sponsor of the England team, did exactly that with a name requiring people to take a second glance. Nationwide was changed to Nationspride: simple, effective, and genuine.
BT: "Hope United"
Many advertisers focused on messages of solidarity later in the tournament, but BT made it the entire focus of its campaign. This first came out for England and Scotland's game in the group stages — an occasion that had the potential for online and offline abuse. When abuse became more prevalent after the final, the telecommunications company quickly turned around a striking contextual ad showing the spike in hate online as St. George's Cross, England's national flag.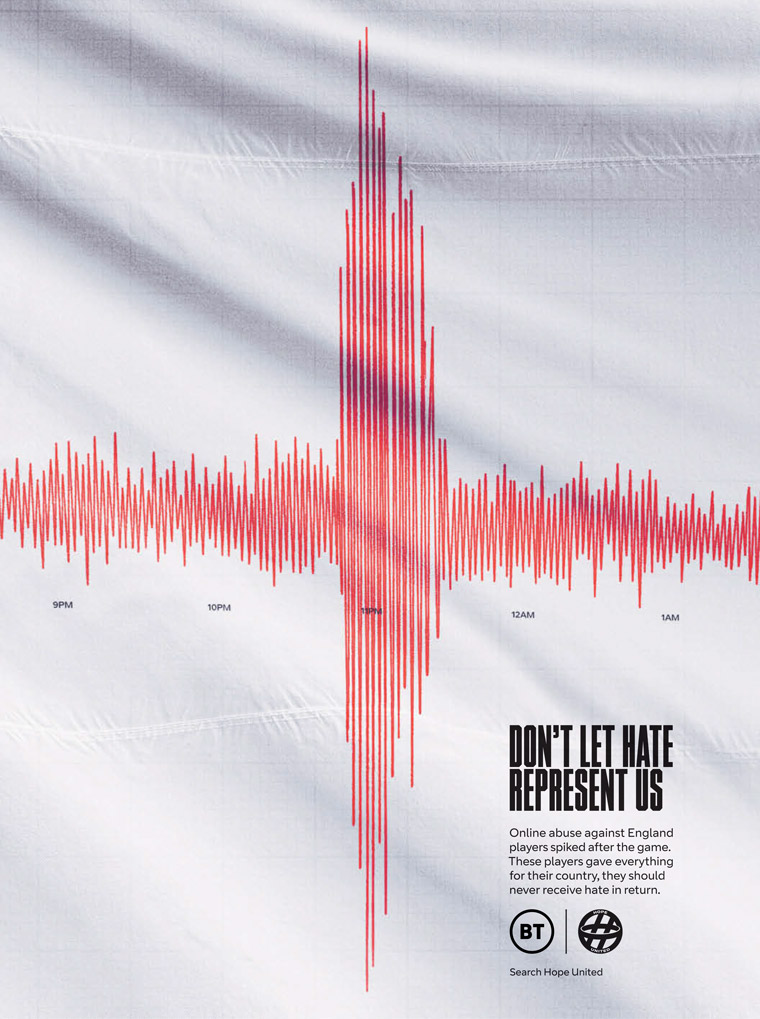 ITV: "Together we will never lose"
ITV didn't advertise in news brands during the tournament. With seemingly the whole country scrambling around a TV set or a mobile device to watch the action, the excitement of the tournament was advertising enough. But once the action was over, and a strong unequivocal message was needed to address hatred and racism, the television channel used the power of news brands to be quick off the mark and crystal clear in its address to the nation: "Together we will never lose."
Check out our extended galleries to see the highs, lows, and solidarity from advertisers and publishers during the tournament.