Newspapers provide engaging context for creative charity campaigns
Print Innovations | 18 February 2016
If you picked up the Metro on your way into work on February 4, the masthead may have caught your eye. The "O" had been replaced by a Unity Band — the fundraising wristband for World Cancer Day.
With advertising strips running across the first 10 pages of the paper, an editor's note penned especially for the cause, four pages of branded content, and the "60 Second" interview with the charity's ambassador Gaby Roslin, it's fair to say that Metro, working with MediaCom, put World Cancer Day front and centre during the morning commute.
The print takeover was extended online to Metro's stablemate, MailOnline, which also morphed its logo (the first time it's done so for a charity campaign), and sported scrolling skins, banners, billboard ads, a sponsored feed, and first impression targeting across the site for the day.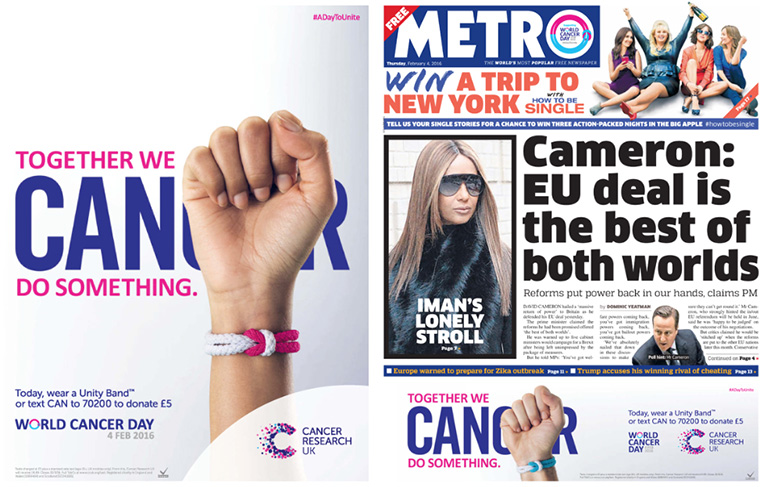 This campaign was the latest in a long list of impactful and creative collaborations between charities and newspaper titles.
By their nature, news media companies are well-versed when it comes to campaigning for causes and influencing opinions. Editorially, they launch investigations and instigate change, while every year their Christmas appeals raise millions for charitable causes. Just look at the Guardian's campaign for refugees or ESI Media's Great Ormond Street appeal, both of which are the titles' most successful to date.
So, on the commercial side, teaming up with charities to create engaging branded content is a great fit, and print provides a brilliant platform to raise awareness in a topical and newsworthy context.
As Metro pointed out, its World Cancer Day activity follows previous charity takeovers of the newspaper for Stonewall and Paddy Power's "Rainbow Laces" and Breast Cancer Now's "Wear it Pink."
The latter saw the newspaper's design theme, including its masthead, turn pink for the day, with more than 40 advertisers supporting the special issue. Brands such as Barclays, Fiat, Vodafone, and Virgin Media produced bespoke creative, while others added Wear it Pink's badge to their ads.
As Metro's trading director Grant Woodthorpe said: "It's incredible to see so many brands willing to get on board … We showed with Rainbow Laces the impact a single, dedicated edition of Metro can make, with 91% of our readers agreeing that seeing brands working together like this makes the message so much more powerful."
The Rainbow Laces edition — the first time that Metro dedicated the entirety of the newspaper to one cause — was created for Paddy Power's initiative to tackle homophobia in football, in association with Stonewall. The special issue saw 51 brands get involved, including Premier Inn rebranding as Premier Out and lastminute.com declaring itself pink and proud.
As a result, #rainbowlaces trended on Twitter for seven hours post-publication and 100,000 people requested a pair of rainbow laces.
It's a brilliant example of the power of print to engage and influence readers.
Of course, it's not just Metro that has joined forces with charities to produce eye-catching campaigns. Last year The Sun and Macmillan Cancer Support set about raising awareness of the help they offer to those affected by cancer by communicating directly with readers.
The newspaper's "Dear Deidre" feature provided the perfect contextual placement, with a cancer-related letter featured every Monday (straight from Deidre's inbox) on a re-branded page, along with a response highlighting how Macmillan could help.
The Monday takeover also saw the "topic4today" populated with content relating to Macmillan and an "Angel of the Week" feature that showcased the work of Macmillan staff and individual carers, which were nominated by Sun readers and chosen by Deidre. Further activity included a branded content DPS and monthly full-page advertorials.
Taking a contextual approach proved to be effective. Research with readers of The Sun found that those with family or friends affected by cancer are 29% more likely to spontaneously mention Macmillan now than before the campaign ran.
Focusing on a different message, Cancer Research UK sought to convince people that the battle against cancer will be won, while inspiring participation in fundraising events and driving donations via activity with The Telegraph.
Once again, print played a central role in the multi-media campaign, helping to deliver the emotional side of the story.
A "Super Sunday" hijack of The Sunday Telegraph saw the charity's message infiltrate many areas of the newspaper, including a mention in the editor's contents page. In Stella, stylish looks at bargain prices were showcased in a bid to encourage readers to donate, shop, or volunteer at a CRUK store.
Over in the Sports section, Telegraph writers explained their personal reasons for signing up for a CRUK sporting event. Meanwhile, the Money section featured a step-by-step guide to legacy giving.
This activity formed part of a wider multi-media and cross-platform campaign, but it is a great example of how original print content can hold its own as part of the mix.
From the Daily Mirror removing the "a" and "o" from its masthead to support blood donation, to The Sun's CoppaFeel activity, the list of innovative and inspiring collaborations between charities and publishers goes on.
As all of the above show, creative content and thoughtful placement are a powerful combination, with newspapers providing a topical and news-orientated context for charities to reach engaged readers.