How advertisers tap into news media's editorial context
Print Innovations | 17 December 2017
Amid all the timely ads for stocking fillers and festive feasts filling the newspapers at the moment, the announcement of Prince Harry and Meghan Markle's engagement was another great reminder of how brands can use newspapers to quickly turn around very topical ads in a relevant context.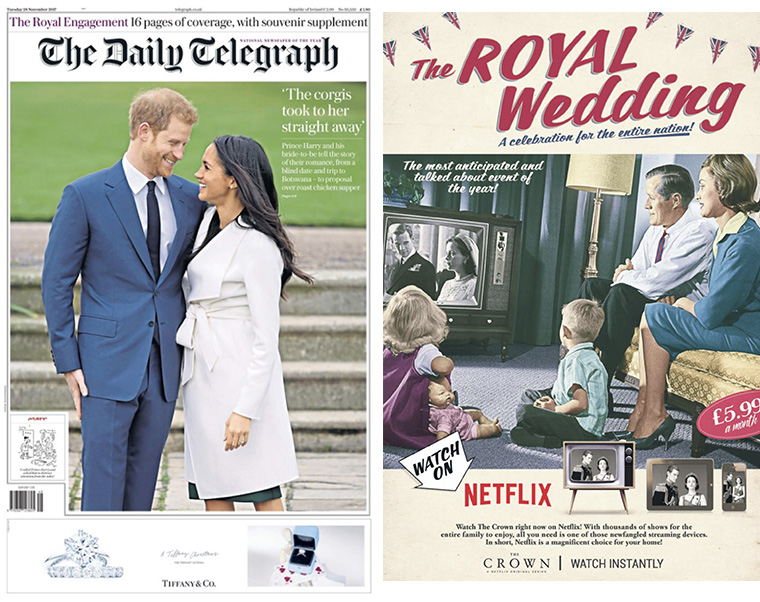 There was Fortnum & Mason's wonderfully simple "Welcome to Royal-Tea," Alexa's "Call Granny" creative, and easyJet's "No princes left here. Find your prince charming somewhere else" message, all surrounded by coverage of the upcoming nuptials.
Meanwhile, on the front page of The Daily Telegraph, beneath a portrait picture of the couple at their engagement photo call, Tiffany's placed an ad featuring a diamond engagement ring. A shining example of a brand perfectly aligning itself with headline news.
A week earlier, as the Queen and Duke of Edinburgh celebrated their 70th wedding anniversary, Netflix took the opportunity to promote The Crown with a stand-out retro-style ad depicting a family gathered around a TV set watching Matt Smith and Claire Foy, in character as the on-screen royals, tie the knot.
Often, topical ads are clever one-offs — reacting to a specific piece of big news — or seasonal campaigns, such as with Christmas activity. However, the winner of "best topical campaign" at the Newsworks Planning Awards took the concept of the topical one step further, creating an ongoing, highly contextual news brand campaign reacting to the day's stories over a prolonged period.
With the aim of delivering a witty Gallic take on British life and creating stand-out in the minds of its "striver" audience of 35- to 49-year-old men, Kronenbourg 1664 teamed up with Spark Foundry, ESI Media, and Ogilvy & Mather to set up a dedicated newsroom. The team delivered quick-witted, relevant copy in a tight two-hour window, which sat contextually around breaking news stories.
From ongoing news like the 2017 general election and Brexit, to more specific headlines such as a British Gas price increase and the Supreme Court's ruling on term-time holidays, ads sat below front-page editorial, providing a "franc" point of view on the day's scoops.
Online, ESI's RealTime data tool pinpointed trending topics, allowing Kronenbourg 1664 to target the right audience at the right time with the right message. Results show the brand enjoyed an increase in purchase volume, frequency, and spend.
As Philippa Heywood, MoneySuperMarket's brand director and 2017 Planning Awards judge, said, "Working with highly prominent media placements, this campaign blended its unique brand equity and tailored it to the particular context with great disruptive effects."
Another great example of a brand that took the topical to the next level is British Heart Foundation's activity with The Sun, which won in the "omnimedia" category at the Planning Awards.
With the goal of disrupting people's everyday routines and creating as much impact as possible, the BHF worked closely with The Sun's editorial team to deliver highly contextual, bespoke messages around news articles, as well as removing some of the newspaper's most-read sections, including the sports pages and TV listings. In place of the usual content, stark messages brought home the unpredictability of heart disease.
Explaining why the campaign won, Alistair MacCallum, m/SIX's UK CEO and 2017 judge, said, "The winner shone through because of the way that it used a very creative and brave mechanism to tackle an issue that is riddled with misconception and some ignorance." Using similar creative to interrupt people's daily routines, the messages also ran across OOH placements including bus shelters, coffee cups, and cinema tickets, in taxis, and on toilet mirrors, as well as being supported by TV and digital display ads.
As we come to the end of a year where the importance of ad context has come to the fore, it's good to remind ourselves how newspapers' topicality and newsworthy environments can benefit advertisers, resulting in relevant, engaging, and highly current campaigns.