Context is key for eye-catching, relevant print advertising
Print Innovations | 29 April 2015
When it comes to advertising, "context" is shaping up to be the buzzword of 2015.
Enders Analysis' Douglas McCabe underlined its importance in light of the rise of programmatic at Shift 2015, presenting the aptly named Context is Queen report. Going one step further, Gary Vaynerchuck took to the stage at the Guardian's Changing Media Summit to say that "if content is king, context is god" and urge advertisers to "respect the room you're storytelling in."
More recently, Newsworks' Denise Turner presented "The company you keep," new research that shows advertising in the context of print newspapers increases brand love by 11%, talkability by 13%, and intent to purchase by 16%.
While my focus here is on newspapers, data for news brands across all their platforms is also available. Ultimately, the engagement newspapers offer – as Denise says, "it's a bit hard to give news brands half your attention" – along with the trust and personal identification people feel toward their chosen title, results in a positive "brand context effect" for advertisers, increasing for advertisements that are creatively strong.
Of course, newspapers, while providing a beneficial context for brands, also give advertisers the opportunity to position their ads within a relevant editorial context.
Even in its simplest form, advertising appearing next to related content is undeniably eye-catching. For example, Ryanair's recent post-leader's debate ad positioned next to general election coverage in The Times arguably increases the impact of what is already a great ad.
Likewise, Bodyform's response following tennis player Heather Watson's comments that her period contributed to her losing her first-round match of the Australian Open, was well placed in The Independent on Sunday – on a double-page spread covering the tournament and next to an article about the women's match.
While both of the above examples relate to specific news, putting an ad within a general contextually relevant environment just makes sense, as with Ford's recent activity in publications such as the Daily Mirror's Notebook supplement. While car advertising doesn't instantly scream "women's fashion magazine," this particular ad, with a focus on style and spring trends, is enhanced by association with the surrounding editorial.
Building on the basis of compatible content, Dove's bookmark ad in the Metro used form to increase association between the ad and the neighbouring article.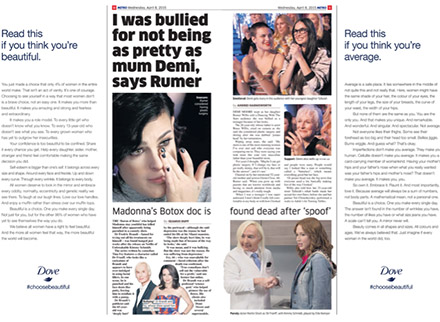 One side of the long copy ad is entitled "Read this if you think you're beautiful" and the opposing side "Read this if you think you're average," surrounding an article with the headline "I was bullied for not being as pretty as mum Demi, says Rumer."
This strongly resonates with Dove's "beautiful is a choice" message. It works so well that I initially thought, at first glance, that the whole page was part of a native advertising feature rather than clever placement.
Sometimes it's not just the positioning of an ad within the newspaper but a certain title itself that provides the all-important context, as with Three's recent activity in The Sun.
Taking over the inside spread, Three bought back page 3 for a day with a funny parody – Barry from Huddersfield under the headline "Sun's out, moobs out." With the aim of publicising the mobile network's holiday tariffs (or lack of), the ad was specifically designed for The Sun, allowing it to sit perfectly within the context of the newspaper.
Incidentally, the fact that it appeared on April Fool's Day, with the assertion "no, this is not a joke," made it stand out even more.
Similarly, Oreo's eclipse of The Sun to mark the recent solar eclipse is a great example of a brand uniting strong creative with context. The ad, a translucent wrap with translucent inside pages, was attention-grabbing in the first place. But the perfect combination of context, creative, and timing makes it an excellent example of masterful newspaper advertising.
Finally, Nike also put itself in the right place at the time with a cover wrap of last Friday's London Evening Standard, thanking Paula Radcliffe ahead of her final competitive marathon. With the race taking place less than 48 hours later in the capital, the wrap was a fitting tribute to the three-time London marathon winner and communicated Nike's message with Londoners, winding down for the weekend, at the perfect time.
While it may seem like common sense, context is undoubtedly a key component of effective advertising and newspapers are unrivalled in their capacity to utilise it. Advertisers have both the benefit of newspapers' "brand context effect" as well as the ability to position ads alongside compatible editorial to reinforce the relevance and topicality of their message.