21 April 2015 · By Kylie Davis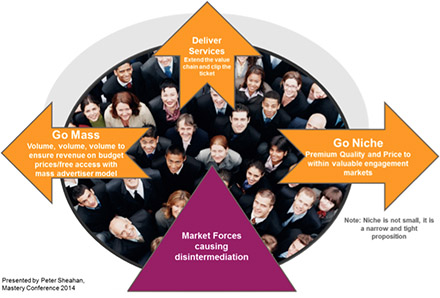 Digital transformation has been a reality for newspaper companies for more than 15 years, with the dramatic effect on newsrooms and circulation felt by everyone in the industry.
We've long known that our business model was failing. But in all that time, I never saw a reliable framework that explained not just what was happening, but what to do about it.
Until now.
I left the industry in June last year to join a data company. I now work for CoreLogic, the world's largest provider of property data – an innovative company full of data geeks, sales guns, entrepreneurial thinking, and people who really love property.
My role is head of real estate solutions, which, in media terms, is the equivalent to being publisher for the "vertical." I set the strategy for our business which, last year, brought in A$45 million in revenue ...
...[more]
---
01 June 2014 · By Kylie Davis
Short , snappy takeouts with cool memes are the way journalism is done in the social generation, so here's how the INMA World Congress in San Francisco went down.
The print-to-digital transition.



Very probably, winter has been here for at least the past five years. But the motto of House Stark (of "Game of Thrones" fame) is a telling warning to us all – it could still get worse. Heads could end up on pikes if we don't ...
...[more]
---
19 May 2014 · By Kylie Davis
The first time I bathed my newborn son, he screamed so loudly that nurses came in to check I was not harming him. The second time he went rigid and round-eyed in fear for several horrible moments before, again, screaming the hospital down. When not being immersed in warm water, he was a contented and beautiful baby.
The third and the fourth time, his cries were so loud and terror-filled, they made me sweaty-palmed with fear. I now officially dreaded bath time and worried I had given birth to a child who would grow up with hygiene issues. But as his mother, it was my job to submit him to the ordeal because it was for his own good, and it was my responsibility to do what was right for him, even if not doing it would have been easier.
By the fifth bath, the noise had become fitful. By bath 10, he even enjoyed it.
There is a moral to this story. At no stage did I throw the baby out with the bathwater just because the little bugger screamed throughout the wash. As the nurses said at the time, "Screaming is to be expected." (He is now 21, and a sweet-smelling and gorgeous young man who bears no obvious psychological scars of this early childhood trauma.)
This is the challenge currently facing newspaper management as ...
...[more]
---
21 April 2014 · By Kylie Davis
A string of new research is identifying the new value proposition that newspaper companies need to champion when articulating the power of print.
Gone are the days when we can assume that we are the only game in town, or that digital is a presumptuous upstart converting print dollars to digital pennies and ruining us all.
Rather, we need to demonstrate how print is still a viable and essential part of any advertisers' media mix – not based on emotion and defensiveness, but on the data.
There is now a raft of insights that talk to the new value of print as a partner to digital rather than an alternative. Here are the highlights.
Print is the most trusted medium: The data shows 58% of people in Australia trust newspaper advertising, according to the Nielsen Global Trust in Advertising and Brand Messages Report from September 2013. This is above television (54%) and magazines (50%) and a long distance ahead of digital advertising of all kinds, including ads served in search engine results (32%), online video ads (31%), and ads in social networks (27%).
...[more]
---
10 March 2014 · By Kylie Davis
News companies have been urged to "try new ideas and fail fast" to inject entrepreneurial thinking and flexibility into our traditionally conservative management cultures.
The belief has been that, at a time of declining revenues, there is no such thing as a bad idea, and the only thing really holding us back is a fear of punishment for getting it wrong.
But the mantra is at risk of being abused in those instances where the need for urgent action to address declining revenues is being misinterpreted as "try anything, quickly, for the love of God, throw something – anything – at it."
When we give ourselves permission to fail, it should NOT mean that failure is our ambition. And as we seek to fix our current predicament, we should not confuse the idea that a stupid action is better than no action at all.
In business development, there ARE such things as bad ideas. And in an industry facing unprecedented transformative change, there IS a need to recognise that being bold enough to try something new and fail fast is different than setting yourself up for failure.
...[more]
---
19 January 2014 · By Kylie Davis
One of the most misused words — possibly in the English language, but especially in newspaper company circles — is "strategy." And I'm as mad as hell about it and I'm not taking it any more.
The issue popped up recently when a colleague asked me to brief her on my new strategy for 2014.
I astonished her when I told her I didn't have one.
"But we all need a strategy in this company!" was her comment.
I explained what I did have was an operational/execution plan that I was happy to share with her, if that was what she meant. Because the key challenges we are facing as a business have not fundamentally changed in my area of real estate, our plan was to continue to execute the strategy developed a couple of years ago in conjunction with our sales and marketing teams, which was working extremely well.
Build upon it and refine it — sure — but not develop a "new strategy." And, really, we just need one strategy as a company that each area of the business would align behind. We didn't all need different strategies.
"Well, you will have to come up with something new," she said. "Why don't you just re-label what you have done as your strategy and hand that in?"
Now listen, people. We're journalists. We're supposed to care about words and use their meanings accurately. And as such, this abuse of "strategy" just has to stop.
Calling things a strategy doesn't make us smarter or more business-like. Nor will it guarantee our success.
...[more]
---
22 December 2013 · By Kylie Davis
TALL tales of the good old days of journalism featured at a Christmas lunch, as colleagues reminisced over a few glasses of wine about the big names, the big stories, the big deadlines, the big nights – and days – at the pub and the big personalities and colour characters that once ruled the industry.
In the days of hot metal and typewriters – and even the blinking green cursor – you didn't have to be mad to work in newspapers. But there's no doubt eccentricity, alcoholism, chain-smoking, and a strong streak of self-righteous hedonism (or an ability to tolerate all of the above) helped enormously.
Ah, the good old days!
As an industry with such a legacy of rule breakers and misfits doing good work for the fourth estate, is it any wonder we now have such trouble buckling down to business in the 21st century? Where is the fun in discipline, taking responsibility, good internal communication, and clear and transparent decision-making? Where is the creativity in that?
Well, it appears the engineers of Google and newspaper journalists have something in common – both have a deep and abiding distrust of the value of managers.
...[more]
---
03 November 2013 · By Kylie Davis
"Is Google Glass going to take off? Do you really think everyone will want to wear those ridiculous glasses?"
The grey-suited executive who asked me the question was in his early 50s and had 30 years of print experience, man and boy. It was true: He would look ridiculous in his suit wearing Google Glasses.
But across the way in the Googleplex, skinny-jeaned tech heads with shoulder bags, riding scooters, were inventing the future. On them, the look is pretty cool.
So I pointed out that hyper-colour T-shirts, bubble skirts, and mullet hairstyles were all really bad fashion statements. But we had loved them. And none of them connected us to the Internet as we walked down the street. So, yeah, I reckoned it was a technology we needed a strategy for.
But the precursor to Glass is a new breed of mobile apps that are here now. And because you can keep your mobile in your pocket, there is no need for us to feel obliged to go all Coco Chanel (let's be honest – we'd never pull it off).
All three of these apps use a new technology that recognises your location and doesn't just show you where you are, but connects you to things of interest, or people of interest, and helps you learn something new.
On the face of it, several are freaky in a "could be used by weird stalker and result in a tabloid headline" kind of way. But look past that and they become completely cool with enormous potential for news companies.
...[more]
---
16 September 2013 · By Kylie Davis
"Emotional. Bossy. Too Nice. The biases that still hold female leaders back – and how to overcome them."
The headline on the cover of the September Harvard Business Review – like all good headlines – incited me to rage. Why, I fumed, are the stereotypes associated with "female styles" of management still seen as different, other, wrong, and in desperate need of being "overcome?"
The headline hit a nerve. Earlier in the week at the Future Forum conference for The Newspaperworks in Sydney, the four male CEOs of the Australian and New Zealand newspaper industry sat on stage together and admitted – somewhat sheepishly – that while there were lots of women in their organisations, none were at a level where they were likely to take over the top chair any time soon.
And that was rather a shame, but hey, what could you do? It wasn't their fault. They loved women!
"C'mon, babe," said my husband upon witnessing my reaction to the HBR headline. "You've got to admit it – that's exactly what you're all like!"
After more than 20 years together, he knows exactly how to push all my buttons.
There was a prolonged and intense period of spousal shouting, which we both thoroughly enjoyed. During the spat, he claimed I was proving his point on the "emotional and bossy" front. I countered that the three male stereotypes should be "Aggressive. Political. Self Important," which he was demonstrating in spades.
No one in public debate however, was arguing that these were obnoxious traits that needed to be "overcome" – rather they were clichéd male behaviours that regularly resulted in promotion in media.
At which point we both stopped for air. 
...[more]
---
05 August 2013 · By Kylie Davis
I'm sick to death of reading about the death of print – with stories written like suicide notes and printed lemming-like in our own publications, from journalists who believe an extremist fervour for "editorial independence" gives them the right to self-destruct and take everyone else with them.
I'm sick of it, because I know it not to be true.
As a journalist who covers real estate, I've seen markets in good times, in bad times, in amazing times, and in catastrophic times. And when things are catastrophic, there is often a sense that down is the only way things will ever go.
But every market bottoms (or tops) out eventually. And it is how you behave after the market has bottomed that decides if you will cut your losses and angrily lament to anyone who will listen, do nothing ever again out of sheer terror of a potential future loss, or learn the lessons of the fall and prosper.
My belief is this: Print is not dead. Print has just bottomed out.
We're never going to see it return to the giddy, heady days of pre-2007. And we really do need to keep working on a more sustainable digital model to support quality journalism (one that embraces editorial independence, but not editorial idiocy). Because this is where the bulk of our audience is now, and they are there in greater numbers than they ever were in print.
Digital should be our first focus. Print no longer holds the monopoly on being the first source for information, or the fastest, or the only way to get a message out.
But print does still have a purpose. It's a purpose that is different to the one it held originally, but that doesn't make it any less valid.
For the print market to pick up, however, it needs to embrace this new USP. We need to start marketing the new uses for print and stop wringing our hands at the loss of the old.
What is that new purpose? We need to look at the data.
In my area of real estate in Australia, it's true that the bulk of the dollars in advertising have gone online. As News Corporation Australia owns more than 60% of the country's biggest online property site – realestate.com.au – we're OK with that.
But over past years, the best real estate agents in the country have been getting angry at us. As more of their business moved online, they have found it harder and harder to stand out from the crowd.
It's difficult, if not impossible, to brand yourself as an agent above all others – on a property listing site. Everyone is trying to do the same thing.
ot dead. Print has just bottomed out.
...[more]
---