Publishers and journalists need to work much harder to explain the principles behind journalism and show their homework at all stages in the process of engaging with audiences to help create trust and treat their readers as intelligent people.
That's one view from former Washington Post media commentator and author Margaret Sullivan, a view she develops in her latest book Newsroom Confidential: Lessons (and Worries) from an Ink-Stained Life, a personal take on a life in journalism and her worries for its future.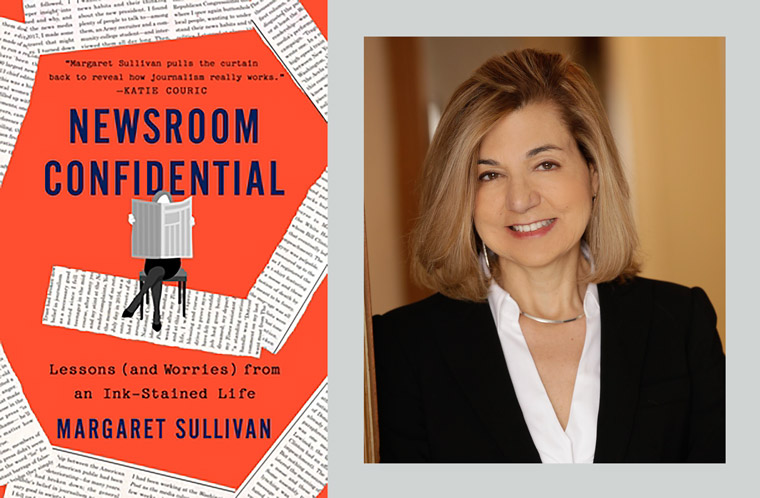 "Some of what we need to do is tell our story more effectively," she told me. "As an industry, we need to (explain ourselves) to the public, whether that's editors' columns, whether it's in speeches, whether it's in an ad campaign — there could be a lot of ways of doing it, of trying to tell in a way that can be heard and accepted, what we're all about."
Some of her other views are:
A concern about partisan journalism — particularly on U.S. politics.

Worry at the growth of private equity investment in news organisations.

And a mix of optimism and fear about the state of local journalism in the United States and across the world.
In a fragmented media market where stories are often read disembodied from their context within a newspaper or Web site, we know it can be difficult to tell what a piece of journalism really is: reporting, opinion, or its provenance. Sullivan thinks we need to be far more explicit about what a story is and have that labeling or explanation travel with the article wherever it ends up.
"Do we adequately explain to people who are encountering our journalism — on their phones where everything is disaggregated and it's just coming at us in this kind of firehose of stuff — 'This is a news story' or 'This is an opinion piece,'" she said, recalling that at one point on The Washington Post site, her commentary was clearly labeled as a "perspective."
That principle of being clear about the nature of an article, its provenance, and whether it is reporting or commentary — as well as clear information about sources and the expertise of the authors — are well known to promote trust but are patchily embraced by publishers and journalists. (They are key elements in The Trust Project and its eight trust indicators.)
In the book, with the amusing twist in the title from Kitchen Confidential: Adventures in the Culinary Underbelly by outlandish chef Anthony Bourdain, Sullivan recounts a life in journalism from local news at the Buffalo News to readers' editor of The New York Times, then The Washington Post. Sullivan is focused primarily on the state of American journalism, but her words and her fears about the future are relevant to journalists and publishers everywhere.
I spoke with her for INMA and asked her to focus on some of the questions we try to address in the Newsroom Initiative about trust, creating great journalism, monetisation, and how journalists and newsroom leaders can contribute to the success of their publishers.
Sullivan worries an excessive focus on volume metrics as proxies for advertising or engagement rather than quality has put journalism at the service of a corporate bottom line rather than the mission to serve the public — which, if it works well, can also serve that bottom line. (Academic Caitlin Petre explored the questions of how a focus on data might have skewed journalism in her book All the News That's Fit to Click: How Metrics Are Transforming the Work of Journalists. She built on that in a recent Newsroom Initiative master class.)
"I sometimes feel that mainstream journalists, and I include myself in that number, have to some extent lost sight of what we're supposed to be doing, which is serving the public," Sullivan said. "Instead, we seem to be focused on getting the most engagement on our stories, or getting the most eyeballs, or, to put it in the crudest way, getting the most clicks. And that is something that's driven largely by the desire for corporate profits."
She recognises journalists themselves have fed that by being personally motivated by volume and the "traffic" generated by a specific story rather than perhaps its true value, let alone their own profile and debates they generate on social media. 
While we may all have become a little more sophisticated in measuring the value of news stories (such as the intriguing Financial Times "good read" score I wrote about), it does seem that years of chasing clicks as a proxy for advertising and engagement may have caused problems in understanding the true purpose and value of good journalism.
"I know that the main thing that we should be doing is: thinking about the public mission. We exist as journalists for a reason, and that is to help people be better citizens — of their localities, their nations, and of the world," she said in what some may see as a high-minded approach but one which is also based on experience and a passion for journalism.
Despite that slightly high-minded approach, she also recognises that journalists are often accused — especially on the right in the United States — of being an elite that looks down on others and their readers, and that are too lofty to bother to explain or to justify what they do. That's an area she believes journalists and publishers need to do far more with: explain themselves, the processes they use, and the ethical frameworks of their organisations.
"Members of the public are not stupid. They get it for the most part. And so if we're driven by corporate profits, they get that, the message comes across. We need to rethink within newsrooms what we actually stand for and why," she said. (That aligns with what we are trying to do with the Newsroom Initiative, and I hope she will take part.)
Parts of Sullivan's latest book deal with the question of "bothsidesism" — the idea that reporters give comparable weight to contrary views without regard to their validity or facts — and the hyperpartisan nature of much media. The book is also highly critical of private equity proprietors.
On the perpetual dilemma in the United States and elsewhere over local news, Sullivan draws some strength from the rise of digital-only local sites — often funded by locals and philanthropic contributions. She mentions Mississippi Today as a beacon of what might be possible.
"I visited Jackson, Mississippi, as part of my book tour, and I was hosted by Mississippi Today, which is now the largest news organisation in Jackson, where the Clarion Ledger used to be dominant. They just have a couple of reporters now, and Mississippi Today has a much larger newsroom funded through philanthropy and the equivalent of membership … public support."
Maybe the public will support public interest journalism if we're clear what it is — and isn't.
If you'd like to subscribe to my bi-weekly newsletter, INMA members can do so here.