Technology helps news media brands lead the way in communications innovation
Ideas Blog | 11 June 2013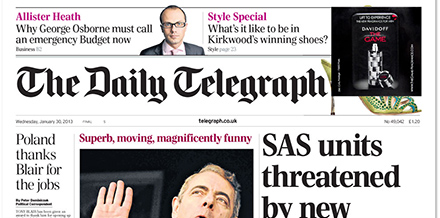 Innovation is one of the most important sectors of news brand advertising. Every news brand offers creative solutions and many have whole departments dedicated to this specialist area.
Print newspapers are still central to this process and continue to offer and develop a wide range of interesting options for brand communication — tip-ons, wrap-arounds, takeovers, special edition – the list goes on.
Some inspiring examples include:
But, of course, even more opportunities to do something new and innovative lie in the digital platforms. The key fact is that so many readers are connected, either via the Web on a PC or, increasingly, on mobiles and tablets.
As a result, the divide between print and digital is shrinking as publishers adopt platform-agnostic ad booking systems and become increasingly integrated, multi-media operations.
A number of innovations in news-brands digital advertising are proving to be especially exciting:
One example is augmented reality press ads, where the reader users a mobile tablet to bring the ad to life off the page. Some interesting examples of news brands and advertisers using this technology include:
QR codes, which are used most conspicuously by car marques, such as in the current Toyota Auris print ads. If your key strategy is to get customers to engage with you online, then QR codes mean that they can do it at the click of a button. QR codes can also be used creatively:
Partnerships between brands and news brands, which offer readers the chance to interact with, and even shape the content. For example:
All of these factors allow advertisers to reach and inform news-brand readers in highly engaging formats. Now that the digital platforms are established, there is seemingly boundless scope for innovation: re-skins, expandables, Cascade, in-skins, mega-banners, overlays, not to mention the possibilities there will be as new technology is developed and digital platforms evolve.