Stop talking like legacy media, start doing like media start-ups
Naturally Novak | 18 February 2015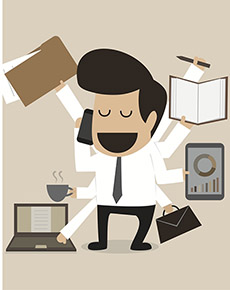 "The media industry should … "
"What we have to do is … "
"Your strategy needs to aim at … "
We are all getting pretty sick and tired of hearing an array of advice from talking heads on conference stages and media strategy profiles on blogs and in the Twittersphere.
It is, however, a more worrying phenomenon than us merely getting frustrated over the "besserwisser" attitude from these non-executives. Lately, I have been unable to free myself from this uneasiness: What if there are more people talking about the work to be done, than those actually working?
I occasionally use a metaphor when I give lectures to business managers. It goes something like this: You are driving along a countryside road and suddenly you lose control over your vehicle. Lucky enough, there is only one, majestic old oak tree alongside the road. The rest is flat meadow land. Even though purely mathematical, there is a very small probability you would hit that tree. But you will – if your eyes are fixated on it.
The moral of the story is, of course, to highlight the importance of having a clear aim, of shaping the right key performance indicators (KPIs) to steer your operation in the right direction.
Now, if you agree with my frustration over the fact that there are too many talkers and not enough doers, we might need to invent some kind of KPI to get out of the current cul-de-sac. We need some index to aim for to get things moving.
Given that programmers are the doers we need, in the midst of the digital restructuring phase, what if we would create a new ratio? My suggestion is to create the number of programmers as a proportion of the total of full-time equivalents.
To test this thesis in reality, I made a non-scientific survey of a small number of traditional media companies, gathering this very ratio figure.
The result:
Swedish regional newspaper: below 5%.


Swedish local media group: 1%.


Swedish regional media group: 0.8%.
You get the picture.
The United States is doing slightly better:
Major U.S. media company: approximately 20%.
Now, let's compare these indexes to those of some media start-up companies:
Swedish national media start-up in accelerator phase: 70%.


Global content sharing company in growth phase: 50%.


Swedish local media start-up: 50%.
I hope some researcher out there would like to do a quantitative study in the near future.
Meanwhile, these preliminary results indicate something interesting – and extremely worrying.
I am well aware that these numbers are not scientifically validated. I am well aware that you can question the selection criteria (yes, I know that there are other types of "doers" in the media houses than just programmers).
But I hope this simple exercise can kick-start some new thoughts on priorities.
In the midst of this industry's colossal restructuring phase, developing new products and services is crucial. Speed in doing so is essential.
If I were in an executive position within the industry today, not having enough doers would at least keep me up at night. How about you?
Personally, I believe strategy is overrated in such fast moving times as these. The right strategy is more likely being built in the many in-operational steps you take and test on the market, every day, every week, every month. This is how the research institute that I currently lead works: with an end-user focus and in a constant "beta forever" mode.
From strategy to practice. From practice to success.
What if your smartest next step would be to turn the numbers around, bringing the proportion of doers up and that of the talkers down? Well, I am painfully aware of the fact that it is easier to talk about what others should do than to actually roll up your sleeves and start.
The obstacles are, more or less conscious:
Incompetence.


Fear of failure.
To remove the first point, you have to erase any sentimentality and/or nostalgia. Do what Jim Collins stated clearly already in his 2001 bestseller Good to Great.
Get the right people on the bus. Get the wrong people off the bus.
To remove the second point, you have to build a culture where there is no stigma around failure. Quite on the contrary: You have to create a culture where failure is celebrated as a learning opportunity.
Read more about this in this excellent report from 2013 (page 22) on innovative clusters in Sweden and the United States.
In short: Celebrate failure, bring in more digital doers, and surround yourself with the right people in the right places.
If you can tick these three boxes, you are already on your way to success.
Am I wrong or missing a point? Feel free to continue the discussion in the comments field below!