Trinity Mirror goes old school with launch of print-only New Day
Mobile Strategies | 09 March 2016
In the current era, the idea of a news media publisher launching a print title with no associated digital version might seem like the epitome of madness at first glance — a sign (if one was needed) that everything felt a bit overwhelming and someone thought a return back to the basics might somehow help turn back the adblock-infested digital tide.
As if we could get back to the good old days.
But that's exactly what Trinity Mirror has done with the launch of The New Day, which went on sale on February 29.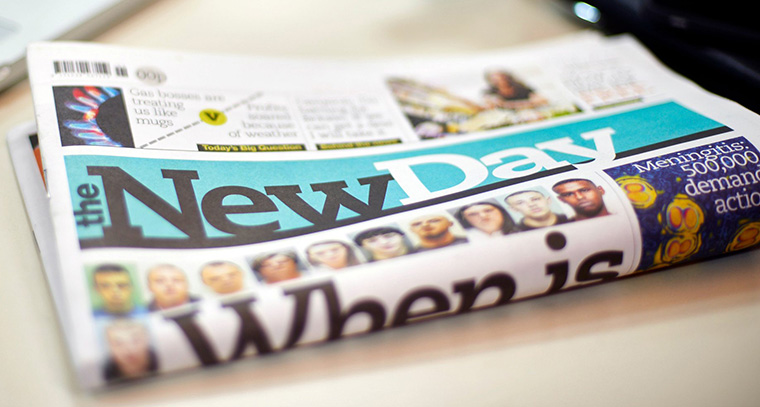 In fact, it was given away for free on the first day. It will then sell for US$0.36 for two weeks before settling on its full retail price of US$0.71. Trinity Mirror says it hopes to sell around 200,000 copies a day, targeting the half-a-million readers it believes have stopped reading a daily newspaper.
The idea of abandoning the Web site does, indeed, look odd, but as editor Alison Phillips told the Guardian: "We threw out all previous thinking." You can say that again.
Actually, there are a couple of pertinent points to note.
First, Trinity Mirror has not been afraid to experiment in recent years. Note its Us vs Th3m project, an attempt to create a made-for-mobile news brand in just five weeks from concept to launch.
It launched in 2013 and, after being given three months to prove its worth, only bit the dust two years later. Hopefully, if you believe what you hear every time you hear anyone speak at a conference about mobile, valuable lessons will have been learned from the failure.
Second, it would be wrong to say that The New Day will have no digital presence. It will use Twitter and Facebook to cultivate debate and a sense of community among its readers. On the face of it, this could be a smart move, though it's notable that The New Day has no plans at launch to publish articles directly to social platforms such as Facebook Instant Articles.
But without a digital presence of its own, the value of that social media presence seems somewhat undermined.
After all, so much of what happens on social media is about sharing content, and sharing it with a direct, clickable link back to where it first appeared on the publisher's own digital property. Hence the death of witty, punning headlines and the rise of search-friendly click-bait and listicles in recent years.
Without anywhere to point interested readers back to, The New Day's social activity looks like a branding campaign, compared to the direct response activity that everyone else is engaged in. 
Personally, I have nothing against branding campaigns, and it will be interesting to see how The New Day uses social given the lack of a place — other than the news agents — to point people to.
That said, as the capacity for what you can do on social continues to increase — first it was all about text, then photos, then videos, and I noticed one tweet from The New Day was a poll with multiple choice answers contained within the tweet — maybe it is on to something after all.
I'm not qualified, other than as a reader, to talk about the quality of the content, so I'll leave that to others better placed than me. But this print-only business model is an incredibly brave — or foolish thing to do. I hope it works out.
Either way, I look forward to watching the story unfold.