In Anna Settman's last public appearance – at the INMA World Congress – before resigning as CEO of Aftonbladet, the largest newspaper in Scandinavia, she issued an important message to newsmedia companies: Take advantage of data about users, like Google and Facebook do. 
"They collect data, and we're still sitting around and wondering what to do with it," Settman said.
She didn't use the four-letter word, but of course she was talking about BIG DATA.
Are you concerned about that? You better be.
We tend to forget the mobile revolution is not all about the shape and size of the device, but more about how we're able to develop our business with the help of information technology.
When Google in 2010 announced its new strategy – mobile first – CEO Eric Schmidt explained: "Mobile is better for advertising, because advertising is about targeting. And through the mobile you know more about the user."
Remember that Google was a very early adopter – if not the  inventor – of using Big Data for business development purposes.
So what is Big Data? Simply put, all the information that can be harvested from digital sources; how to find it, collect it, access it, and how to interpret and use it. But the implications of Big Data are bigger than that. I like the way this chart from Lattice Engines explains it:
The potential impact of Big Data, says Erik Brynjolfsson, an economist at the Massachusetts Institute of Technology's Sloan School of Management, is the modern equivalent of the microscope. Invented in 1590, the microscope allowed people to see and measure things as never before. It was a revolution in measurement. Brynjolfsson's view is that in business and other fields, decisions will be based on data and analysis rather than on experience and intuition.
If you're not concerned about Big Data, your advertisers are. In a recent study conducted by 33Across, brand marketers and agency representatives gave their opinions on the subject:
70% were concerned about making sense of data at their disposal.


73% said integration of cross-channel data is an area of concern.


91% were very concerned with being able to drive ROI (return on investment) from Big Data in 2012.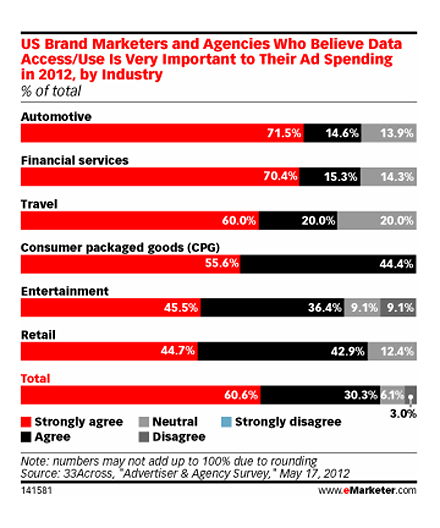 The graph above, published by eMarketer, further underlines how advertisers and agencies view the increasing importance of data management.
"Big Data will continue to be one of the largest issues that online marketers confront for the next few years," Eric Wheeler, CEO of 33Across, said about the survey.
Still pondering if this of your concern? How can this drive your business? Then I'd suggest you read Michael Lewis' book, "Moneyball: The Art of Winning an Unfair Game," to get some inspiration. It's the true story of how the Oakland Athletics used Big Data – back in 2002, before we even knew the expression – to assemble a competitive baseball team, despite not being able to draft star players due to a limited budget. Through rigorous statistical analysis, they were able to find undervalued players for less money and put together a winning team.
In the film based on the book, there is a scene in which the strategy of Oakland A's General Manager Billy Beane (played by Brad Pitt) is being questioned:
"You don't put a team together with a computer, Billy."
"Adapt or die," he replies.