Sydney Morning Herald readers put down their smartphones in the name of research
Mobile Strategies | 04 August 2014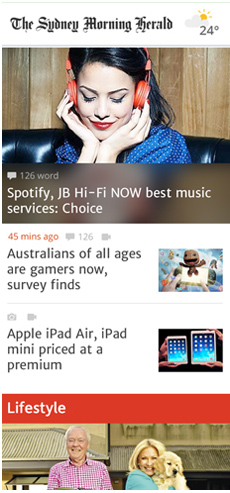 Earlier this year, The Sydney Morning Herald contacted its readership and posed an unusual question: "Would you be willing to switch off your smartphone for a week in order to help with a research study?"
 
The goal of this research was to better understand the relationship our readers have with their smartphones and uncover their motivations in coming to the Herald mobile site.
With popular mobile apps being so singlular in purpose, successful app designers are those who understand what tasks the readers are trying to accomplish and build apps that succinctly solve these user problems.
Speaking to our users on a regular basis helps us improve the Herald products. We listen to our readers, and the insights are fed back into the mobile team as we develop new features and enhance the overall mobile experience.

The research group was made up of 30 individuals all undertaking the same three tasks:
 
Task #1: No using apps on one's smartphone.
Participants were allowed to make voice calls as before, but they were strictly forbidden from using apps for personal or professional reasons. This led to a threefold struggle for our readers:
Utility gap: Participants were frustrated by the time it took to get access to information that they were accustomed to having at their fingertips, such as weather and traffic updates, GPS, and banking information.

Some even compared these setbacks to "phantom limb" syndrome, which is the sensation that an amputee feels when an organ is removed but the brain has yet to respond.


Lack of personalisation: Smartphones are the remote control to our lives and apps are our lifestyle shortcuts. An often under-appreciated benefit of apps is that they contain our personal information and store our preferences to simplify our digital interactions. Without access to apps, the study's participants felt their technology became significantly less personal.


Fewer options: Many reported that they felt their outlets for entertainment and information were severely limited without access to their favourite apps.
From these three responses, it was clear that a large part of the value we find in smartphones is derived from our apps.

Task #2: No viewing The Sydney Morning Herald mobile site.
Since the research group was drawn from our mobile readership, they were all acutely familiar with our mobile products. When the ability to access this content was taken away from them, they faced three setbacks:
Changing habits: Living without The Sydney Morning Herald frustrated many of the participants since it was an integral component of their daily routine. While some readers found temporary alternative outlets, it was the disruption of their usual habits that caused the most annoyance.


Feeling less informed: Participants throughout the duration of the study felt they were not up-to-date with current events, which caused a general sense of unease for these typical mobile news readers.


Traditional media: Without access to the Herald's mobile site, readers turned to other media for staying informed, such as TV news bulletins. But these impersonal one-size-fits-all broadcasts did not satisfy our readers who are used to being able to control the content they consume.
Alongside missing the Herald's editorial, the lack of content convenience was the most significant issue for this task.

Task #3: No using your smartphone.
Our readers had a harsh wake up call when they relearned the cliché that 'you don't know what you've got until it's gone.'
Disconnection: We've become conditioned to having access to the entire world at our fingertips, and removing this capability from people's lives came as a rude shock. Participants felt out of touch and experienced a strong sense of isolation.


Mobility handicap: Tasks that are usually completed through one's smartphone, such as Internet browsing and social media, were either procrastinated or completely pushed off.

In stable environments, the access to alternatives such as a PC or laptop solved this issue, but it posed a bigger problem while on the go, such as during one's commute.


Fear of boredom: A large percentage of respondents was concerned that not having access to their smartphones would leave them restless and bored. Some experienced an immediate onset of monotony, since their phones had become their go-to outlet whenever they sought a distraction.


Voicemail: Surprisingly, since the primary uses of our smartphones are no longer limited to making or receiving calls, our readers did not report missing access to their voicemail during the study.
Before initiating the study, we felt that the best way to learn about the relationships we have with our smartphones would be to temporarily remove them from our lives.
We knew it would be a difficult challenge on a number of levels, since we check our phones approximately 150 times each day, at all hours of morning, noon, and night. Even knowing this information, perhaps we underappreciated just how integral smartphones have become to our every waking moment.

With the research completed and the Herald readers consciously coupled back with their smartphones, we will implant the research findings into the next generation of Herald mobile products.
What we derive from this study is a better appreciation of how mobile content and utility enriches us. Our lives are gravitating toward all-encompassing mobile moments and smartphones have become the cultural totem of our connected age.