Mobile connections mean media advertising will never be the same
Mobile Strategies | 02 June 2015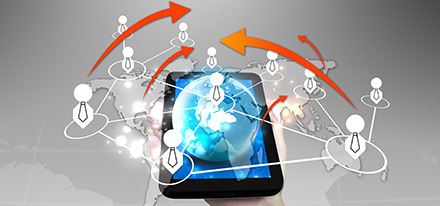 Advertising systems are made more powerful with increased integration of mobile. With the future becoming more connected, what does this mean for consumers and brands?
Change has never happened this fast before, and will never be this slow again.
How consumers are connected now
Mobile has been the driving force behind a number of different digital innovations as the functionalities of smartphones enable different interactions. Introducing more devices means that this will continue.
Although voice search hasn't quite taken off in the United Kingdom, in the United States, 41% of consumers are using this. Smartwatches will continue to fuel this, providing a seamless experience without having to use a phone at all, which may be the tipping point for the UK.
Video advertising is now prolific on mobile, however, advertisers need to make sure that it is tailored to how the consumer uses the device. A study showed that when comparing video length, the drop off for longer length video on mobile is much higher as length increases compared to a smaller drop in desktop. Takeaways from this study:
Under 15 seconds is best on mobile.


Grab attention quickly.


Don't rely on sound.
Augmented Reality is growing and improving experiences, and can be used cleverly by brands. For example:
L'Oreal's make-up class app enables consumers to try different make-up looks, which builds up a direct relationship between the consumer and brand.


Blippar has now developed image recognition for a huge catalogue of objects and acts as a visual search browser.
One of the biggest fears about UK society is that young people don't engage with politics anymore. However, mobile acted as an enabler in this year's general election, with 45% becoming engaged because of what they've seen on Twitter, and more than one-third have decided on a political stance based on Twitter content. There were 11.5 thousand tweets per minute about politics during election week.
How a connected future could look
Psychological analysis noted by Dr. Simon Hampton at the IAB shows that people don't mind surveillance. It happens all the time on a day-to-day basis – for example, knowing where your partner/child is – but the problem is when people's lives are reflected back at them.
Technology will be showing consumers their "real self" when it's not what they want to hear. For example, a refrigerator could alert you that you still have four of your five-a-day product to consume, something about which consumers won't necessarily want constant reminders.
With this in mind, technology developers need to take into account consumers' wants and mindsets, and advertisers will need to make sure we're considering this and not being too intrusive.
Wearables are a trend that is technically connected now, but in the future, uptake will expand. A research study by Mindshare and Goldsmiths University focussed on consumers' need states noted those that wearables fulfill and how advertisers can utilise them:
Need states:



Making life easier was the main reason for adopting wearables (36% of respondents). This includes things such as regulation of home lighting or heating and ordering goods in advance to save queuing.


Using wearables to identify ways to improve life physically or emotionally came in second and was important to 35% of respondents. Fitness trackers have improved the lives of more than three quarters of current users, with another half of smartphone users interested in the prospect of wearables measuring and analysing sleep patterns.



Impact for advertisers:



Push notifications: These give the obvious benefit of relevant updates.


Search: Algorithms change, and this will need to be taken into account as there is only one paid search position on the search results page on wearables.


Mood: Through biometrics, this can be targeted and advertisers can send a dynamic message depending on a consumer's mood.


Brand utility: Build an intimate relationship with a certain need state. For example, Flora could utilise a health element (healthy hearts).
Overall, we are all becoming more and more connected with an increasing number of devices, driving connectivity to each other and brands.
As advertisers, we need to consider the different need states and devices that the consumer is on to ensure we are still providing useful additions to their lives and therefore driving engagement with brands.