Memo from Webtrends Engage: newspaper industry seen as leader in mobile
Mobile Strategies | 01 March 2011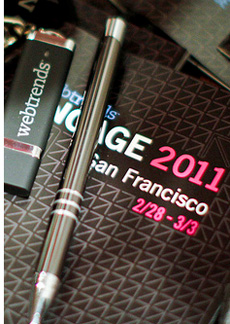 Hello from the Webtrends Engage 2011 conference in San Francisco.
There are 800+ registrants mainly from the United States but also from Australia, Brazil and the UK. Attendees come from all manner of organisations including stores, brands, mobile companies, banks, and car companies. There's also a major presence from corporate bloggers, analysts, Silicon Valley observers and the like.
The conference is all about audience engagement and how things like mobile analytics can assist gleaning information about our audiences, particularly in the mobile arena.
As director of mobile for Telegraph Media Group, I've been presenting today sharing some thoughts on the newsmedia industry and how newspapers are now embracing mobile and tablets to drive future interaction and revenue streams. Seemed well received and many nice comments afterwards highlighted to me that many organisations look to the news publishing industry for the latest developments in areas such as mobile. They view us as a sort of barometer on what's new, what's hot and what's the focus for reaching new audiences in the future. This was a pleasant surprise.
I don't know why I was surprised, frankly, but they don't see us as dinosaurs ... a dying industry that serves its audiences purely on trees! Encouraging for sure. And so it should be! There are many great initiatives happening across our industry now which, if you've not seen already, are highlighted in INMA's latest digital report Tablet Opportunities for News Publishers.
The main theme of the conference here in San Francisco is creating a dialogue, not a monologue, a notion strongly echoed by Dan Rose of Facebook who affirmed that we must get people to love our brand to engage with us in the social space. He said that any ads should complement an authentic dialogue on your page. He said that Facebook is looking at HTML5 opportunities. (Facebook interactions are now at 90% on mobile.)
One of the other key presentations which caught my eye was Adrienne Smith from Google Ads (USA), who assured everyone that mobile has arrived and that it's never too late to be early in mobile. She points to the facts:
65 million minutes of the Angry Birds game are played on mobile every day. That's 125 years of "ferocious flying fowl!"


30% of restaurant searches now come from mobile.


Google saw 4x increase in mobile search in 2010.


Half of all U.S. adults will have a smartphone by the end of 2011.
Adrienne reminded us of the unique environment of mobile, which gives us a world which is immediate, social, contextual, integrated, and crucially, always with you.
Despite this, she said that 79% of major online advertisers don't have a mobile-optimised Web site. So, there is still a long way to go and a major culture shift for many, but the opportunity is here, now! As she said, it's never too late to be early in mobile. Lead, follow, or get left behind!
That's it for the moment. Everyone is excited about the big Apple event here in San Francisco tomorrow, rumoured to be the launch of iPad 2. Will see ...
And speaking of iPad, a closing quote from Engage 2011: "The last time there was so much excitement about tablets, they had 10 commandments written on them!"