How social networks are muscling into mobile advertising space and what it means to publishers
Mobile Strategies | 06 May 2014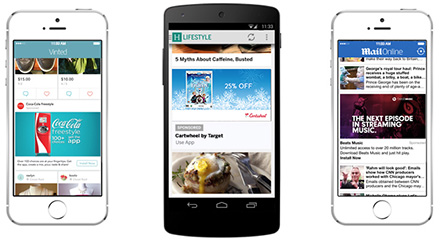 If money makes the world go around, then advertising can take the credit for a good deal of it. Whatever marketing channel you care to look at, from print to online, it's fueled by advertising.
And in the mobile arena, advertising has been an equally important driving force that has powered the industry forward from a position where, five years ago, it was barely on any brand's radar, to today, where most brands of any note realise how pivotal a mobile presence is to their future success.
Spending on mobile advertising has been increasing steadily in recent years. In fact, more than steadily. Between 2012 and 2013, mobile ad spend in the UK grew by 93%, from £529 million to £1.03 billion, to account for 16% of all digital advertising spend.
Among the major beneficiaries of this boom have been the mobile ad networks who connect advertisers with publishers (of mobile sites and apps) and take a cut of the ad spend as their reward for doing so. Perhaps not surprisingly, a not-so-small industry has emerged, as more and more ad networks have launched in search of a slice of this increasingly lucrative pie.
But given the way the industry is moving, I wonder if the party, if not quite over, is drawing to a close for many of them.
Over the past 18 months, most networks have added programmatic buying to their offerings, seeing which way the industry wind was blowing.
Others – one example is Adfonic, which recently rebranded as Byyd and relaunched itself as a demand-side platform – have moved away from the ad network model. They've turned to the ad exchanges for their inventory and concentrated instead on helping advertisers target the right consumers by using programmatic technology, relying on the quality and sophistication of their algorithm to deliver results.
Perhaps more significant is the entry of the social media giants into this space. Forget Google – its dominance of the search landscape is a given – but think Facebook and Twitter.
A few months back, Facebook launched app install ads. The company has seen such success with this that more than one pundit has since said to me, if you are an app developer looking to get your app seen and downloaded by consumers, Facebook is the only place you need to be.
That's not exactly what all those new app promotion networks want to hear. Twitter also got in on the act, launching its own app install ads just two weeks ago.
This is bad enough for the "traditional" ad networks out there. But if you look at what the social networks are doing beyond their own networks, the picture gets even foggier for everyone else.
In September last year, Twitter bought mobile ad exchange MoPub for US$350 million, and then last month launched programmatic native ads for all MoPub publishers, enabling advertisers to serve native ads on the MoPub Marketplace.
Then at this week's f8 developer conference, Facebook announced an extension of its own Audience Network ad network tests, which will enable app developers to drive app downloads through in-app advertising.
In a presentation announcing the news, Facebook Project Management Director Deborah Liu explained how some of the early advertisers on the network were finding success.
She explained how Coca-Cola, looking for people who looked like their existing customers, "found their audience" on secondhand clothing app Vinted; and how Audible, looking for fans of HBO series "Game of Thrones," found them in the Cut the Rope app.
"We have the best targeting system in the world and we're opening up to you," she told the developer audience.
So now in addition to driving app downloads via native ads in the Facebook newsfeed, app developers can do it by advertising in other people's apps, using the data Facebook holds on its users to target users more effectively.
Of course, reputable companies always say they welcome competition. And the bigger ad networks, the likes of Millennial Media, InMobi, and the programmatic specialists out there, will no doubt have known what was coming and been busy preparing for it.
But for all the Tier-2 ad networks out there, the social media firms' relentless assault on the mobile advertising space must be like all their worst nightmares come true at the same time.
If the shakeout doesn't start sometime soon, I'll be surprised.