How mobile technology will shape media industry this year
Mobile Strategies | 30 January 2012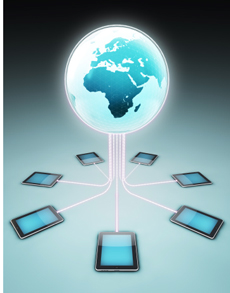 There are seven points I think I can offer my opinion on (and collate the thoughts of the best minds in the industry on, based from what I have seen) in terms of how mobile will shape how we deal with our audiences and communicate with them in 2012. I offer the following:
True and seamless media consumption experience across devices. Publishers will increasingly need to enable users to "start their reading" on one device and "continue their reading" on a second or even third device. Enabling this sort of "seamless" experience within a media brand, whether it is for the desktop, tablet, or smartphone, will drive engagement and repeat usage more and more.


A more personalised media experience for our readers/consumers. Twitter, Facebook, Twitter, Google, et al, all are using data measurement and analytics to recommend media content for users (all within their respective ecosystems). We can surely expect to see many more publishers enabling this feature to increase user engagement.


Social channels for media consumption. Media brands today primarily leverage Facebook and Twitter for "discovery." There is now the opportunity for media brands to distribute content to enable users to consume media within these social channels. (The Washington Post's social news-reader on Facebook is a good example). 


Apps and the desktop. Microsoft, Google, and Apple all are predicted to launch "experiences" through new operating systems or the browser in 2012, which will enable an app-centric view of your desktop. This will present new distribution, engagement, and monetisation opportunities for media companies.


HTML5 and mobile apps. More apps are and will be built using HTML5 to speed up the development of the mobile experience. The move to HTML5 will allow newsmedia companies to leverage their existing Web design and development skills. Expect to see this surge as 2012 unfolds.


Mobile advertising reaches a tipping point. Advertising agencies and planners are now including mobile components in most campaigns, and the size of total-market mobile spend will increase greatly this year. The winners will be those media houses with consistent and growing traffic and with the most compelling ad experiences (suitable to the market they serve). We should aim to be the Rolls Royce — not the Ferrari — in what we offer, i.e. be the perceived best in our mobile products. The Ferrari may have all the "bells and whistles," but do people in general want all the functionalities? Just because the tech exists, doesn't mean people want it. We need to be selective.


Mobile traffic exceeds the desktop. Traffic from mobiles/tablets will approach or even pass traffic from the desktop. Mobile will be the starting point (rather than desktop) in many cases for consumers. Recognise this. Business is becoming increasingly more mobile. It's an unstoppable train. Get on board … or get knocked down!