Focus on platforms helps create information addiction for audience
Mobile Strategies | 05 August 2011
In his Newsmedia Outlook 2011 report, INMA Executive Director and CEO Earl Wilkinson talks of the big picture for newsmedia companies. He highlights a huge cultural and mindset change for many organisations and the challenges ahead to future-proof ourselves.
One of the themes Earl pursues is the value equation: that our future survival and transition from "news on paper" to multi-media (including print) depends on how we portray and deliver value.
This is to say that value = content + audiences + platforms, where:
content is all about uniqueness, quality, differentiation, timeliness and contextual positioning.
audience is determining whether or not your offerings are upscale, in what geographic area, or what interest niche?
and platform equates to print, PC/Web, mobile Web/apps, or e-reader.
This last point is the issue we have been looking at in London at the Telegraph Media Group. It's important to realise how the various platforms perform, how they differ, how readers/advertisers use them, and the varying results they each give.
To do this, we must first start by determining what works for our own companies. As ever in this space, there is no panacea that works for everyone. For instance, at The Telegraph we know that readers consume our news in two major waves on the iPad — in the morning and again in the evening. (That's why we introduced a night-reading mode for non-glare evening consumption).
In July, Enders Analysis research highlighted that in the United Kingdom, the majority of mobile users mainly view mobile content via Web sites. Only amongst iPhone users is there an equal split thanks to the well-developed depth and breadth of app content available through Apple's App Store. This is a major consideration for us when shaping our suite of products and how we market them.
Data from the U.S. mobile analytics firm Flurry points to time spent on apps actually eclipsing the mobile Web for the first time in April 2011. Anecdotal evidence from Trip Advisor (which topped the Telegraph's iPad Best Travel App list) suggests that while its mobile Web site enjoys the majority of traffic, far more time is spent using its mobile apps. Its rule of thumb is, "If users come back to your site more than five times, build them an app." Both eMarketer and Econsultancy suggest that both apps and mobile Web will co-exist happily, working best in concert and not opposition.
From the mobile user point of view, an app gives them something digitally tangible, reliable and in many cases, something that's useful offline (that's becoming more important as wireless-only tablets fly off the shelves). The mobile experience is still one defined by convenience over any other quality. That means a minimum of clicks, predictable behaviour and fast response. Apps have the advantage on all of these fronts, at least in the mind of the consumer. For us, apps offer something the mobile Web doesn't: branding, a piece of "third-screen real estate."
So, I guess you are with me in what am saying. No one platform is the same behaviourally. We must test each platform based on its own merits. In our case at The Telegraph, we see life like the chart below. Do you make this distinction? If not, why not?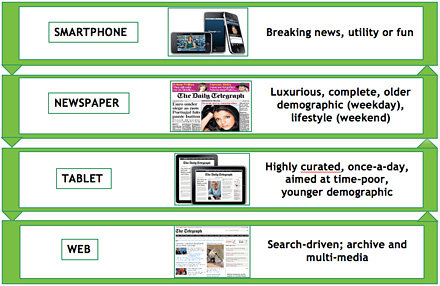 Only when we have a clear plan and a clear focus can we start to drive digital revenues and create the addiction we need, to which Earl also refers to in his report.
To close, I love that quote about addiction from Martin Langeveld of the Nieman Journalism Lab in the United States. Talking about the future landscape, he said: "Addiction is key. Mere interest is not enough. The information equivalents of recreational drug users or social drinkers are not sufficiently addicted to make it all pay."
Indeed. Understand the platforms and create the addiction!
Am off to smoke a joint, Martin (joke). Speak again soon. 
Stop press: bearing in mind INMA's global reach, I thought you might like to know that the BBC has just launched its worldwide iPlayer app on the iPad, offering users outside of the UK "the best of the BBC's news and archived content" for €49.99 (£44) a year.
The app offers content across 11 European countries and will roll out to the United States and Canada before the end of the year. iPad owners wanting to access the app can either pay for a monthly subscription costing €6.99 (£6.15) or opt for the yearly subscription.