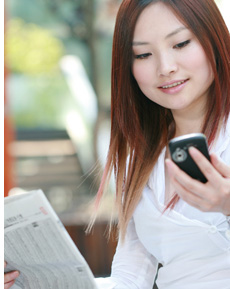 Traditional marketing methods for newsmedia companies are expanding, from supplements/inserts and point-of-purchase displays, to ads with QR codes, apps and text alerts. And soon we will start to see more of technologies such as near-field communications (NFC) enabled handsets that allow consumers to "tap" to redeem mobile coupons or pay for shopping.
This year is seen by many as (finally) the year for mobile marketing, with an estimated 59% increase in spending in 2011. Newsmedia groups that see the value of mobile campaigns are already ahead of the game. The trick, however, is how to monetise it all.
The traditional newspaper reader is becoming more of an ever-moving target who is never more than one click, call, text message, or tweet away from entering "shopper mode." This is an opportunity for all those commercial deals we offer, be it selling holidays to readers ... or wines, health club passes, special offers, and so on. Now, "m-commerce" is very much part of our future!
There are an estimated 280 million users of smartphones, feature phones and tablets out there. Now more than ever, it's becoming harder to ignore the benefits of mobile for ourselves and for our advertisers.
Newsmedia marketing execs should fully consider the following eight tick-offs when executing mobile elements of an overall marketing strategy
Have a strategy. Make sure you have a mobile strategy, not just a one-off deal or action for no real reason, such as putting a QR code on a print ad. Mobile marketing requires a commitment from top-level management.


Integrate mobile into everything you do. Mobile is still a marketing afterthought for many — something that gets added at the end of the planning stage (the 19th slide of a 19-slide presentation to advertisers!). The smartphone is always in the customer's hands and is always on. We need to recognise the importance of this.


Recognise what mobile is good at! Mobile is fast, instant and needs to provide value. What is it that will make your readers download your app or sign up for your alerts? Consider looking at mobile as a true media channel. What you do with your brand and its channels is what will differentiate you.


Focus on the audience and where they are. Identify the targets first, and then determine the tools and methods for reaching them. Remember not to "wow" them with the mobile tool itself, but with the solution it delivers.


Keep it simple. Consider the User Experience (i.e. the UX). Any mobile campaign should seek to avoid barriers or extra steps on behalf of the consumer. For instance, forcing customers to download a reader to be able to read a QR code keeps the mobile experience from being what it should be: fast and easy.


"Pull smartly, push gently." Just because mobile shoppers are always "available" doesn't mean they should be contacted relentlessly. Be thoughtful: let the consumer decide when and how to use your mobile assets.


Keep aware! Later this year, we'll see even newer versions of the iPhone, the iPad, and even more Android-based devices. And don't discount Microsoft's alliance with Nokia. Palm is also looking to re-enter the tablet market. The better your company can anticipate the new tools and platforms, the better you'll be able to exploit them.


Promote your efforts. Launching an app into the market itself requires promotion, something that is often overlooked when it comes to mobile advertising. It's not the "Field of Dreams." If you build it, they won't come ... unless you promote, promote, promote. Make this a recognised, visible part of your mobile marketing strategy.