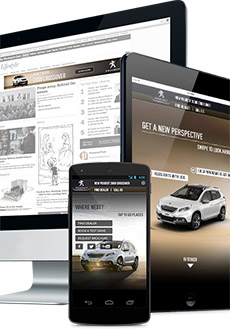 Increasingly, advertisers need to find ways to grab the attention of their audience. This is often done through the creation of creative ads but also through media placement, delivering the right message at the right time to the right person.
This is where mobile comes into its own.
With a number of the largest media owners pushing mobile and now developing cross-device targeting, it could be that digital marketing is taking a huge step in losing the silos (desktop versus mobile) that have developed through the quick advances of technologies.
The idea of cross-device targeting means that advertisers can not only provide tailoured messaging (i.e. sequentially target users based on their previous interaction with ads), but they can also reduce waste.
This means that if a user has been delivered an ad on desktop, the advertiser has the ability to identify them as the same user on a mobile device and decide not to serve the ad to him again, which is particularly useful as 67% of users begin shopping on one device and continue on another.

Fifty-four percent of marketers are currently retargeting on mobile, and with two of the biggest digital companies releasing their strategies in 2014, it could be the year for this to actually take off. Facebook released its cross-platform product and results proved positive.
For example, one case study showed a 600% increase in conversions and by accumulating mobile and Web retargeting campaigns, advertisers can see 29% more clicks than on average.
With Google also releasing its cross-device solution in 2014, users will be identified to an advertiser with clearer data on their behaviour and therefore their value as a customer can be determined with more clarity.
The use of this technology enables advertisers to seamlessly measure campaign performance metrics to drive mobile conversions and site engagement.
However, advertisers do need to be cautious of these big players with different solutions. Although they do deliver scale and a further step toward that "holy grail" of consumer journey tracking, unless they join forces and pool data, the solutions are not truly cross-device.
Robert Webster (chief product officer at Crimtan), provides an interesting point of view with the current options and their downsides.
He states the necessary fact that advertisers need to be cautious with this – a point backed up in an eMarketer report on the barriers of using cross-device targeting. As with most technological advances, there is a stage where we need to consider that this will not be 100% accurate so we need to go forth with caution and be honest about the potential limitations.
In conclusion, cross-device targeting is another is another interesting development in digital data usage, and the advertising opportunities this provides.
As attribution and measurable digital advertising are constantly high on the agenda, 2015 could be the year that it emerges as advertisers take advantage of the cross-device development. But this should be done with caution until the flaws are ironed out. Watch this space!