Could mobile marketing be the holy grail for media companies?
Mobile Strategies | 24 January 2021
With our increasingly hectic lives, we find our readers/users are spending most of their downtime these days on their mobile phones. They can do practically anything using their pocket computer (or "pocket companion") from checking a bank account balance to ordering food and drink to trading on the stock market — and even reading their favourite newspaper.
As we saw in the transitional trend from desktop Web traffic to mobile traffic, the trend is now evolving to app traffic from mobile Web. As a consequence, mobile marketing is well and truly here to stay.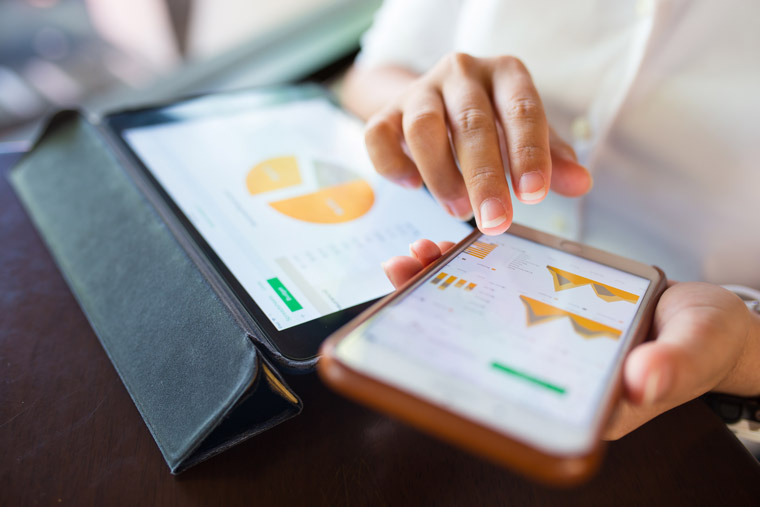 Here's why: It is becoming clearer every day that mobile marketing is overtaking all other types of marketing when it comes to impressions, reach, and results.
Why mobile marketing?
If you have ever measured an advertising campaign, maybe for one of your advertisers, you know that most of the impressions come from users on mobile devices. These factors are driving marketers to re-examine their mobile-first approach, and they are slowly shifting to a mobile-only marketing and promotional strategy for specific products.
This fundamental shift means it is now much easier than ever to get users to download an app immediately after seeing an advertisement. Since they are already on their device, it is a mobile marketing goal at the top of everyone's desired list.
Dreamland? Sounds great, doesn't it?
Well, the downside of all this is that the once select and exclusive mobile marketing arena is now becoming rather congested, almost to the point of saturation. Competition in the mobile app world is at an all-time high — and it's still increasing.
So now, more than ever, it's crucial to be at the forefront of this innovation, constantly learning and using creative mobile marketing techniques and ad solutions in conjunction with new technology tools that are emerging in order to stand out.
The powerful use of data
Targeting users on their phones allows media businesses to use data they never had access to before. This is data such as which places (e.g., bricks-and-mortar stores) a user has visited, at what time, and when, and which apps they previously downloaded.
Along with the continued rise of Artificial Intelligence (AI) and proximity marketing, data is making highly targeted ads more powerful than we've ever seen before — more engaging, more creative, longer dwell times, and more "halo-effect" or favourable perceptions about the brand they are engaging with.
We are now able to better understand our users' behaviour. We can then go on to predict future activity and, importantly, intent, given how frequent mobile interactions are compared to time spent on desktop, for example.
If you print and sell local newspapers, for instance, you could target users who have recently searched for media in that vicinity just at the time when they may be leaving the house for daily shopping purposes. Getting in front of users just as their intent changes is a real gamechanger, and mobile marketing is by far the best way to tackle this.
Another factor to think about is wearable technology. Not only can users now pay for "stuff" using their wrist watches, but they can also track their heart rate, physical activity, water intake, and other activities. Then, they store all of this data on their phones. What might be of use to you to know? Do you even consider this?
The sheer volume of decision-making data that apps and advertisements can now utilise was impossible to imagine even just a few years ago. We are not talking about "big brother" or spying techniques on users here, of course, as this data is all given away with consent (GDPR and the like have seen to this). Instead, we are referring to harnessing and then understanding the information that each user volunteers to give away to apps and Web sites.
Who in your media company is responsible for this crucial area? Are you thinking of the strategic as well as the tactical impact of this?
What does the future of mobile marketing hold?
As we move into 2021, the pace at which algorithms are learning is becoming faster every day. The development of these algorithms means the learning period for creating better, more engaging digital ads will no doubt become shorter. Therefore, the time it takes to accelerate ad spend and conversions in our industry will decrease.
Are you ready or preparing to take advantage of that?
Digital marketing will naturally become more profitable and more competitive. Wearables, AI, and intent marketing will play significantly bigger roles in that coming evolution.
With new and more engaging ways to gather data using mobile phones — remember, it's that thing that users always have with them in their pockets, never more than a metre away — the digital advertising game is changing at a swift pace. Truly unique opportunities to increase return on ad spend and reach particular and highly relevant, targeted audiences are emerging every day.
It is up to us as media marketers to keep up and even stay ahead of the game when it comes to grasping this and understanding our customers better. And in doing so, we must drive more conversions and build better media businesses, offering content that people really want, profitably.
Consider a planned, strategic approach here as being part of your quest for new revenue streams. To me that sounds like the holy grail.