10 industries smartphones are radically changing
Mobile Strategies | 15 September 2014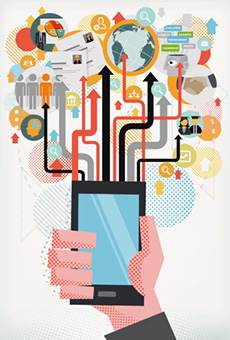 Smartphones disrupt the way jobs, businesses, and entire industries work.
While the publishing industry often tends to focus on disruption within its own ranks, there are many other industries in a similar position.
Some jobs are more vulnerable than others, but even with slow-to-disrupt industries, such as service or experiential businesses, mobile is not just enhancing the experience; it's completely rebuilding the customer acquisition and retention layers.
Below are just a few examples of businesses being disrupted by smartphones.
Camera retailers — Consumers have firmly shifted their photo-taking preferences away from digital cameras towards more convenient image-snapping products such as smartphones. This shift has slashed revenue from the camera industry and forced a downward trend on sales of compact cameras, leaving the Australian photographic retailing industry declining at 2.3% annually.

Despite the fact image resolution on smartphones is poorer than dedicated cameras, some 380 billion photos were taken globally in 2012; that's three times the number since 2007, the year the iPhone was released.


Toy manufacturers — Remember fun evenings with the family enthusiastically gathered around Monopoly, Boggle, or Life? Those cherished moments might be consigned to history as more and more unplugged moments become mobile moments.

Consumer attention and spending is shifting from board games to more bite-sized gaming and mobile experiences like Angry Birds. To remain viable, traditional toy manufacturers must learn to think "software" instead of "hardware."

Companies like Hasbro Australia and Mattel are eager to remix their product portfolio and look to new digital revenues.


Publishing — Greater connectivity for readers has offered publishers access to a broader customer base, but it has also meant working with more complexity than ever. Smartphones are changing reader behaviour, their focus, how publishers see the competitors, the interaction models, and the way readers discover content.

Nielsen estimates that by 2016, Australian mobile and tablet audiences will both be larger than the Australian PC audience. The Sydney Morning Herald is the oldest continually run news organisation in Australia and is on the tipping point of having a larger smartphone audience than desktop.


Pub quiz nights — Once the favourite activity of the mid-week local, pub quizzes are unlikely to survive thanks to rampant cheating now possible with a 4G connection and access to all the world's information. Quizmasters will need to be innovative with their products by changing the format from knowledge questions to something more Google-proof like a game of skill.


Taxi industry — Since its founding in 2009, Uber has grown to become a $20 billion company, with consumers around the globe relying on its services. Along with its rival, Lyft, Uber is shaking up the taxi space, providing affordable, reliable transportation.

Unlike many taxi services, these businesses allow reservations and payments to be made completely through mobile devices, eliminating the need to carry cash. Customers are also updated on the driver's progress toward their location once the car has been requested.


PCs — We passed a significant and very symbolic milestone earlier this year with the number of smartphones in the world now overtaking the number of PCs. Smartphones are now the dominant computing device on the planet and PC sales are either flat or in decline.


Breaking and entering — Much to the annoyance of local law enforcement, criminals are now becoming more tech savvy and monitoring mobile check-ins that broadcast the location of a victim. Customer acquisition happens when someone boasts of idly sitting by the pool in a faraway land.

Coupled with using Google Street view, the modern burglar can easily see the best route on and off the property grounds thanks to available satellite imagery delivered to their smartphone.


Payments — Cash is no longer king as point-of-sale retail equipment is getting a mobile makeover. Dumb devices like cash registers are being disrupted from new mobile payments companies like Square and Google Wallet that offer the convenience of paying with a smartphone.

In-store mobile payments will grow 42 times in the United States over the next four years while, in Australia, Commonwealth bank customers can withdraw money from an ATM without using their card. They just need their smartphones.


SMS — It's somewhat ironic that the feature phones enabled was SMS, but the smartphone killed it. SMS technology has reached the relatively old age of 22 and is now in terminal decline. Better communication alternatives such as WhatsApp, Skype, Viber, SnapChat, and Facebook Messenger offer a richer experience at a cheaper rate.

… and finally, a vision of the future:


Personal assistants — Smartphones will one day disrupt professional personal assistants, keeping up with your life better than a human assistant ever could.

In addition to keeping up with all of your friends' and family members' birthdays, a smartphone knows whose calls you generally block and which you always answer. Your smartphone knows your location and knows where you should be next. It knows when you are running late and has access to tools such as taxi booking services to keep you running on time.
All this disruption and change has come in just seven years. Who knows where we will end up? The only safe thing to say is that mobile changes everything.