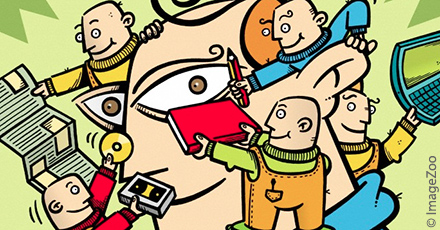 There is no shortage of articles, presentations, or discussions regarding consumer engagement in the news media industry.
Marketers talk about the need to "engage audiences" and "manage relationships" because they understand that engagement is directly linked to the consumer's relationship – and perceived value – of their brands.
The days of "take it or leave it" marketing are over, replaced with what is now being called engagement marketing or experiential marketing.
While engagement has been a hot topic among news media management, in reality there is a dramatic disconnect between what is talked about in the boardroom or department managers' meeting versus what actually happens on the front lines every day.
We are told that consumers are in charge of the relationship with our brands. Consumers dictate when, where, and how they communicate and interact with us.
We are told that engagement marketing "encourages participation in the evolution of our brands" and success depends on consumers becoming "actively involved in the production and co-creation of our marketing programmes."
Does this sound like your news media company?
The gap between what is said and what is actually practiced should come as no surprise to the media industry. For centuries, media companies have operated at arm's length from their communities in part because journalistic standards required an independent, objective, and disengaged perspective when reporting the news.
To engage with consumers – beyond collecting and verifying the facts – is perceived by some as a threat to journalistic objectivity. This need for objectivity is often fulfilled with extreme and misguided behaviour, including the decision by some journalists to not vote in local elections affecting the communities in which they live.
With newsrooms and journalists unwilling or reluctant to engage consumers, the job has been left to the business side of the news media business. News media marketers have been tasked with engaging readers even though they have had little or no control over most, if not all, of the content produced by their companies.
While media companies still have objective news as the core of their business, we've seen the business side of media companies produce their own subjective content (special sections, native advertising) in an effort to create new sources of revenue and engage consumers.
The challenge is that, to consumers, the brand is the sum of all contacts over time, with little or no effort on consumers' part to discern whether content is objective or subjective in nature.
Regardless the original source of the information or its subjective or objective nature, what consumers read in print or online from your brand serves to shape their perceptions of your brand and, as a result, their level of engagement.
This problem is exacerbated by social media and the proliferation of alternative sources for news and information.
Media companies have struggled with the blurring of lines between objective news and subjective information since their inception. And today, the business side of news media struggles with the task of engaging consumers and building brand loyalty in an environment with hyper-competition for consumers' time, interest, and money.
At the same time media management talks about the importance of consumer engagement, some practical business decisions focused on cutting operating costs have served to reduce and/or limit their ability to engage consumers.
Whether it is the outsourcing of customer service call centers outside the brand's market or country or the adoption of one-size-fits-all syndicated content, the day-to-day operations of media companies often are in direct conflict with efforts to effectively engage consumers.
So how do media companies balance the need to serve as an objective and credible source for news and information with the desire to engage consumers? Perhaps the answer to this question begins with examining the very reason media companies exist.
To some, delivering "all the news that is fit to print" would seem to exclude consumers and consumer engagement.
The role of media companies is to report the news accurately and objectively with little consideration of what consumers' want. Yet the world in which we compete for consumers' time, interest, and money is filled with news and information sources that play to consumers' interests and wants.
The purpose of this post is not to provide answers to this dilemma but to generate questions – and engagement – on how media companies can strike a balance between journalistic integrity and the need to engage consumers in today's world.