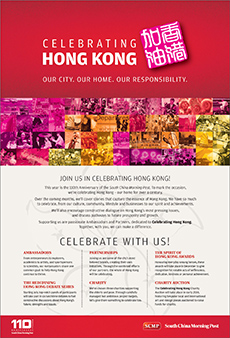 I'd like to share with you our big idea that is just three words long. An idea that proves that less can really be more. More of everything, in fact.
More community relevance.


More reader engagement.


More VIP engagement.


More advertiser engagement.


More staff engagement.


More inter-departmental synergy.


More publicity and positive PR.


More content.


More focus for the entire company.


More sponsorships.


More revenue.
What are those three words? Celebrating Hong Kong. And just about any newspaper in any town, county, or country in the world can do the same thing with just two words. (We had to use three because we happen to have two words for our city name.)
Celebrating Hong Kong is an initiative we devised to add more importance to our own 110th year anniversary celebrations by focusing instead on reviving positive energy in our community.
At the time it was conceived, Hong Kong was a hotbed of discontent, disillusionment, and negative energy.
Since most negative energies and discontent in a community often go hand-in-hand with government and policies, it's usually unlikely that any institutionalised pep exercise can reverse sentiment with a campaign.
The "Great in Great Britain" campaign was exceptional; it worked because the UK had the London Olympics and took home a lot of medals. But how many cities have that to fall back on?
One thing South China Morning Post has, as a balanced voice of the influential readers of our community, is trust and belief in our authoritative reporting.
We recognised if we kept reporting only on the stuff that was making the headlines – the things that were bringing our town down – it would surely contribute to keeping the mood low.
Against a backdrop of such negative sentiment, we launched Celebrating Hong Kong to underscore all the positive elements of our community — the good news that doesn't normally make the news. We created a structured plan consisting of forums for constructive dialogue, editorial coverage identifying and celebrating positive aspects and scions of our community, and more.
We remind our readers how great our home is. Because deep in the hearts of every Hong Konger, we know there's no place like home.
To start with, we amassed 21 ambassadors to become spokespeople for Celebrating Hong Kong. These well-known individuals come from all walks of life: from community champions and local heroes to highly respected CEOs, explorers, and highly accomplished young artists.
Each represents someone we aspire to be, or people we are proud to call Hong Kongers. We are running an in-house advertising campaign to share their perspectives on why they're proud to be Celebrating Hong Kong.
We also pitched and secured 21 programme partners, many of them advertisers. To become a partner, they had to earmark a Celebrating Hong Kong programme to revive the message of positive energy for our city.
From Agnès b to Hong Kong Disneyland, each partner shares the same common objective: to celebrate our city. Their programmes range from creating limited edition merchandise to sponsoring one-of-a-kind events, such as inviting 110 underprivileged families to an unforgettable day out.
To set our own agenda, we created four events to support the theme of Celebrating Hong Kong. We've been fortunate to secure sizeable sponsorships and important advocates to make each of these events possible.
The "Redefining Hong Kong" debate series. Six roundtable forums, featuring the most prominent and relevant speakers to discuss the most pressing issues that face our community: the wealth gap, universal suffrage, our economic future vis à vis a developing China, the liveability of our city, and such.


The Spirit of Hong Kong awards. A one-off award which feeds off a fully dedicated investigative journalism series to find the unsung heroes of our community: those who have made an impact, who show integrity, or who inspire us and future generations.

We secured a VIP list of judges to lend their expertise, judgment, and name to the awards, and an A-list celebrity movie star to become the Award Ambassador.


The Student of the Year awards. The Celebrating Hong Kong initiative gave us the impetus to bring back a 32-year-old award previously run by our newspaper. Our audiences grew up with these awards. More than nostalgia, they celebrate the true future of our city – our children.


Charity art auction. Art speaks beyond borders, largely to the privileged members of society. The kindness and generosity of internationally renowned artists, local artists, and also top-name designer houses is leveraged to create a Celebrating Hong Kong auction to raise money for the poorest in our community.
We launched the entire Celebrating Hong Kong campaign on May 31 with a headline VIP private party, which was supported with a guest of honour, Hong Kong Government Chief Executive C.Y. Leung, who gave the campaign his blessing, and some of Hong Kong's most influential individuals, who found time in their busy schedules to support such an important cause.
We'll be running Celebrating Hong Kong to the end of the first quarter 2014, and maybe beyond. This yearlong campaign actually carries no unique marketing budget. Rather, it builds upon existing budgets for editorial, marketing, and events, but unites all efforts under one theme, one movement. 
The theme lends all our efforts the purpose and momentum they need to be successful; eager cash sponsorship donations and in-kind benefits for our events are motivated by an honourable cause.
Three words have effectively united our marketing, editorial, sales and management teams, our advertisers, our opinion leaders, and our readership community to a common belief in our city.
Today, three months into the campaign, we are seeing an unprecedented degree of interdepartmental cooperation, positive advertiser and reader feedback, and positive and enthusiastic staff engagement at all levels of the company. Staff members feel proud of the movement we've started.
We've held our first two debates, launched the Spirit of Hong Kong Awards, and have built a steady stream of editorial content that celebrates some aspects of Hong Kong we might not be conscious of every day.
Each day in our newspaper, readers read news items that are happy stories, the result of positive inquiry and investigation rather than only scandal, upset, or provocation. 
From insights into our incredible construction industry, which has contributed to a famously stunning skyline for our densely populated city, to stories about the things we love about Hong Kong: its food, its hikes, its shopping, its transport system, and its people.
There is too much to the campaign to tell in a few words. I should also mention, however, a word of caution. In addition to other "Mores," such a big idea and sizeable campaign also has meant a lot More Work.
But truly, it's a labour of love.