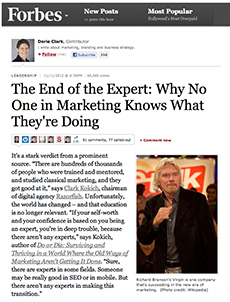 I was browsing the postings on LinkedIN: "5 reasons your business is failing," "John Johnson is now following Earl Wilkinson," "3 secrets of writing better blogs" (I read that one).
Then this headline from a Forbes article stopped me, "The End of the Expert: Why No One in Marketing Knows What They're Doing." 
I wondered whether this was just a provocative headline to lure Web site visits or if the source of that quote, Clark Kokich, was serious.
Kokich is chairman of the digital agency, Razorfish. Razorfish is an agency with which I have some experience and for which I have a great deal of respect. So I clicked on the link to read more.
From my read, it appears that Kokich was serious. So, with respect, I take this opportunity to vehemently disagree.
The basic point of the article is that the world of marketing has changed and marketers have not.
And, of course, the world has changed. Many have noted that the Internet is the most disruptive technology since electricity. It has changed nearly every business. It has certainly changed the news media business.
But the change in technology does not relegate marketing to obsolescence nor suddenly emasculate the skills of marketers.
There are dozens of good definitions of marketing. My favourite is this: Marketing is the science and art of creating and keeping customers.
All of the changes the Internet has spawned — unfettered access to information, fast and efficient communication, and, most significantly, the connecting of billions of individuals in real time — have provided additional tools for marketers to utilise in creating and keeping customers.
But these new tools do not replace the old. They are additive.
Kokich tells us to "create brand experiences." I do not disagree. But then there is this: He encourages companies to get a group together, made up of "everybody that's responsible for building anything that touches the customer," put them in a room, and ask: "What do people hate about doing business with us, and can we use digital to fix it?"
This demonstrates a worrying trend — a myopic view that business solutions come only from digital. I propose that the better question to ask in the meeting is, "What do people hate about doing business with us, and how can we fix it?"
Why limit our discussion to digital solutions? Are we rude to our customers? Is our product inferior? Are we priced too high? Too low? There may be digital tools and strategies to address these issues, but there are certainly non-digital tools, as well.
The Internet has given marketers the most amazing and powerful new ways to connect with our customers. We have more information about our customers' thoughts and behaviours. We have more ways to speak with audiences. More ways to listen. More ways to engage. More ways to measure the results.
This is not a time to lament our collective inexperience in a new technology. That comes with every new technology. It is a time to add to our knowledge and skills and to become as fluent as possible in the changes taking place.
This is a great time for marketing. A great time for marketers. A time to be confident in our experience and our expertise to create and keep customers.