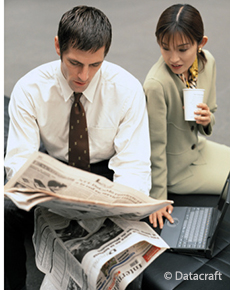 In marketing, distribution is a key factor for success. We all know it, but often we leave it in the hands of logistic specialists.
As creative marketers, we do not always see the big challenges of organising a perfect distribution to homes, offices, and shops. Especially nowadays, where the Internet seems to offer the "one size fits all" solution for distribution.
Technically this might be right, but I look at distribution more broadly.
Let me return to an old question: If you heard about product that could be brought to you every day, that you could store, divide, take anywhere you wanted, that stops coming when you're on holiday, that can be shared with neighbours, that informs you about everything you want to know about the local community, sports, and the international scene, and that's available at a cost of only €1.3 a day — would you buy it?
If newspapers did not exist and we invented them today, they would still be great products.
All of the above is true for a printed product. But is it also true for an Internet edition of a newspaper?
Oh, yes — most of it.
But there's one big difference: Digital editions are hidden behind a screen or an icon. Technically, that makes no difference. But for marketers the difference is huge.
With fast-moving consumer goods, merchandisers know that a position next to the cashier, or at eye height, or at the head of a rayon are worth money. Reason? The simple, impulse selling power of a location where people see what you want to sell.
The key words in this thinking are "eyes" and "impulse." If you see the product, you buy it. If you do not see it, chances and sales are much lower.
Bring this to newspapers. Not in the shop, which would be to easy: Get a good position, with a good front page, and sell. Instead, think as a marketer and go one step further than the sale — to the home or office.
If you buy a printed product, it will be on your table for hours. The rest of the family will also see it, and will often take the product and start reading it. You as a buyer will see it again after a couple of hours and finish reading it when you have time. Or will keep it for the day after.
You will "read" a newspaper several times a day.
This part of distribution as a marketing challenge is not (yet) covered by digital products. First, you need to go to your app or Web site and open the product. You scroll, open articles, and read what you want. And then ... you close it.
An iPad with or without a newspaper looks exactly the same. The impulse a printed product creates is completely gone with digital channels. Even when you send an e-mail in the morning or during the day, the difference stays huge.
Result? Even if we can sell the same amount of copies through the Web, our distribution will be lower. Not in strict interpretation of the word "distribution," but in the broad one. 
You can call it readership, the number of people you distribute your content to. Media planners call it opportunities to see (OTS) and value media by counting the times an advertisement comes under the eyes of the target group.
If we do not find new ways to alert our readers (not only the buyers) a couple of times a day, I guess newspapers will lose market share on the advertising market. Simply by counting the OTS of a printed edition versus a digital one. By counting the number of readers of a print copy versus a digital one.
Marketers, this is a big challenge that we better counter before readership surveys show falling numbers even as our sales stay the same.
Perhaps this is another good reason to opt for a digital and print strategy for the coming years. Or for a strong online advertising campaign to bring surfers to your content. By working on their impulses.
A challenge to bring on in summer, just in time for budgets and marketing plans for 2014.