Bergens Tidende's well-loved local events increase brand awareness, subscriber loyalty
Bottom-Line Marketing Blog | 29 January 2019
Bergens Tidende is one of the largest newspapers in Norway, the most important newspaper for Bergen and Western Norway, and one of Europe's leading regional digital media houses. Founded in 1868, the newspaper's reporting from the city, region, and country has made it an institution in its hometown, Bergen, the second largest city in Norway with more than 270,000 inhabitants.
At the end of 2018, our subscriber number reached an all-time high. This is a great acknowledgment from our readers, and it strengthens our belief that Bergens Tidende will manage to finance journalism in a digital world.
Bergen is surrounded by seven beautiful mountains and is famous (or infamous, depending on who you ask) for its people. They are highly engaged, boisterous, patriotic, and madly in love with their city. This is a great frame in which to create enthusiasm and engagement.
We have always strived to give something back to our subscribers and show Bergens Tidende in other ways beyond just using traditional marketing channels. By creating two events for the city's people, Bergens Tidende builds its brand, creates loyalty, and differentiates itself from other brands and competitors in a unique way. We also build brand and top-of-mind awareness, which is crucial for sales and subscriber acquisition.
We wanted to create one larger event focusing on culture and young talent from our region that would reach the city's entire population (Lysfesten) and one we could hold in the city's concert hall (Ønskekonserten) to create closer ties to subscribers. 
In the digital age, it's important but challenging to stand out and reach your audience. And it won't get easier. But we believe interactions between people and physical experiences is something that will always be important, and brands should utilise this to reach their target groups.
At Bergens Tidende, we work hard to make our events known, ensure people know we host them, and get people to attend. We use several channels to reach different target groups and make sure we get the maximum benefit and value before, during, and after the events.

Lysfesten (Festival of Lights)
Lysfesten is Bergens Tidende's gift to the city and was arranged for the first time in 1989. Over the course of 29 years, Lysfesten has become an important Christmas tradition — not only for the people of Bergen, but also for many visitors.
Traditionally, we illuminate the darkness and create a Christmas atmosphere together with thousands of great people from the west of Norway. There is always beautiful music, entertainment, and a magical light experience presented at this event. Bergens Tidende helps make Bergen a Christmas destination and enables people use the city's offers prior to and after the event.

On November 24, 2018, the annual Lysfesten was arranged in the very centre of Bergen. About 60 people from Bergens Tidende worked voluntarily to hand out torches, glow sticks, merchandise, and gingerbread. Almost 30,000 people from the entire region attended as we illuminated the city. Lysfesten is a wonderful tradition, and it offers a great experience for both the public and those of us who work for Bergens Tidende. We are extra proud to work at Bergens Tidende this day and grateful for the opportunity to get close to our readers and see the city's gratitude for Lysfesten.

We start with a showreel of Bergens Tidende most important and engaging issues through the year to reinforce the fact the brand is behind the Lysfesten and showcase our best content. During the concert, the audience is presented with something promoting out editorial content. It is important to ensure the marketing of our own products. Content does not become the main focus but is mixed in with the event's traditional entertainment.
In 2018, we renamed the event from Lysfesten to BT Lysfest, and we made it clear Bergens Tidende is the owner to ensure the goal of branding and visibility is achieved. The change had to be carefully engineered as we were cognisant that people might confuse the new name for a different event. We used the old name in headings, while the new name, BT Lysfest, was used in the actual promotion of the event. Going forward, only our new, branded name will be visible, making it obvious that Bergens Tidende is the organiser and owner of this magnificent event.

In early September, we begin to promote the event clearly in all channels. We created print ads, Facebook events, e-direct mail, and digital ads on bt.no to ensure participation and anticipation. What is important is the expression for Lysfesten has a holistic design and use of colour from the first ad and throughout the course of the event until it is completed.
We include our subscribers in the event and ask for their help to find the perfect Christmas tree, which is the centrepiece of the event. Using advertisements, we encourage them to contact us with tips. We also remind everyone the event is upcoming, when it's happening, and what a wonderful tradition it is.
A few weeks before the event, we announce artists and who the host will be. This always creates excitement and involvement amoung readers. Another effort in 2018 involved reinforcing Bergens Tidende's commitment to activate a Snapchat geo-filter before and during the event, underlining Bergens Tidende's role and the new name BT Lysfest.
We made sure to remind everyone we had the filter by profiling it on screens before starting the event. Through our filter, we received 39,009 minutes of logo exposure and reached 103,889 unique people (range) with an average of 11.6 seconds of camera time and 65% in share rate, which are very strong results, showing us this was a proper channel to exploit.
The event itself is a spectacle and led by our editor-in-chief. Local, young artists get a shot at performing for a huge audience, everybody's singing Christmas songs, a goosebumps-inducing children's choir performs, and a huge countdown before the Christmas tree is lit makes for true involvement. The event's climax is a huge, 10-minute-long fireworks display that is unrivalled.

The Christmas tree stands out on the water and has the Bergen Tidende logo. It is clearly illuminated and can be seen from all sides by all passersby throughout the pre-Christmas period and over the New Year's holiday. It is a good location in the centre of Bergen and is seen by many of the city's and region's inhabitants every day. It is also a popular place to take pictures and selfies.

The event is live-streamed on bt.no, and in 2018 we had more than 33,000 views. There is no doubt we reach many people in the region with this event. There is also a live report showing pictures and updates on what's happening, which has lots of positive feedback and comments, showing the importance of this event for the city and the region.

Ønskekonserten (People's Choice Concert)
Ønskekonserten is an old tradition in Bergens Tidende. At the start of January this year, Bergens Tidende and the Bergen Philharmonic Orchestra collaborated for the 26th time to start the new year with a festive musical evening. Just as with every previous concert, the event sold out and nearly 3,000 guests joined us in Bergen's concert hall, Grieghallen.

Bergens Tidende's readers submit their wishes about what should be played. The Bergen Philharmonic Orchestra chooses 40 pieces of music that are presented in the newspaper edition, and readers submit three pieces they want to listen to at the concert. This is an important part of the concert's content and creates great reader involvement.
Our goal with the concert is to build the brand, increase subscriber loyalty, and create a closer connection between our readers and Bergens Tidende. Subscribers get a special discount through our benefit programme, BT Fordel. We emphasise that Bergens Tidende takes care of traditions that are important for our city and its people.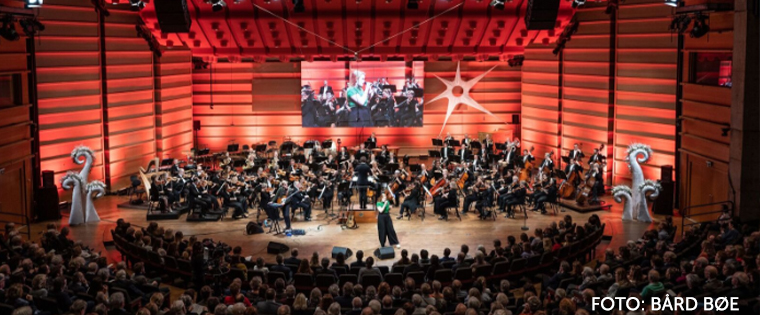 The target group at Ønskekonserten is our most loyal subscribers. We have fans who come back year after year, and this is also an important tradition for them. The concert is also used internally at Bergens Tidende, and we invite advertisers and other partners to the Ønskekonsert with two free tickets.

Sales begin in early September of each year, and even before the sale starts, there are many inquiries about when it is possible to buy tickets. We use print ads and custom Web ads to announce the sale has opened. We create Facebook events and use our loyalty programme's pages to advertise tickets. Links to ticket sales are used in all our advertising.
The concert is led by the editor-in-chief from Bergens Tidende. Every year we focus on the fact that a young and promising pop artist from the region will be able to showcase his or her talent with this award-winning orchestra. In addition, Bergens Tidende hands out scholarships for three young promising talents within the cultural genre.
Each concert has a theme, and this year it was about following a dream. The content and the script for the presenter, artists, and decorations are selected and built around this, and reflected in all our marketing materials. Bergens Tidende's editor-in-chief, Øyulf Hjertenes, was one of this year's hosts along with our wine reviewer, Ingvild Tennfjord. In collaboration with the Bergen Philharmonic Orchestra, they led us through the Bergen Tidendes Ønskekonsert 2019.

Between the orchestra's and the artists' performances, the hosts are on the stage promoting Bergens Tidende as the organiser of the concert and sharing content from the brand from the previous year and teasing what's coming up. This is done in an elegant and cheerful way mixed with the theme and programme. Photographs are also used on stage to highlight discussion topics. It's a great opportunity to show off all the great photos taken by Bergens Tidende's talented photographers.
We get wonderful feedback from our readers at both events and social media is beaming with pictures and praises. Although it is a lot of work and we do not get a specific return on investment right away, we believe this has a brand-building effect that cannot be compared to anything else we do. With these magical and unforgettable events, we make sure to give something back to our readers. They greatly appreciate it, and we can see an engaging and long-term, loyalty-enhancing effect.

The pictures in this article are taken by our own photographers, and the marketing material is created by our advertising agency Anti.as.