ARF Audience Measurement 6.0 highlights challenges for researchers, marketers
INMA News Blog | 30 June 2011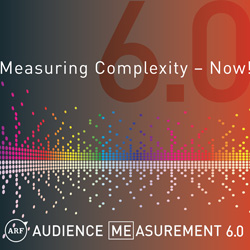 As consumers absorb and disseminate a daily flood of digital information, marketers and researchers are faced with unprecedented challenges and opportunities — not the least of which is navigating the complexities of data measurement that often spell the difference between success and failure.
More than 700 media, marketing and research executives from around the world gathered in New York City on June 13 and 14 to share and gather insights about cross-media challenges, global media consumption, mobile measurement and social media at the Advertising Research Foundation's Audience Measurement 6.0 conference.
INMA sent correspondent Laura T. Ryan to cover the event, and members may access her report in two ways below:
Sean Creamer, executive vice president for U.S. Media Services at Arbitron, gave attendees a succinct overview of the task at hand.
"With the massive proliferation in the number of media choices consumers have, I think it's incumbent upon measurement services companies to keep pace," he said. "We need to deliver solutions to allow us to take advantage of those many opportunities available. If it can't be effectively quantified, it can't be effectively monetised."