Star Media Group's unconventional ways of filling the revenue gap
Keynote Blog | 11 March 2013
In the summer of 2010, John Cruickshank, president of the Star Media Group and publisher of the Toronto Star, invited me to join his operation.
That, in itself, wasn't so strange. I had been in the newspaper business 30 years, moving from a tiny daily in a town of 15,000 to editor-in-chief of The Globe and Mail, Canada's top national newspaper. And I had worked for John almost 20 years earlier, as one of his two deputies when he was The Globe's managing editor.
What made the invitation unusual was that John was looking for someone to develop new business opportunities to help fill the opening revenue gap from print advertising's decline.
As all editors operating in the past dozen years understand, the classic role of producing and projecting great journalism jostles for attention with the macro challenges of new product development, cultural change, and process efficiencies. Editors are well acquainted with the front lines of the industry's battles.
Still, putting a journalist in charge of finding new ways to make money could be construed as, let's say, a brave move — though apparently not to John. He reasoned that we would continue, in one form or the other, to be in the content business. So a thorough understanding of content was a prerequisite for business success.
Today, our Strategic Investments and New Ventures unit is running six businesses, five of them launched in the last year-and-a-half.
Together, they employ about three dozen journalists, plus sales and marketing staff, and behave like start-ups. They can draw on corporate support in areas like research, promotions, finance, and human resources, but are otherwise mean and lean – and very focused.
These businesses operate outside the core of the mothership, but adjacent to it. Our job is not to replicate what other units are doing; they are obviously better positioned to build off their bases. Other than at a strategic planning level, we have no involvement, for instance, in thestar.com's coming metered digital system.
Instead, our mandate is to experiment with net new businesses that would exist only because of our unit's presence. We are influencers and implementers of strategy — seeking out new opportunities, examining those that come in the door, and creating opportunity from within.
What we're doing and how we're doing it speaks to the innovative character that has made the 120-year-old Toronto Star the largest newspaper in Canada for generations, bigger than even the two national newspapers.
The Strategic Investments and New Ventures team is very small. There's me; Dean Ostilly, who spent six years in management consulting and has an MBA from Kellogg School of Management; and Dev Saxena, a business graduate who recently joined us from a venture capital firm. One journalist, two business specialists — a fair fight.
Our first major initiative emerged from a conversation with the advertising department: We asked it to identify where the company should be making money but was not.
Beauty and fashion stood near the top of their list. The Star had a small and declining share of that market. The reasons, according to the advertising executives, were that we lacked environments that were either predictable or beautiful enough. We also lacked deep relationships with fashion and beauty marketers.
After some investigation, we identified a small, digital beauty magazine called The Kit. It was less than a year old and had been launched by several veterans of the women's magazine industry forcibly liberated during the recession.
Ultimately, we purchased The Kit and took aboard its key people, seeking to bring its expertise and entrepreneurialism together with The Star's reach and reputation. We invested in a new Web site and reverse-engineered The Kit into print on glossy stock that had to be outsourced.
We entered into an agreement with Postmedia, an historic rival, to distribute The Kit in major Canadian cities beyond Toronto and have exploited a plethora of partnerships to enlarge its digital footprint.
In its first year, The Kit made money. A high proportion of revenues come from digital, but the majority come from print, where we can draw upon deep pools of knowledge for high-end, custom content work.
The Kit has all the go-go culture of a start-up, coupled with the propellant power of The Star. Ultimately, we see the future of The Kit lying with the original digital magazine, in which we continue to invest.
To suggest our unit has followed a direct path over its first couple of years would be bending the truth. After some trial and error, we have organised ourselves around three strategic insights:  
Consumers increasingly engage news and information in verticals.


Marketers are seeking services beyond just advertising.


Our content and content capabilities need to engage consumers on whatever platforms they frequent.
These buckets slosh over one another to some extent, as is the case with The Kit. Still, these principles anchor our choices and help keep us on strategy.
Insight #1: Information has become verticalised.
We used to talk only about the need to aggregate audiences. Now we speak increasingly about segmenting audiences — and how they segment themselves.
Consumers increasingly access information in deep vertical shafts rather than the broad but shallow bundles of yesteryear. This behaviour is amplified by digital.
Recognising the debundling of the print package (or the broadcast news one for that matter) is nothing new. But what opportunities does the changed behaviour of news and information consumers generate?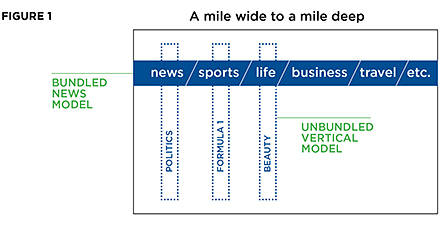 We've drawn this very simply, as illustrated in Figure 1 (above). In the classic model, producers organised their news and information into freight cars of national news, local news, foreign news, sports news, entertainment news, business news etc., etc.
These were aimed at mass audiences. As such, the bundle was a mile wide and, to be fair to us, six inches deep. Some subject areas, such as city hall or the local baseball team, might even be a foot deep.
But the approach lent itself more to breadth than depth, a situation that became aggravated as newsprint costs rose and newsroom budgets shrank. Coverage of smaller subsets in the bundle, such as horseracing, shrank from two pages to one page to a spot of agate. Bigger subsets like business or political news have also suffered.
Today, readers can delve as deeply as they desire into subject areas of their choosing through regular visits to specialised sites and blogs or by downloading relevant apps. They can "favourite" sources through RSS feeds and engage in conversations on Twitter.
Some might like politics and baseball, others cooking or ultimate fighting or science. But while the classic, bundled newspaper may be a starting point it does not fully satisfy the newly acquired taste for depth.
The vertical self-organisation of audiences presents new business possibilities. If just 2% of your newspaper audience was passionate about horseracing, they lacked sufficient mass for you to devote resources to it in the bundle. But if half of that 2% is willing to pay for a specialised digital product, the game changes.
As we slice and dice our audiences, all kinds of potential new products suggest themselves. Some may be directed at as few as 5,000 or even 500 people.
The question is: Can publishers go deep enough with relevant and unique information, preferably in geographic or subject area pockets protected from the digital giants. Can we entice end users to pay? If we can, we will also have created an efficient buy for targeted advertising.
Our group is currently experimenting with local business verticals in two Canadian communities, classic coverage areas where newsrooms have felt impelled to pull back in recent years.
While the supply of local business news is down, we believe that local business people are highly motivated to know what's moving in their communities: new competitors, new opportunities, the passing away of a supplier, a developer assembling land for a new mall. We are also testing our hypothesis about specialised verticals with a daily, paid, political newsletter for pros.
The possibilities are endless.
These businesses won't scale like Facebook, but, as our CEO likes to remind us, we are good at publishing. So we build on our strength: creating great content for target audiences.
Insight #2: Advertising is just one of many marketing channels.
For decades, traditional media offered a single marketing service to its clients -- the advertisement.
In newspapers, the advertisement came in different column widths and depths, with or without colour and, in recent years, with novel creative presentations. In digital, it came as a banner or big box before more creative approaches began to take hold in the past couple of years.
As Figure 2 (above) shows, in a world replete with alternatives for the marketing dollar, we can fight to increase our advertising market share and/or to broaden our marketing offerings, through such means as in-store activation, search-engine optimisation, or content marketing.
We've started with the latter.
Today, everyone is a publisher. Brands increasingly recognise that relevant content (relevant to the consumer, that is) represents a bridge between them and their customers. But the idea of producing content as a continuous flow rather than a periodic campaign is intimidating to non-media publishers and their agencies both.
In contrast, it is as native as breathing to us. For generations, editors have been in the business of matching content to specific audiences seven days a week and, more recently, 24 hours a day.
Media companies already possess the skill sets (and content storehouses) being sought by all sorts of organisations.
We see marketing services as a major growth area for publishers, although they are best kept distinct from newsrooms so as not to cloud the editorial mission.
In our case, we have created Star Content Studios, an in-house agency that provides an internal solution when The Star advertising department is looking for commercial content as well as an external solution for brand publishers seeking content creation and curation for their owned media properties.
In its first year, Star Content Studios won the New York-based Custom Content Council's Pearl Award for original and curated content produced for the Heart and Stroke Foundation of Canada.
The Kit, too, with its deep knowledge of beauty and fashion, has grown out a custom content line for brands in the field.
Insight #3: Get your brand on as many platforms as makes sense for your business.
In a world in which the word "ubiquitous," as a describer of content, has become, well, ubiquitous. We want to make sure our content exists on as many platforms -- existing and emerging -- as makes economic sense to us.
The Star and thestar.com dominate the Greater Toronto Area, a region of 4.5-million people. We have more reporting boots on the ground than anyone. We should be reaching residents through cable, radio, Google TV, and Windows 8, in addition to our established platforms.
Largely this is a job that falls to the newsroom and the digital division. But if the job is outside the core or involves investment, it is managed by our group, with the participation of the interested departments.
We are experimenting heavily with new partnerships and platforms for our archived content, possibly with more ambitious iterations in sight. We have just entered into an arrangement, for instance, to distribute the Mayo Clinic's newsletter in Canada and to use a small slice of that content on The Star's weekly "Thrive" page.
No news organisation can produce as much content as its readers can consume, nor can it reach as many readers as its content might justify. Therefore, partnerships will be increasingly essential – with other media, with brands, with co-creating readers themselves.
So, for example, The Kit's content is carried via aggregators such as Google Currents, Flipboard, and Pulse, and portals such as Yahoo. In turn, The Kit carries a very cool weekly feature that takes readers inside the closets of the rich and famous, provided by The Coveteur (which is a Web site that "offers exclusive photography and videos from the homes of celebrities and the fashion elite").
We have a lot more work to do in each of these buckets — and a lot more to learn. Inevitably some ideas will fail; that's the price of admission.
But the marketplace is replete with opportunities that match up with the engrained capabilities of media companies. The key lies in John Cruickshank's vision of creating a small band within our organisation, freed from the daily grind and empowered to pursue new business opportunities just beyond the core.