16 August 2017 · By Darrell Kunken
Today's discussions with clients often include a conversation about which customers are using the Internet heavily versus those who aren't. Helping local businesses understand the economy as it transitions from traditional to omni-channel and digital is a huge opportunity.
As retail transitions to a digital economy, local businesses seek help to understand how consumers are using the Internet.
While the majority of the population uses the Internet in one way or another, some consumers are much heavier users than others. One can gain insights by looking at who are the heaviest versus lightest Internet users. 
To help make some sense of the complex consumer, a simple view using quintiles can help educate staff and clients.
In statistics, a quintile analysis divides the sample population into equal fifths, in this case based on heavy to light Internet usage. By comparing the heaviest Internet users (quintile 1) and their behaviours, versus the audience that makes up the lightest Internet users (quintile 5), you can see some marked differences. The heaviest Internet users (quintile 1) spend at least 20 hours per week online.


Taking a look at the consumer profile found in quintile 1, one can see these are more affluent and younger consumers.
Quintile 1 Internet users have a household income 84% higher than quintile 5, and a median age that is 18 years younger.


Viewing the heaviest versus lightest Internet quintiles by PRIZM Premier Lifestage instantly reveals the impact of affluence in each of the young, family, and mature stages.


Indexing of quintile 1 and quintile 5 Internet users shows the impact on the economy. Health and wellness and other health-related areas index higher for older and less affluent quintile 5.


Views like these can be part of educating your staff and clientele as they seek to understand the variances in our consumer audiences.
---
21 June 2017 · By Darrell Kunken
Last month I had the privilege of going through an exercise called design thinking, which teaches an approach to product development and problem solving. My first introduction to this process was through a joint project at Stanford University about four years ago that brought this powerful approach into view.
What is fascinating to me is how powerful a few simple concepts can become in our own day-to-day interactions as we work with local SMBs to solve for improved marketing campaign performance.
It's human nature that, when faced with a problem, many of us simply try solve it right away. But, if we rush to solve a problem or design a new product as we individually understand it, we may be missing something. That's because we are all different. With unique personality types, there are different ways we hear, react, and approach situations.
One of the foundational elements in design thinking is empathy. Empathy interviews are effective tools that allow you to listen to your customer, as opposed to telling them what you think.
While there is a lot more to the design thinking process, the empathy interview can bring a lot to strategy discussions with business clients. This is important because we are in the business of finding customers for our business clients.
Listening to a few recent buyers or shoppers still on their path-to-purchase can be very insightful and bring behaviour and experiences (beyond demographics) into the strategy. Holding empathy interviews with consumers who are on that journey is a golden opportunity to hear what experiences they have had.
Through empathy interviews, you can gain insight into how they think, how they approached finding information to help them make decisions, what was difficult or disappointing, what they would do anything different next time, and what their zero moment of truth (ZMOT) was.
These are two recent buyers of oriental rugs. They had different approaches on their paths-to-purchase and different experiences along the way.
Listening and personifying buyers provides insights for campaign strategy discussions. Imagine the deeper conversations and interactions to be had with a business owner when this information is available.
Plan to do more listening and learning, seeking to understand, before anything else.
Then define, ideate, prototype campaigns, and test performance on the road to continuously improving results.
---
01 June 2017 · By Darrell Kunken
This chart of Borrell data displays the estimated change in ad spending for business categories.
The solid black line in the middle is 0%. Above the zero line, the dots represent growth for a business category in local digital marketing spend in just one year's time.
Below the zero line, we see the dots representing the change in spending with newspapers and local TV for the same list of retail categories. All dots are flat or negative.
Combine these spending trends with the correction that is playing out with store closings in many retail sectors and you have a perfect storm. Consumer consumption and media habits are changing, advertising philosophies are changing, and retail is working to change its approach to moving targets.
The common denominator is the consumer. The customer the retailer seeks is still the same consumer of media and information as before. The consumer just has a more complex path-to-purchase due to fast evolving opportunities and the adoption of new habits.
Yet, in this seemly state of chaos, there is a great opportunity.
The opportunity is for us to complete that transformation from researchers or ad sales executives and become true marketers and business partners at a new level. We can be a valuable business partner in most every category of business.
The truth is, businesses need help. What a great opportunity that presents to us.
Become a true partner in information sharing, analysis, strategy building, measurement, and ROI modeling, resulting in growing business in this disrupted world. Be their marketer, because good marketing sells.
---
12 April 2017 · By Darrell Kunken
Business owners and marketers have finally tuned in to the value of data and how their focus on data can be the key to growing their businesses.
But, while most businesses have data, the majority still do not have the time or resources to put that data to work for them. A local business is also being called on by someone selling advertising an average of 24 times each month. 
Clearly the scenario is one where small businesses are facing a faster-paced economy, filled with many more complex choices from the digital economy (not to mention Amazon or responsive retail). And there are many more voices vying for their attention while each claims to have the better answer.
The small business owner might see an equation looking something like this.
The BeeMedia-proposed solution is one of working with a long-standing, brand-safe, trusted company that has a strategic marketing team to focus on such situations. We understand the value of data, and we work directly with local businesses and their own data. We have the business-to-consumer focus in common with our clients. Our job is to find them customers.
In an effort to get that word out and communicate our capabilities and insights, we have created a weekly e-mail, the B2C Research Minute. Designed as an avenue to share (what we hope are valuable) marketing insights with more than 9,000 local business owners and marketers, the B2C Research Minute features contributions from members of our strategic marketing team.
Various personnel contribute. We have senior consumer marketing strategists, a senior data analyst, cartographers, and a content writer, and they can all offer valuable insights from their professional points of view.
Daily, our staff comes across a lot of information and we often find ourselves saying, "that's interesting and worth sharing." This is one way we can share some insights and hopefully drum up interest and conversations.
As hard as we have to work to keep up with everything going on, we might as well share those insights!
---
28 February 2017 · By Darrell Kunken
Data is the currency for doing business today.
Data drives decision-making and learning. That's the basis for why many organisations are now investing more in data-driven marketing spending, as this chart from eMarketer.com illustrates.
A recent research brief sourced a Millward Brown study stated marketers are demonstrating a lack of confidence in their media allocations. The article went on to say only 32% of marketers surveyed reported having confidence that their organisation had optimised its media mix between traditional and digital. And 50% didn't feel confident in their organisation's media mix.
The fact that most marketers are not confident with their ad channel mix would seem to suggest there is a lack of information or data to prove or disprove the mix is working or not.
Optimising the marketing mix across channels has often been high on the list as one of the biggest challenges facing marketers. But, that would tend to explain the fact 55% of respondents in the Millward-Brown study said they're not confident their organisation understands the customer journey.
Businesses are calling for better attribution views, the quest for a more holistic single-customer view, and lifetime value. These all require the right data.
These issues point to the need for better data, systems, and people to get the answers necessary to improve the situation. It absolutely makes sense that many companies are going to be increasing their spending on research and data budgets.
The real interesting part is this also offers a huge opportunity.
If we, in our own industry — which is in the business of helping businesses grow and fund real journalism — are also going to be among those increasing spending on data and systems, then we can compete and win on behalf of our business clients.
We will continue to win business if we are using data and systems providing proven ROI with a trusted and data-transparent relationship with our clients.
After all, it's about the data and our approach with data, not the platform. We need to tell that story to our prospective customers. Look at us for what we can do for you.
We're about the data, not exposure platforms.
---
22 January 2017 · By Darrell Kunken
Chances are 2017 will mark even greater ad spending and an evolution of tactics from digital platforms.
It was just 10 years ago that Steve Jobs took the stage to introduce Apple's first iPhone.
The world hasn't been the same since that device catapulted the adoption of smartphones worldwide and put convenient access to amazing information right in the hand of the consumer.
Think about the changes the smartphone has been a catalyst for.
The iPhone's 10th birthday comes at a time when more than 80% of adults in our local metropolican area now own one, and more than 75% of adults own one nationwide.


The smartphone will continue to transform our way of doing things moving forward.
The global smartphone install base is set to grow 50% in the next four years to six billion devices, totaling US$355 billion in revenues, as reported by CNBC.
"Mobile innovations, new business models, and mobile technologies are transforming every adjacent market as the mobile industry diversifies from the maturing smartphone market," said Ian Fogg, director at IHS Technology.
For the ad industry, we must take note that the recent holiday season saw a healthy upturn in sales, and they were driven via online.
As Borrell Associates has reported, 2017 is set to be a watershed year as advertisers continue to increase their share that is spent in digital advertising.
There is so much opportunity to harness the momentum behind this trend.
We need to win in the arena of digital marketing versus selling digital advertising.
Our winning ways are established because we should be the most capable in our markets, the best option, and consulting partners that bring more to the table. But, as Borrell reported from its 2016 SMB Survey, we need to prove it to those SMBs that have not yet seen what they need or want from our sales staffs in general.
The fact marketing is now run on metrics and data, and we can measure, report, and optimise, is understood. But it must start with a deep understanding of the consumer, his path-to-purchase, and measured, reported proof that we are his marketing partner getting it done.
As we and our business partners are reading the volumes of predictions and trends in store for 2017, we need to cut through clutter and define the marketing opportunities. Then we need to execute.
We have the capabilities. And we will be developing new go-to market strategies, as well as new and better ways of serving our clients and telling their stories.
This year — 2017 — is going to be our year of doing and winning.
Are you the best in your market?
---
26 December 2016 · By Wayne Morgan
Is programmatic advertising a boring phrase now — another digital flash in the pan and yet another distraction for publishers?
Back in August 2015, I wrote about the potential benefits afforded to regional publishers as a result of programmatic advertising. I touched on our ability to compete, at a local level and in person, with the big boys.
Back then, I wrote about the basics, the role of data, the technology stack, and the increasing competition in the local marketplace. None of that has changed: Publishers are still working on their data plans, the tech stack is still evolving, and local penetration is still rather low.
A lot can happen in 15 months. However, one thing is for certain. Advertisers who are exposed to programmatic advertising for the first time are fascinated by the opportunity it presents.
I've spoken to many SMEs about Archant's programmatic proposition, GoTarget Display, and have been surprised at how many already understand targeted advertising — be it social, search, or display.
The thing that really stands out, though, and the big opportunity for regional media is they haven't had a serious conversation face-to-face with a human about the best way to go about it. They haven't had a consultation about their needs and how programmatic advertising can help solve them.
We are able to fill that void, the gap in the market.
It's evident that customer retention is a challenge for most publishers. The fragmentation of the digital advertising landscape naturally results in businesses "trying" new things.
Our programmatic solution is starting to drive that for us. We are having conversations about the longer-term benefits of strategically planned media campaigns, working with advertisers' digital assets to drive the return they need.
One problem publishers have suffered over the last 20 years is "shiny new toy syndrome." When new digital platforms, ideas, and opportunities come along all the time, it can prevent any real traction to material, core, growth, and sustainable sources of income.
Publishers are bombarded with the message they must diversify their revenues to remain relevant. But this can be distracting — throw too much mud at a wall and eventually the mud that sticks is hidden by fresh mud.
Our regional magazine business has a good display business, with lots of engaged sales people selling good and engaging campaigns across our portfolio. The question is will programmatic advertising simply cannibalise what we already have and leave us treading water again?
So far, the opposite has been true. It has taken us only two months to build an outbound programmatic revenue stream larger than our traditional direct revenue, which took 20 years to build. As a result, our display business has increased exponentially, series bookings have increased, and conversations with customers have become deeper than ever.
But, and here is the most important bit, our advertisers genuinely trusted and learned from us, and they are thankful for it.
Who knows? Programmatic may still be another fad, but as national advertisers turn increasingly to a purely programmatic environment, the lag to SMEs will surely follow that trend.
---
14 December 2016 · By Darrell Kunken
As we are always focused on the audience segment(s) most important to our business clients, sometimes it is useful to start with a broad view of how all consumers are interacting with a certain category of business.
A high-level view can be a great beginning to an insightful and meaningful discussion.
Sometimes an easy way to provide insights for our client audience (even internal staff education) is to look at generations, segmented across a category of business or merchandise purchased.
This can be accomplished by simply using a research study like Nielsen/Scarborough to create variables by grouping age segments together that reflect the generations. Again, the purpose is to be able to quickly see what differences exist in generations' adoption of technology, product buying, or participating in lifestyle activities.
Some examples:
How people adopt, buy, and use technology along their path-to-purchase is important to understand and sometimes difficult to clearly get across. A chart like this one can help. One can quickly see that local smartphone penetration is highest amongst Millennials and Gen X, while desktop penetration remains highest with older Baby Boomers. And laptops/notebooks reign with older Millennials and Gen X.
The chart below illustrates how Millennials are currently the heaviest app users when seeking auto information, yet it's the young Baby Boomers to the seniors who are buying more cars. This view sets up a great conversation about developing the right media mix and the need to be omni-channel today.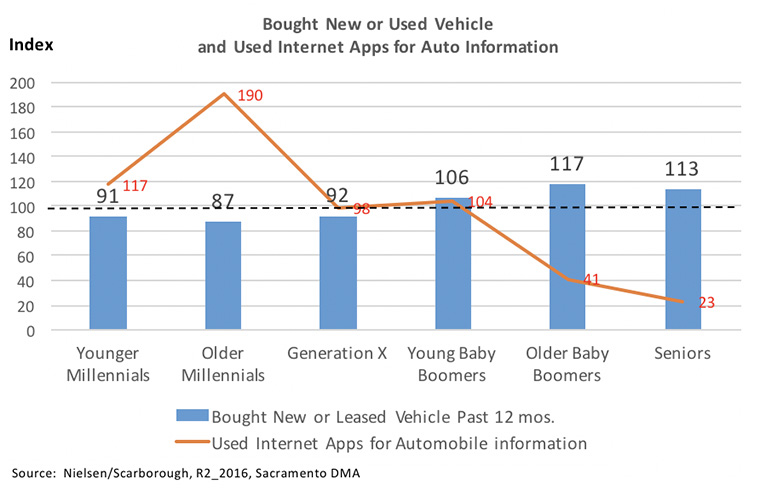 Another look shows who is buying new or leased vehicles versus used vehicles. In the next chart, younger Millennials index highest for buying used vehicles.
Take a look at shopping and buying by generation. It can help you visualise the market segments that are important to focus on most and develop a plan to cover those segments that will be most valuable to your business.
The same views easily illustrate what generations are participating most in things like hiking, biking, outdoor grilling, gardening, soccer, or golf. Lifestyle activity participation adds to the picture of the target you are going to be marketing to.
The view below helps to illustrate how generations are utilising key marketing channels that we can offer most direct exposure through or management and optimisation of. It's pretty easy to see print utilisation is from Baby Boomers to seniors and the digital channel involvement is across the younger generations.
Views like these can help us explain how generations are utilising various media channels.

With the speed of change today, driven by access to new technologies and information, it is truly an exciting time to be in this business. It is challenging and rewarding to figure out what is best for our clients. Constantly remaining a student of the game, we can illustrate what is happening and who is impacting change.
---
11 December 2016 · By Wayne Morgan
In publishing, we talk about audience all the time. And, quite right, as we are part of the creative media sector. People consume our content in great numbers.
In print, the model is well-established, albeit full of assumptions. But, we put a newspaper product together, print thousands, and distribute through pick-up points or directly to the reader. And then we make an assumption that the combined total is "our audience."
We don't know how many pages they read, if they read it all. They might even pass it on to someone else and so on. These are the assumptions. This is a perfectly valid assumption, but it is under some duress from other sources of audience at present.
We (print media publishers) take the same model online and talk about it a similar way, and it's catching us out.
A collection of unique users is not an audience, but you already know that. (If you're a media professional and don't know exactly what a unique user is, please stop reading this now. It's 2016; you're reading the wrong article.) Yet, we continue to use it as such. It's weird. Page impressions, sessions, and inventory are all cumulative, and, in isolation, rather useless at being representative of audience.
We look at the number of people who turn up and don't work hard enough to check to see if they are watching.
Imagine this: You go to see an English Premier football match. It's Southampton FC (proper team) versus Manchester United, the stadium is packed, the noise is electric, and the audience is involved in the match to the end. They even influence the content and therefore the outcome of the game – the audience.
In the publishing world, online, the ref blows the whistle, the match kicks off, and everyone leaves before the end of the first minute — WTF?
I want you to think about the advertising boards around the pitch. Not so long ago, these boards were static and painted/printed. Now they are electric and change the creative frequently during the match; half the pitch is even targeting the people not at the stadium but those watching on television. The content (the game) is able to engage its viewers long enough to distribute advertising messages to everyone watching — the audience.
Our news Web sites are incredibly similar. The ad slots are capable of message change. But the problem is our users aren't there long enough for us to have an impact. I'm not sure that constitutes as an audience.
Our job in advertising is to distribute the message to all of the people our customer has requested — preferably targeting the right user to start with. It's unlikely an advertiser can even afford to target our entire audience, so they and we need to compartmentalise accordingly and ensure we can engage with them.
The media landscape continues and will continue to fragment. National press has different challenges than regional press, and the same goes for opportunities.
If you haven't started to look at your user base (please don't call it an audience; at least you're being "used" — sounds awful doesn't it?), identified who they are and what their interests are to reach them on behalf of your advertiser, wherever they are, how can you possibly get to the final whistle?
Leicester City FC currently has the largest audience in its long history. Its content has recently been, and still is, wonderfully engaging. It is not a team of individual stars; it has pulled together and worked as a team with one plan to reach one goal.
Audience growth in publishing has to come from every part of a publisher's business. It can't be done by just one group, and it certainly isn't just the job of editorial (says the ad guy).
The one thing that every player in Leicester City FC has in common is they all know how and in which direction to kick the bloody ball.
---
06 November 2016 · By Wayne Morgan
Like many of you, I am currently finalising plans — and the requirements to achieve those plans — for the coming year.
During this process, naturally, I have been talking a lot about people — our people, my colleagues — at Archant, whom, collectively, will deliver our plan for 2017.
I have also been talking to other publishers about the same thing: their focuses, approaches, and, of course, seeking opportunities.
But, in 2016, I am still shocked — actually, no I'm not, I'm baffled — at the lack of engagement from the majority of people who work within our industry.
I have heard it time and time again about digital transformation: We need to change, and digital has to be a bigger priority.
Why? We know why. Our industry is under some duress at the moment with regard to circulation and ad revenues due to the massive fragmentation of the markets we serve. Add to that our printed platforms are competing with an ever-increasing volume of solutions and competitors.
So, ever so naturally, we say, we need to transform.
I did sell print advertising prior to my current position, but I've been working in pure digital media for a little while now and I love it. My job is my hobby. I feel fortunate to have found it, and, quite frankly, it's absolutely fascinating and bloody good fun.
I am personally "invested" in digital. I couldn't get away from it if I tried. It's who I am, not just what I do. The same goes for any interest: golfers, chefs, fitness fanatics, pilots, movie stars, and even gamblers. They are personally invested; it's who they are.
I think you can see where I am going here: Digital transformation is not going to possible for everyone; they just don't care enough. Sorry, that's not fair at all. I retract that. They do care, greatly, but they are not personally invested in digital, therefore it's not front of mind, in their DNA, a part of who they are.
Some of you reading this will know you are not personally invested in digital either, yet you will most certainly tell people you are. That's not sustainable, is it?
Now, of course, my statement may somewhat annoy you, but that's fine, because you won't "out" yourself. And to the rest of you to whom this statement doesn't apply, you'll be nodding along with me in agreement. Is that a paradox?
The time is now. The opportunity with targeted display and content products is maturing. We are finally being regarded as genuinely trustworthy in a distrusting environment, and we do actually have more people invested in digital.
This year has been a good year at Archant for digital and digital transformation. I have more colleagues who I can "talk" to than I've ever had before, and we have been doing some really good things. Well, that is handy timing and not a coincidence.
Everyone has to get involved, though. Think back to your time at university or college. You would revise, revise, and revise again for your exam. Why? Because you believed, rightly, that working hard to better yourself would pay off for your career.
Why, then, when people start to work do they not do that? Why do they not put in the effort or go the extra mile for their own success? Is that another paradox? To be honest, I am not sure what a paradox is. Is that, in itself, another paradox? (Sorry.)
Invest is a good word. If you invest in a business venture or stock, you won't get a return unless you actually put something in.
Same with digital knowledge: Those people who just say they are "digital" without having personally invested time and effort into it won't get anything out of it. If they don't, is it a good idea to wait and see what happens? Because we already know, nothing will happen.
For successful transformation, investing in people is still the answer, but they need to invest, too. Oh, and if this post does annoy you, have a word with yourself.
---