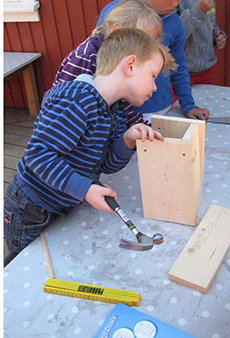 I recently attended the INMA European Advertising Ideas Day conference in Amsterdam, the Netherlands, and was struck by two themes — information and innovation.
While neither is new, reviewing them here provides a good opportunity to reflect on the progress news media leadership is making in the two areas.
Let's start with information.
Several presentations touched on Big Data, media behaviour research, and shared advertising impact. All provoked the same question to me: Have newsmedia companies truly reflected the importance of systematic collection and use of information as integral to the business and, in particular, to the relationships with advertisers and business customers?
One way to address this is to describe what it would look like if the industry were truly information-driven.
IT infrastructure would receive significant investment (or there would be important outsourcing relationships).

Analysts and the "numbers" people would be heroes and involved in decision making ... not just in finance. Some actually would be salespeople.

Advertising professionals would understand what types of advertising in what mix really work for each advertising segment and marketer goal, based on facts not just the story in the sales collateral.

Data on the impact of advertising would be shared by and with major advertisers.

New advertising products and services would be tested, results monitored, expanded, refined, or killed.
Information and data management is now a requirement in the media business at every turn.
Just as we often describe the "native" digital users as different from those of us over 40 who have "adopted" the mobile and digital age, we must ensure that more members of news media company leadership are information "natives," who do not view data as the sole domain of nerds or the finance department.   
The second theme emerging for me from the Ideas Day conference in Amsterdam was innovation. There were many examples of innovation and creativity shared in Amsterdam. It is why INMA members attend such programmes. This included the very "innovative" e-commerce-like business model built with a wine merchant and the highly localised contest with a local home store.
The home store example is creative because it blends the strengths of media companies in local reach with the need for retailers to generate awareness and business within an appropriate radius of their stores.
In a nutshell, the team at Amedia involved local schools in a contest to build something from supplies provided by Carlsen Fritzoe, a home-building store. It increased awareness of the retailer (measured both before and after), created positive "buzz" about the store, encouraged children to learn how to be do-it-yourselfers (DIY), and grew spending.
The team at Amedia can provide the details of this creative event and marketing programme designed around an advertiser's specific need.
On a grander scale, the wine merchant example is an innovative way to find the "holy grail" of new revenue streams. The team at Mediekompaniet in Sweden collaborated with an e-business wine merchant and actively participated in the business of their client.
It is much more than an arm's length ad campaign of the past. It took a five-year commitment on both sides to create the right model and then see if it works.  
Again, specifics can be gotten from Mediekompaniet.
So, what does a media company committed to innovation look like? It:
Has examples of innovation, both big and small.

Makes investments in trying new programmes.

Has rewards for the innovators, even when the effort fails. (Recall many will fail if you are doing enough of them.)

Partners with marketers on experiments with transparent metrics.

Is a fast follower of the innovations of others.
How well does your news media firm stack up on information and innovation? I hope this provokes some internal discussion of where your organisation stands. I look forward to seeing you at the World Congress in San Francisco, California next week.