The pace of change is impacting all media and promotion. The way to win is to stay up on the trends and show how you remain a valuable conduit between the buyer and advertiser.
A large part of the competition for our share of marketing ad dollars today rests on tracking and proving ROI like never before.
I believe in advertising because, when smartly used, it can drive sales.
I'm not dissing any advertising channel. But I do feel it's time to question when I see the large amount of television spending by certain accounts that don't have an understanding of the ROI. Especially when you look at the trends.
People are spending less time viewing television than they used to, and they are watching fewer channels than they used to.
With more than eight in 10 U.S. Internet users regularly using the Internet while watching television, advertisers are challenged with a new trend. While people may have the TV on, are they really watching it? Are they seeing the commercials? Are they comprehending the messages?
Here are a few things to keep in mind:
Simultaneous Internet and TV use is being driven by increasing device penetration and widespread access to high-speed Internet.
Smartphones are the most popular device being used alongside the TV.
The majority of second-screen activity is not related to anything going on on the TV, according to eMarketer.
Did you know that Google says 84% of smartphone and tablet owners use their devices as a second screen while they watch TV?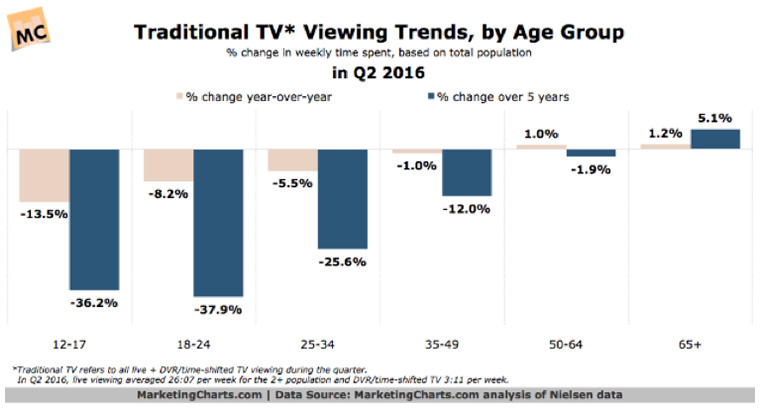 And a Deloitte November 2015 study found the most common activities conducted while watching TV were browsing and surfing the Web, followed by using a social network and reading e-mails.
With only 8% of respondents saying they did nothing else except watch TV while engaged in that activity (according to eMarketer), it begs the question, what is commercial recall like today?
The value equations are changing.