Empire Co. Ltd. launched its response to the growing demand for grocery delivery in the form of Voilà, now operating under the Sobeys banner in the Toronto area. The e-commerce service is powered by a fleet of robots, which are part of a tech-heavy leap into an increasingly crowded space.
The grocery sector isn't alone in scaling up e-commerce offerings to meet demand. With businesses across North America shuttering their bricks-and-mortar locations as a result of the COVID-19 pandemic, e-commerce has emerged as the top alternative for buying and selling goods. That means effective e-commerce marketing is essential for both locally owned and legacy businesses seeking to stand out in the increasingly saturated digital marketplace.
Team from Globe Content Studio spoke with experts across the retail, food service, and media industries to get a better sense of how businesses can optimise and effectively market their e-commerce initiatives.
Four key takeaways
1. Embrace the pivot.
Customer needs are changing in real time, and brands need to shift accordingly. "Iterations are the name of the game," said Eva Salem, vice president of marketing at Canadian Tire.
As a marketer, lean into different offerings so you can pivot based on changes in regulations, social circumstance, or buying habits. Katherine Bond-Debicki, marketing director at KFC Canada, emphasised that "it's important not to have a one-size-fits-all approach when it comes to the digital ecosystem."
Customers behave differently on Web versus mobile, or when navigating a site versus an app, and your marketing needs to take these differences into account.
2. Develop an understanding of trends in consumer behaviour.
As needs shift, so do search trends, followed by purchasing trends. Erin Elofson, country manager at Pinterest Canada, reported that Pinterest saw a 50% increase in searches and board creation across the country and around the world during quarantine.
Users went from seeking ways to "hack the day to day" to future planning, shifting their searches from cleaning tips to travel inspiration. Working with social and personal media platforms such as Pinterest enables marketers to access and use data to eke out emerging micro-trends and promote products accordingly.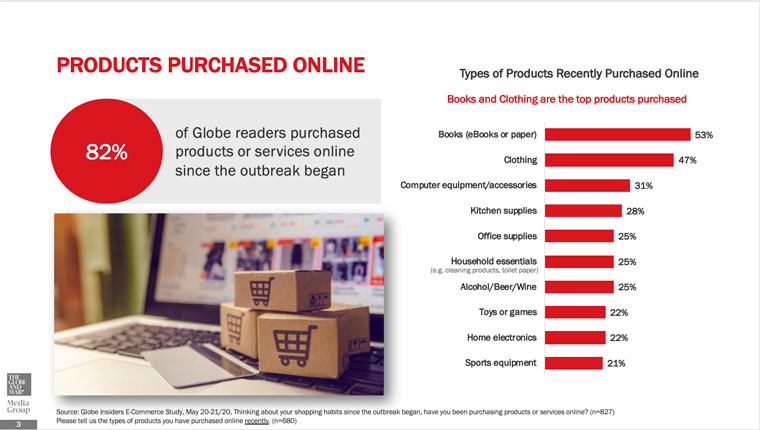 3. Think about where you're selling.
When debating between hosting e-commerce on your own site versus using aggregators, experts recommend figuring out which one suits your business scale. "To an extent, if you want to get any scale, you need to be [on marketplaces] because customers are going to be there, for the reliability, accessibility, and the frictionless nature of the platform," said Kris Davis, senior vice president of customer service at Media Experts.
There are, however, pricing challenges when using aggregators, with competitors fighting in a "race to the bottom." It can be hard to differentiate your product, and ultimately, you're at the mercy of the algorithm.
"Small and scrappy shops have the benefit of being nimble and creative, so while they can't compete on a large scale, they can carve out a successful business model for themselves by building on their own flexibility using their own platforms," Davis said.
Bond-Debicki agreed. In the food industry, in particular, there's value in being more physically available using aggregators such as delivery apps, which she sees as a "digital food court." They lead to discovery, while an owned site is a destination that customers seek out specifically. That's your opportunity to "create a branded experience," she said.
4. Sometimes the best sell is not selling.
It's important to know when to pull back, when not to drive sales and instead opt for wider brand messaging or even community outreach on a local scale.
"It wasn't really about driving traffic, which is such an odd thing to say for us as marketers," Salem said. This is a time where you want to prioritise middle-of-the-funnel marketing (consideration over awareness or conversion), according to Davis, particularly if your brand is more of a "want than an essential product.
Consumers are seeking to understand "where [the product] was sourced, whether it's good for the environment, what the brand's role is in the community," he said.
Trends on the horizon
These are the future trends our experts predict will endure post-pandemic:
A collision between eco- and e-commerce. With urban streets clogged with delivery trucks and condo lobbies clogged with packaging, we've never had so much garbage and recycling. It creates challenges from an environmental standpoint. The click-and-collect model will likely gain some traction, since it helps overcome the fear of getting your package stolen but also reduces delivery packaging.
Rethinking your digital audience. We've often thought of online marketplaces and shopping as more of a young person's game, but now people in their 70s are getting more comfortable with e-commerce by virtue of necessity. This is the Boomer generation and older, who are retired or semi-retired. Their money is safe, they're on fixed incomes, and they likely haven't taken as big of a hit financially, so they'll be in a better position to warrant serious consideration when deciding who to market to online.
The return of the live shopping channel. We're starting to see brands using influencers to drive sales of luxury items through livestreams in China, and it's like bringing the shopping network back in an online format. It creates some sense of urgency around purchasing, especially in the luxury space.
Pandemic protocols that outlast the pandemic. Curbside pickup was initially launched for people's safety, but a lot of research shows people actually really like curbside pickup. We thought it would be great for the elderly, but we're finding that active families and mothers love it because they've got the kids and don't want to get out of the car.
Data confirmation
To understand how our print and digital readers' shopping habits have changed during self-isolation, we asked our Globe Insiders panel a few questions about their current e-commerce practices. Learn more about the findings here.